The BC Liberal Party's contentious and seemingly never-ending leadership race concluded Saturday with the victory of Kevin Falcon.
It was not exactly a surprise, given the former finance minister had long held the position of front-runner. After scoring a dominant 47 per cent of the points in the first ballot, his victory was all but assured. The only reason it took five rounds to cross the 50 per cent threshold was because the bottom-ranking members who were dropped off had so few votes to redistribute.
Still, it was not always an easy campaign: Falcon faced accusations of membership fraud, fellow candidate Val Litwin threatened to quit if Falcon won (and was the only candidate who didn't stand on stage with him after the results were announced), and there was an unsuccessful last-minute court challenge by a disgruntled BC Liberal supporter alleging impropriety on the part of the Falcon campaign that was tossed out by a BC Supreme Court justice just hours before the final votes were tallied.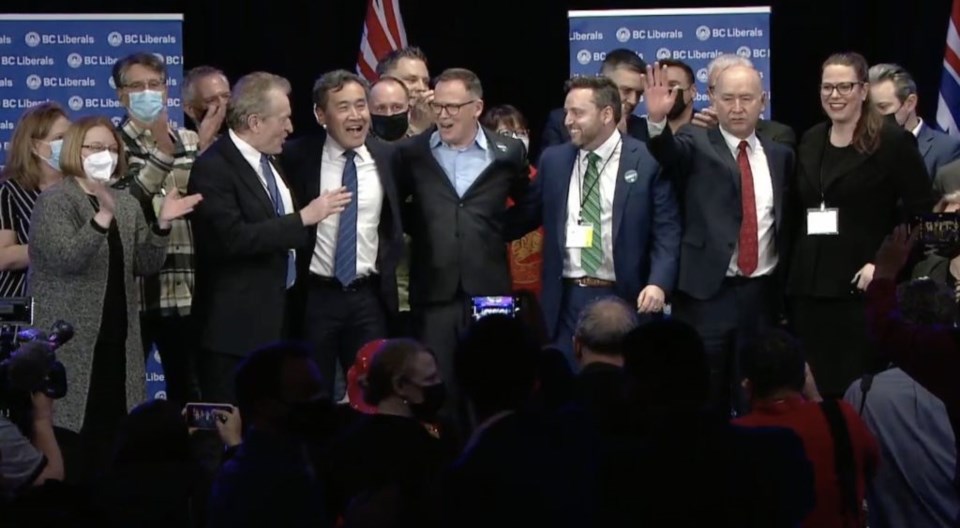 Now all of that is (mostly) over, the real work begins: Rebuilding the damaged party.
"We have a lot of work to do," Falcon said in his acceptance speech. "And that includes a root to branch rebuild that I've been talking about that re-energizes our existing members, while recruiting competent diverse new members and candidates."
The BC Liberal Party is at one of the lowest moments in its history.
With only 28 seats in an 87-person legislature, it has the fewest number of MLAs in 31 years, going back to 1991 under Gordon Wilson.
Just as concerning, the 2020 election saw the party get pushed out of much of vote-rich Metro Vancouver by the BC NDP. The orange wave swept through ridings in Richmond, Vancouver, Burnaby, the Tri-Cities, and Surrey, while also picking up seats in BC Liberal strongholds in Chilliwack, Langley, and Abbotsford.
The BC Liberal Party that Falcon inherits is today largely a party of rural BC's interior and northern regions. The challenge will be in crafting policies that make it relevant to urban voters again, on major issues like housing affordability, child care, public transit and climate change.
Falcon has said he has bold proposals on the housing and child care front – though we don't yet know details.
"We are going to connect with voters in every part of this province," Falcon said. "We are going to win back seats we lost in the Lower Mainland and Fraser Valley and even on Vancouver Island."
In the meantime, the new leader will occupy himself with a rebranding exercise. Falcon promised to change the name of the BC Liberal Party, after consultation with the membership. It's a bit like slapping a new coat of paint on a house that needs structural renovations – but it's a start.
He'll also have to contend with a BC NDP government that's been digging up dirt on him and carefully-preparing attack lines in anticipation of his victory.
"Looks like BC Liberals taking the party back to the old school with Kevin Falcon," tweeted Economic Recovery Minister Ravi Kahlon, as the BC NDP rattled off a list of ICBC rate hikes, MSP premium increases, high-end tax cuts and service reductions that occurred under the previous BC Liberal government when Falcon was around.
"Instead of renewing their party, the BC Liberals have turned back to old, out-of-touch ideas that don't work for people," added NDP MLA Niki Sharma.
Falcon would do well not to underestimate the BC NDP's attack machine, which is flush with cash, resources, and currently firing on all cylinders.
It's just one of the many challenges ahead for the new leader – including finding a riding in which he can run in a byelection, to regain a seat in the legislature.
Much to do. For Falcon, winning the leadership race was only the start of the difficult road ahead.
Rob Shaw has spent more than 13 years covering BC politics, now reporting for CHEK News and writing for The Orca. He is the co-author of the national best-selling book A Matter of Confidence, and a regular guest on CBC Radio.