If the BC Liberals, trailing in the polls, are to go down in this unnecessary, COVID-tinged election, it's clear they will go down swinging.
On the heels of their huge promise to cut the PST and reboot a BC economy laid out by the COVID-19 recession, BC Liberal leader Andrew Wilkinson made another giant promise, this time to the province's largest cluster of swing ridings, Surrey: A BC Liberal government will hold a referendum to get Surrey citizens' approval for a new police force.
Back in 2018, Doug McCallum reclaimed the mayor's office he had lost to Dianne Watts 13 years earlier by riding a perfect vote split between two other rivals. His two promises: a new Surrey police force (ousting the local RCMP) and SkyTrain (not light rail).
Moving quickly, McCallum and his then 8 to 1 majority on council approved the new police force at their inaugural meeting. It's been a grind ever since, as McCallum has studiously avoided any further public consultation on the idea – and lost three councillors from his slate. All along the way, John Horgan's NDP Government has been busy rubber-stamping McCallum's plans, while never requiring or suggesting any public dialogue.
Now rising costs, bumpy planning, and that lack of public input have the McCallum plan less popular than ever. All over Surrey, "Keep the RCMP" signs have popped up.
Well, the BC Liberals have seen enough. As CBC reports: "In a written statement on Sunday, the Liberals said 'the NDP's mismanagement of the Surrey policing issue has resulted in broken trust and lost confidence. The people of Surrey deserve better. From conversations with thousands of voters in this campaign, it's clear that Surrey residents want a voice in the path forward.' Thus, a referendum will be held, if the BC Liberals win.
It's a big gambit, as it means war with McCallum, who will pull no punches in protecting what he considers his great political legacy.
But the response on the ground has been overwhelmingly positive. From a local newspaper reporter:
Frank Bucholtz, a retired newspaper editor, thinks the promise will shore up support for the BC Liberals in the three Surrey ridings they already hold, and could put four NDP seats into play: Surrey-Panorama (Jinny Sims), Surrey-Guildford (Garry Begg), Surrey-Newton (Harry Bains), and Surrey-Fleetwood (Jagrup Brar). If the BC Liberals can squeak out just two of those, it makes the NDP path to a majority far more difficult.
The NDP already overshot in Surrey, when they accused Brar's BC Liberal opponent Garry Thind of voter fraud. Elections BC cleared Thind within three days.
Judging by Surrey NDP supporters' vitriol on social media, this referendum promise has them panicked. The Venn diagram of overlapping NDP and Doug McCallum voters is practically microscopic, yet suddenly NDP partisans are out defending the old mayor as if he was the greatest man who ever lived, and the police planning process was flawless.
The more honest NDP Twitter users offer a different view: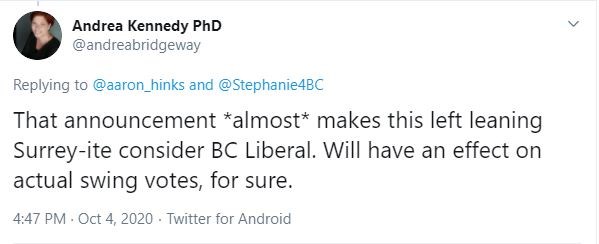 One more important tweet. The BC Liberals' promise suddenly has Surrey's top political force engaged and interested. Yes, Dianne Watts is on board: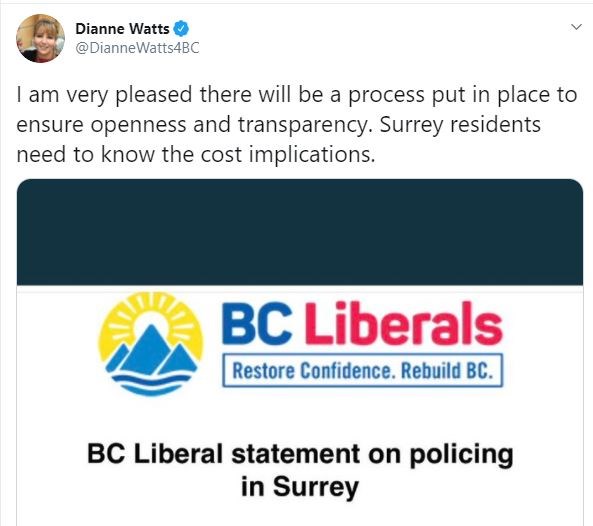 Just when it looked like the NDP was going to cruise to re-election, the race in Surrey got mighty blurry.
Jordan Bateman has a long history of public policy work, championing small business and fiscal responsibility. Currently the Vice President, Communications & Marketing for the Independent Contractors and Business Association (ICBA), Jordan also served six years as the B.C. Director of the Canadian Taxpayers Federation, and was a two-term Langley Township Councillor.
SWIM ON:
Last week, Jordan Bateman looked at the state of small business - and the immediate need for help.
Interestingly, in November 2018, Jordan argued Surrey was the reason the NDP wouldn't try and force an early election (which, at that time, meant early 2019.)
Harbir Dhillon shared a behind-the-scenes look at how the 2019 federal election played out in Surrey, and why the Jagmeet Singh-led NDP breakout there never materialized.