Construction companies are used to overcoming challenges on projects, and this resiliency was demonstrated in spades as contractors confronted the COVID-19 pandemic.
Open shop construction companies led the way in British Columbia in adapting safer work practices, increasing hand hygiene, and staying at work during the months-long shutdown of other industries. Working with Dr. Bonnie Henry and the Provincial Health Office (PHO), construction companies pivoted to the new reality quickly and effectively, and were deemed an essential service and helped keep pay cheques flowing and our economy moving. The success of the construction industry became a model for other sectors in their reopening.
"The construction industry has been doing phenomenally well – adapting, switching and working with the health authorities to implement the new health and safety rules," said Leonard Kerkhoff, president of Chilliwack's Kerkhoff Construction.
At press time in late August, WorkSafeBC had adjudicated just one COVID-19 claim in the construction industry. This is a remarkable commitment to safety by construction contractors and workers in a sector which employs nearly a quarter million British Columbians.
"The proof of our success is in the WorkSafe numbers, where only one case of COVID-19 can be linked to a construction job site," said Chris Gardner, ICBA president. "Construction has proven how safe and resilient its people are and how focused they are on protecting each other – the global pandemic reinforced that and showcased what happens on construction job sites every day."
Early in the pandemic, there were fears that construction would be shut down like so many other industries, which would have decimated employers and put tens of thousands of people out of work. Fortunately, a consensus emerged that construction could be done safely, and that stopping work would be catastrophic to both the industry and the wider BC economy. Construction contractors quickly collaborated and developed best practices and protocols which helped the PHO craft a framework on how construction could continue, and Dr. Henry's designation of construction as a permitted activity.
Despite this designation, work slowed: ICBA members reported to the association that a significant number of workers, as many as 25%, were staying home "out of an abundance of caution," due to their personal concerns about catching the virus. As protocols came into place and WorkSafeBC inspected sites for up-to-date safety measures, that number quickly fell; by late April, it was 15%; by mid-May, most companies reported that 99% of their workers were on the job. The outstanding, meticulous work construction contractors did to improve sanitation, personal protective equipment, and spacing on their sites, cannot be understated.
"Employees came to sites and saw things were safe," said Gardner. "Fears of infection quickly evaporated when they understood how seriously the industry was taking COVID-19."
Every construction employer developed a COVID-19 safety plan, deployed signage, and educated their safety/first aid teams on safe work procedures. Larger sites tapped a COVID-19 safety compliance officer to oversee these efforts.
Sites now screen all workers and visitors to sites every day – asking about symptoms, recent travel, and exposure to others with COVID-19. Some even do daily temperature checks. Every site records contact information for every person who visits.
"Six feet apart," is the mantra on worksites today. Schedules were revised, work reprioritized, meetings and lunch rooms moved outside, and transportation arrangements adjusted, to keep work contacts down as much as possible.
Some companies mandate masks be worn at all times; others order them when indoors or in close contact with other workers. Sites were split into separate zones when practical in order to again limit contact, staircases became one-way, and hoists were limited to two workers at a time.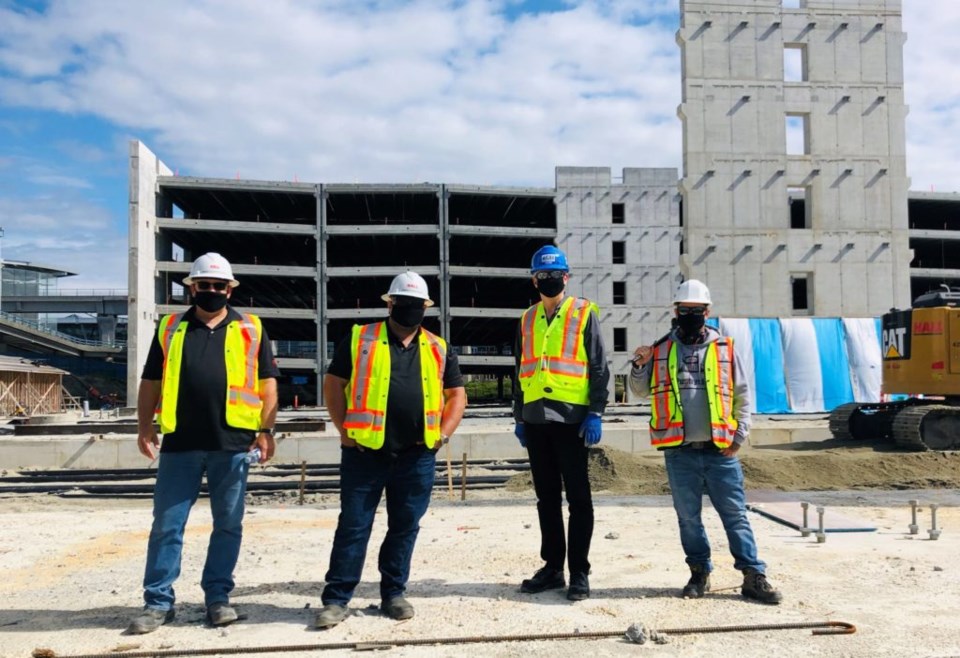 Sharing of tools – and other common touchpoints such as pens and coffeemakers – was minimized. Hand sanitizer and handwash stations are found throughout work sites, and common surfaces are disinfected regularly. At construction work camps, interactions are limited.
"The biggest key to the industry's success has been the discipline and diligence it takes to meet these high health standards every single hour, every single day, on every single project," said Gardner. "There are no days off from COVID-19 prevention."
As open shop's largest construction association, with more than 2,500 members and clients, ICBA also pivoted quickly. The association provided much needed advice and facilitated networking between companies, communicating to the industry what was working. A webpage set up with up-to-the-minute information received thousands of hits. ICBA helped lead the way in advocacy to the provincial government, pushing for policy to keep construction going. ICBA became a member of the BC COVID-19 Business Cabinet, generating ideas for all levels of government in managing the pandemic and eventual economic reopening.
ICBA's training department moved online, leveraging its large catalogue of on-demand, online courses, and creating dozens of webinars which attracted thousands of viewers.
ICBA's employee benefits platform returned significant dollars to employers, passing along savings wherever possible, and highlighted all-important mental health services as British Columbians coped with the lockdown.
After closing its office and moving workers to remote locations on March 16, ICBA reopened its doors on June 1 with a set of COVID-19 prevention protocols mirroring the successful work of its members on site.
"Designated essential, construction activity largely carried on in this province, and the industry recognized the grave responsibility that represented," said Gardner. "It operated with a collaborative spirit, a careful adherence to public health guidelines, and a determination to effectively pivot to dramatically different worksite practices. And it continues on."
Jordan Bateman has a long history of public policy work, championing small business and fiscal responsibility. Currently the Vice President, Communications & Marketing for the Independent Contractors and Business Association (ICBA), Jordan also served six years as the B.C. Director of the Canadian Taxpayers Federation, and was a two-term Langley Township Councillor.
SWIM ON: