Many years ago, I worked with a born again Christian. A pretty young gal named Dee Dee.
Over a lunchtime stroll on the UBC campus, she tried to explain her faith to me, saying it was her life mission to save non-believers from going to hell. She described it as watching people walk blindly to the edge of a cliff, unaware of the danger that lie ahead. She was desperately trying to warn them, but no one was listening.
I wonder if that's how climate activists feel? They're sounding the alarm, but no one's listening?
Environmental protesters have been ratcheting up the pressure lately. Scheming new ways to get attention, like superglueing themselves to bridge decks and major intersections. Cementing their arms inside metal devices buried in logging roads. That technique is called the "sleeping dragon."
On Easter Monday, a protestor sat on top a step ladder smack dab in the middle of Grandview Highway in Burnaby and set off coloured smoke canisters. He refused to move, so the fire department was forced to "extract" him using their aerial equipment.
It's frustrating for first responders, and also for motorists, who are starting to lose their patience.
At a protest on the Ironworkers Memorial bridge last week, angry commuters took matters into their own hands, dragging activists off the road by their backpacks and reflective vests. Undeterred, demonstrators scurried back to the middle of the road and sat down again.
Same thing happened on the Trans-Canada, when protesters blocking the highway were confronted by furious motorists who hurled their pylons out of the way and ripped protest signs from the activist's hands.
Save Old Growth later tweeted,
"Yes this is inconvenient, it was also 'inconvenient' when the Trans-Canada highway was washed away in the floods and thousands of people lost their homes."
Fair enough. But what is their end game?
Are activists hoping frustrated drivers will take up their cause and flood government with demands to…uh…I'm not sure…get "serious" about climate change?
Commuters are more likely to demand swift police action. And clarity around the blocking of critical infrastructure. Is it illegal to block a bridge or major roadway or not?
"Yes it's definitely illegal," says Kyla Lee, a criminal lawyer in Vancouver who specializes in driving offenses.
"It's a form of mischief to block access to a highway. Police generally allow some leeway for civil disobedience by protesters to make their point, especially in favour of more destructive or violent types of protests."
Okay. So define "leeway."
I remember an Extinction Rebellion protest on the Burrard Street bridge in 2019. Vancouver police let it go on for more than 12 hours before moving in to make arrests. Twelve hours!
Sgt. Steve Addison of the Vancouver Police Media Liaison unit says with protests happening more often, and the public's patience clearly wearing thin, police are moving in more quickly than before.
"Things like blocking major arteries, major pieces of infrastructure…impeding people's ability for long periods of time to move around or creating a public safety risk…we have significantly less tolerance for that here in Vancouver."
Protesters are regularly arrested, and charged with either mischief or something called "intimidation by blocking a roadway."
Here's what I don't get.
Environmental activists often advertise their illegal bridge and highway protests days in advance. So why don't police stop them from doing it in the first place? Get to the bridge an hour early and just say, "Nope sorry folks. Not gonna happen today. Take it to the art gallery."
Sgt. Addison says police try to do that, and sometimes they're successful at diverting protesters to pedestrian walkways where they can wave their banners without disrupting traffic. But negotiation doesn't always work.
"It becomes problematic for us when these groups get a little bit more sneaky or creative and do things we can't predict."
Like when Save Old Growth protesters drove Evo cars onto the Second Narrows bridge this month, parked mid span and sat down blocking traffic. One protestor even crazy glued himself to the pavement. The activists were eventually peeled off the roadway, charged, and the Evo cars they were driving were seized as evidence. Sgt. Addison says police may seek to keep the vehicles under the Civil Forfeiture Act. Activists are outraged. Evo's probably pissed too.
I support the fundamental right to protest in Canada. But does it have to be on a bridge or a highway? At a major Vancouver intersection?
Someone's going to get hurt.
What's stopping activists from making their point on the side of a highway? A public sidewalk? The beach? Or how about the BC legislature, where people who have the power to make decisions work?
I reached out to longtime environmental activist Tzeporah Berman for some insight into the protest methods used these days.
"I think the bridge and highway thing really picked up speed because of Extinction Rebellion. Their theory is that the climate emergency demands disruption of everyday life. If your house is on fire, you don't sit down for a cup of tea. You take immediate and radical action to put out the fire."
Hopefully your house isn't on literal fire in Burnaby when the aerial ladder is busy plucking a protester from the highway.
Climate protesters are well aware they're irritating average citizens. They've even taken to posting cheeky apology notes.
A recent poster from Extinction Rebellion read,
OK - WE ADMIT WE'RE ANNOYING.
Just not as annoying as drought.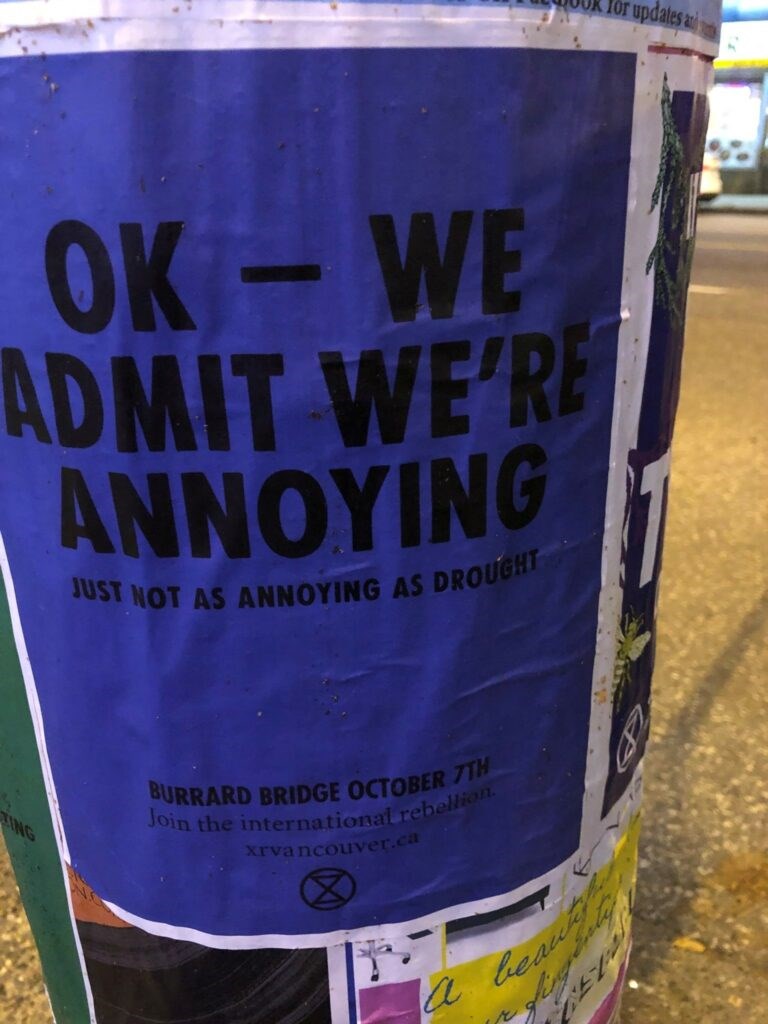 Get ready for another long, hot summer of major road delays.
I hope cooler heads prevail.
Lynda Steele's career has taken her from Global TV and the Edmonton Journal in Alberta, to becoming one of BC's best known and most trusted broadcasters, most recently as the afternoon drive host on CKNW Radio until 2021.