This summer, ferry passengers will be able to raise a glass on the high seas, as BC Ferries will start offering BC beer and wine on select sailings.
In an internal staff memo obtained by The Orca, a pilot project starting June 1st  will give passengers the option of purchasing BC beer and wine at the Pacific Buffet. The new rules allow passengers to buy a maximum of two beverages, and must come with a meal.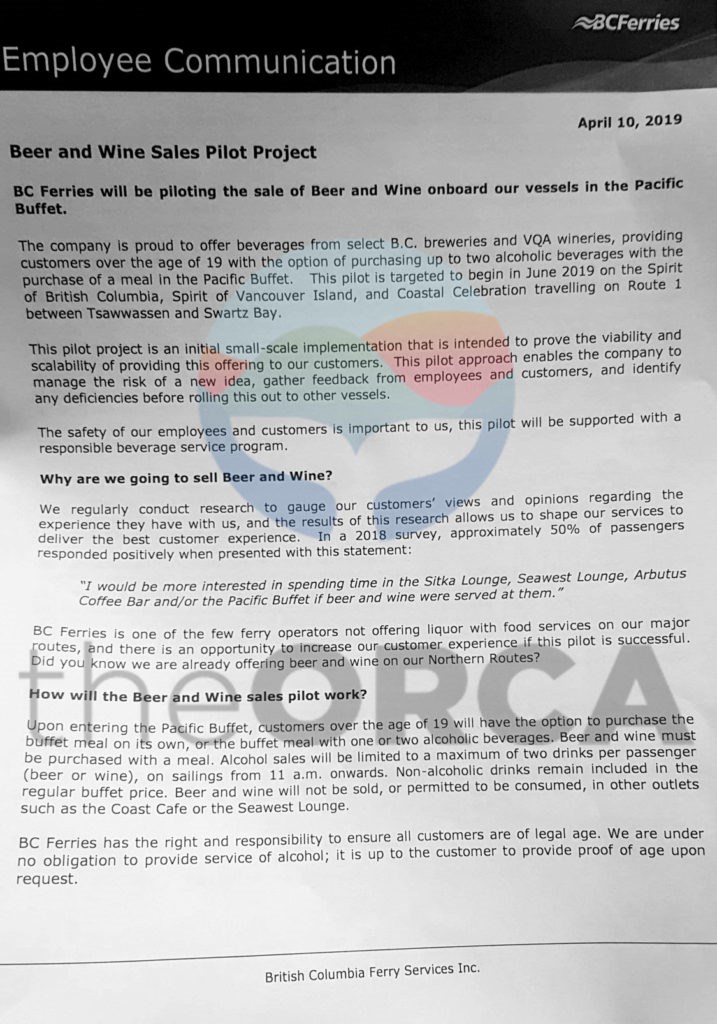 The pilot project will start small, with just three vessels, the Spirit of British Columbia, Spirit of Vancouver, and Coastal Celebration, each serving the route between Swartz Bay and Tsawwassen. Liquor sales will begin on 11 am sailings, and will be restricted to the Pacific Buffet – passengers won't be able to purchase, take, or consume beer and wine elsewhere on the vessel.
The memo explains the project is "small-scale," and intended to test the viability of expanded beer and wine sales on BC Ferries vessels. It will be supported by a responsible beverage service program.
As recently as 2017, BC Ferries launched a public information campaign reminding passengers of a zero-tolerance policy for drinking or consuming drugs on BC Ferries' ships and terminals.
In the memo, BC Ferries notes that in a survey conducted last year, about half of passengers agreed with the statement: "I would be more interested in spending time in the Sitka Lounge, Seawest Lounge, Arbutus Coffee Bar, and/or the Pacific Buffet if beer and wine were served at them."
It also notes that BC Ferries is one of the few ferry operators not serving beer and wine on major routes – and in fact already does serve beer and wine on its northern routes.
BC Ferries was unable to provide comment before publication time.
Maclean Kay is Editor-in-Chief of The Orca