The first time someone threatened to kill Mike Bernier over his support of COVID-19 vaccinations, the provincial politician hurriedly bundled his wife into the back of an RCMP cruiser and asked the Mounties to park a safe distance away from the threat.
Then the 53-year-old MLA for Peace River South went back to the crowd of more than 200 people who'd formed out outside his Dawson Creek constituency office, and hopped up onto a nearby pickup truck.
"I'm still here even though one of you put on Facebook you wanted to shoot me," he shouted.
It was a tense standoff, but that particular protest ended peacefully in late August.
Still, it's not the kind of thing most of BC's other 86 MLAs have had to deal with in the 19 months of the COVID-19 pandemic.
Bernier happens to represent the riding with the lowest vaccination rate in the province, where the science of vaccines has been muddled by anti-authority beliefs toward a provincial government located more than 1,200 kilometres away in Victoria.
Only 51 per cent of people aged 12+ had received both shots in Peace River South, as of Sept. 30, far below the 81 per cent provincial average.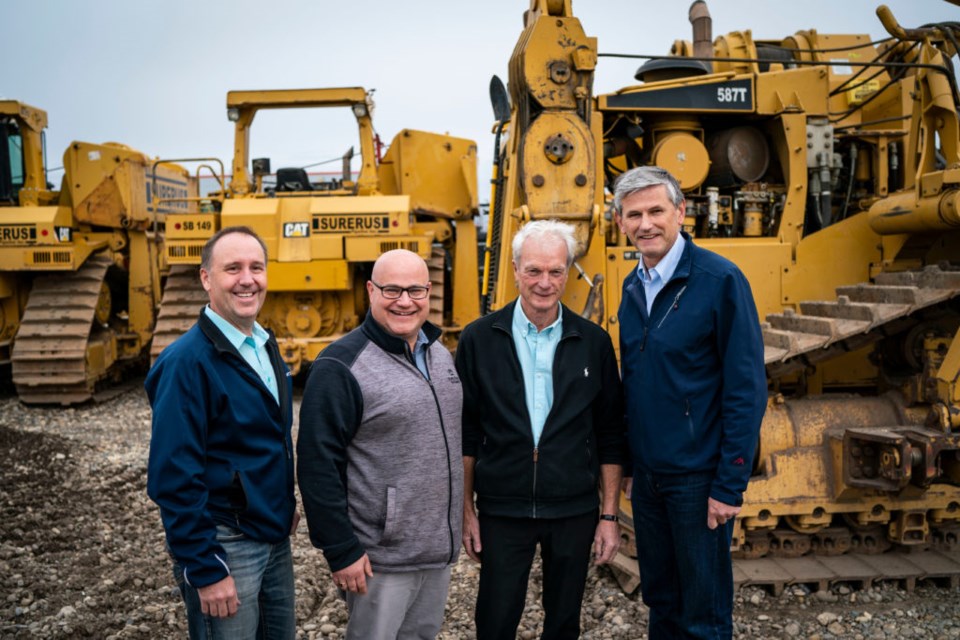 Rather than pander to the mob, like some politicians have done in nearby Alberta communities just over the Rocky Mountains, Bernier chose early on to make a stand in promoting vaccination and the provincial health orders of Dr. Bonnie Henry. He also contracted and survived COVID-19 in May.
"As elected officials we have to tell people what they need to hear, not what they want to hear," he said in an interview.
"That's what makes a proper elected official and leader. Anybody can look somebody in the face and tell them what they want to hear and feel good."
The approach has driven a wedge between him and some long-time supporters, including those who've voted for him for more than 20 years as an MLA and former mayor of Dawson Creek.
He receives constant messages from those he's known for years, telling him he's lost their vote.
"I try to sleep well at night realizing maybe not all these people were my supporters anyway," Bernier said.
"My wife said it to me really well last night, she reminded me she supports me all the time to run as long as I stick to my principles and never get to the point of pandering for a vote. And if you lose an election for doing the right thing, I still think you sleep better."
Still, the protests, denunciations and threats continue. Bernier said he is trying to tackle them directly.
"If you hide from it, it just keeps going," he said. "If you hit it head on, most people, we might agree to disagree on the vaccine, but the majority of the people in my riding are good people."
One of his tweets went viral earlier this month that read: "I have had many people in my riding say they won't vote for me again because I promote the vaccine. So I promise to keep doing my job and promote the vaccine so hopefully they can stay safe and healthy to exercise that right."
Local and provincial politicians from all parties replied with messages of support. Premier John Horgan phoned him privately to thank him for his stance.
A BC Liberal MLA, Bernier now finds himself working alongside and supporting a BC NDP Health Minister in Adrian Dix. The two speak regularly across party lines to coordinate vaccination clinics, drive up the vaccination rate, and hopefully save lives. It comes at a time when hospitals in the north are overflowing with unvaccinated COVID-19 patients, and health officials are forced to fly people to health care centres in Victoria and Vancouver for treatment.
Dix has repeatedly praised Bernier publicly for his advice and support, and has appeared alongside him in virtual townhalls to answer questions from his constituents. He's also supported Peace River North MLA Dan Davies, who is in a similar situation, and other BC Liberal MLAs who hold rural ridings where vaccination rates are lagging.
"It's been a really good relationship on this," said Bernier. "We've been saying since day one you can't put politics into a health crisis you have to work together. Minister Dix has been great. He and his staff are always asking, what do we need to do next? A lot of private calls saying, 'What do you recommend Mike?'"
On the ground, Bernier is trying to take small victories where he can find them.
"Yesterday was a perfect example," he said.
"I had somebody phone me and we had a great discussion and they were just saying, 'I'm really nervous and don't want to because this is all the stuff that I've read on Facebook.'
"So I actually agreed to meet them down at the walk-in clinic. I went to the walk-in clinic with them and got one of the health nurses to come out and talk to them and answer all their questions… after about a 15 minute discussion they walked in and got vaccinated."
The protests, however, persist.
Last week, he said the crowd outside his office surged to 500 people, blocking nearby roads in a two block radius. Many are angry at the fact BC now requires proof of vaccination for entry at non-essential businesses, like restaurants, gyms, movie theatres and indoor sporting events.
Bernier has tried to walk a fine line between supporting the vaccine card program, and advocating on behalf of restaurants in his unique riding that have seen revenues collapse and staff verbally abused because half the locals aren't vaccinated and can't eat at the establishments.
It's too soon to tell whether Bernier's stance will cost him his political career.
It's hard to imagine Peace River South, a stronghold BC Liberal riding, switching to vote BC NDP, and doubly so when you consider it's an NDP government setting the public health measures so many seem to oppose.
But if it happens, Bernier said, he has no regrets for his position.
"As politicians we have to stick to our ground and can't waver on this," he said.
"Even though there's some loud people out there with strong opinions, the argument I give back to people in my riding is thanks for your opinions, I've done my own research and I just don't agree.
"I'm following what I believe is the best advice, science and information that we all have."
Rob Shaw has spent more than 13 years covering BC politics, now reporting for CHEK News and writing for The Orca. He is the co-author of the national best-selling book A Matter of Confidence, and a regular guest on CBC Radio.
SWIM ON: