This weekend, Bloomberg reported that LNG Canada will announce it is moving forward with its $30 billion investment in northern British Columbia.
Securing a major liquefied natural gas (LNG) investment, an elusive goal for the previous BC Liberal government, will be a major coup for Premier John Horgan and the governing NDP - one that comes with a political cost.
Much commentary and analysis have focused on whether the NDP's about-face support for LNG will drive a wedge between the NDP's razor-thin minority government and its three Green partners.
But as a new poll done exclusively for The Orca indicates, the NDP's LNG problem doesn't lie with their Green partners, but within.
Only 37% of people who voted for the NDP in 2017 support LNG.
Even Green voters were more enthusiastic, with 43% in support.Some 58 per cent of NDP supporters say they oppose the further development of LNG in British Columbia, including fracking, pipelines, and building export terminals.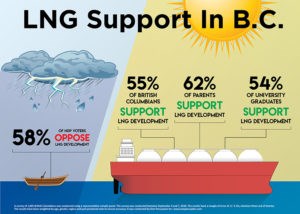 Not only do a clear majority of NDP voters oppose LNG, but more than a third (35%) describe their opposition as "strong." No other geographic or socioeconomic demographic included more strong opposition, including Green voters.
The survey, done on behalf of The Orca by One Persuasion Inc, of 1,005 British Columbians was conducted using a representative sample panel, between Sept. 4 and 7, 2018. The results have a margin of error of +/- 3.1%, nineteen times out of twenty. The results have been weighted by age, gender, region, and past provincial vote to ensure accuracy.
The poll also revealed other predictors of support for LNG. Some were unsurprising, such as living in the Interior (69% support), voting BC Liberal (86%), and generally rising with income. Other indicators included a university education (54%), and parenthood (62%).
Over the medium and long term, the most significant political implication of LNG Canada's major investment might be the stress it places on the NDP's internal coalition.
Partly because they were in government for 16 years, and partly because federal elections regularly shed light on the division, a lot more attention gets focused on the BC Liberal coalition of federal Liberals and Conservatives. But the BC NDP is a coalition, too – of blue collar, largely unionized workers; and young urban progressives.
The risk of an unofficial coalition is that one side will splinter off and form its own party – a greater risk under proportional representation – or cast its lot with another party. For the BC Liberals, the BC Conservative Party is a threat, but the provincial Tories has never successfully attracted federal Conservatives in large numbers.
For the BC NDP, the risk may be greater.
They've already alienated this particular side of their coalition with Site C – one such move might get forgiven; two might be asking too much. Crucially, there's a natural and credible destination for NDP voters who oppose LNG – the Green Party. And unlike the BC Conservatives, reluctant NDP voters can console themselves that Andrew Weaver's Greens are a competent, professional party.
If and when LNG Canada gives the green light, John Horgan will be celebrating in the West Annex – and deservedly so. But the homegrown LNG industry may just open an uncomfortably wide crack in his party.
Maclean Kay is Editor-in-Chief of The Orca