It's a story as old as politics.
By definition, a government has an adversarial relationship with the opposition. It becomes normal – rote, even – to dismiss, heckle, and jeer their questions.
Aside from horrifying visiting groups of school kids, the loud and shouty nature of Question Periods usually amounts to so much sound and fury, leading to not much in particular. Until, that is, when the form of the questions change.
Sometimes, an opposition will use their questions not to ask for themselves, but explicitly on behalf of specific and named people, who are having challenges, or otherwise upset with government policy.
So what's the difference, you ask? It's one thing to heckle the opposition across the aisle. But when they're quoting a real person with a real problem – often a very thorny, deeply personal challenge, who's probably watching with some interest – suddenly it looks very much like the government is sneering at those concerns.
This general situation played out this week in the legislature, leading to two apologies – and counting.
The BC Liberals devoted the bulk of their four question periods to proposed service model changes for special needs, and funding for autism services.
It's not an issue where heckling is advisable – even if you disagree with how the questions are framed. But nonetheless, heckling and jeering continued.
On Thursday, Fraser-Nicola MLA Jackie Tegart rose to ask about exactly that: a concern from an affected parent saying she was "greatly dismayed to hear the MLAs who were heckling the member for Richmond North Centre while she was reading the plight of a mother. The hecklers do not realize how demeaning and demoralizing for the parent, a mother, to hear this, as this was their voice, their message to the minister that was being lost and dismissed by people who are supposed to represent us."
Shortly after asking her question, Tegart received a hand-written note. This is not unusual – notes are passed in the chamber all the time, even between members of different parties, but almost always signed. And usually, the note doesn't contain the definition of "sanctimony."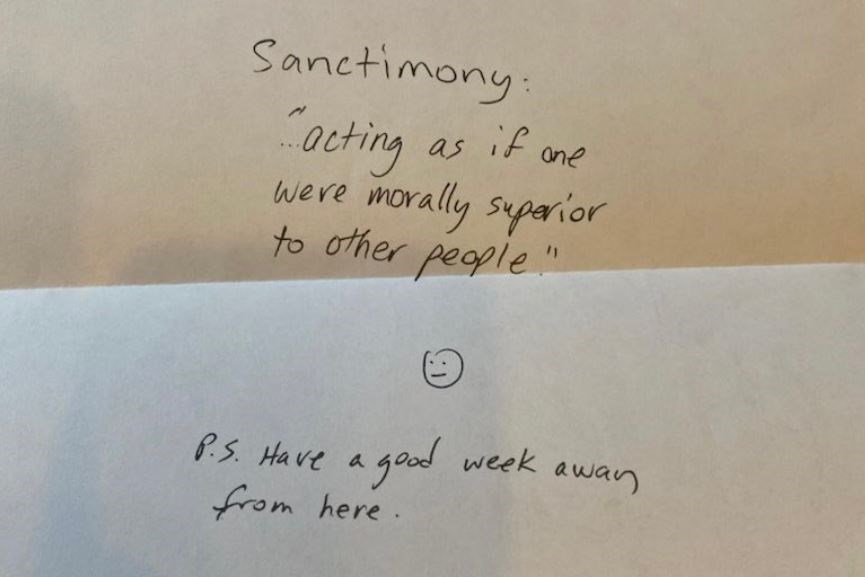 Tegart – who first entered politics due to her disgust that an autistic child was being kept out of school – was appalled.
"I don't take that for myself," says Tegart. "It was incredibly disrespectful to parents brave enough to share their story."
After a pause, she adds: "And from a Minister of the Crown!"
She posted the note to Twitter, which must have provoked an angry (and fast) reaction in the NDP caucus room – and the first of two apologies.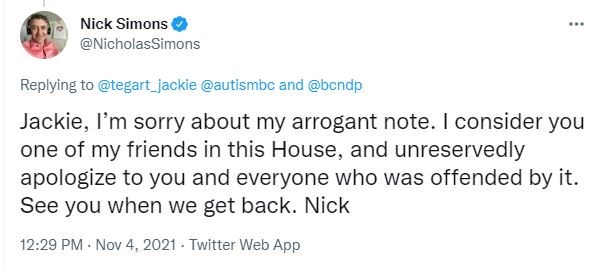 The culprit turned out to be Powell River-Sunshine Coast MLA Nicholas Simons – who, not incidentally, is also the Minister of Social Development and Poverty Reduction.
Simons also has the dubious distinction of being arguably the legislature's most persistent and incorrigible heckler; a title with no shortage of contenders clamouring for a shot at the belt. More than once, I have seen NDP House Leader Mike Farnworth angrily gesture towards Simons for silence – and have to do so again (and again) literally just seconds later.
Simons also apologized to the legislature when the house returned in the afternoon. For her part, Tegart says she asked for – and still expects – an apology to the parents, not to "anyone who feels offended by it," as Simons said in the chamber.
It wasn't a moment (or week) that will ever make NDP campaign ads.
I have written before about heckling, both generally, and how the previous Speaker tried to manage it. Quotes from MLAs in both stories could have been given yesterday.
"I try some days [to improve decorum]," admits Premier John Horgan. "Some days I meet my own test, and other days I fail. There's just no getting around that."
"When you then look at what (asking quiet questions) looks like, and the government answer in contrast is yelling – it looks really good," said then-BC Liberal house leader Mary Polak.
"It's one of the least desirable aspects of our democracy," said BC Green MLA Adam Olsen. "It leaves an impression on people who visit – and that impression is not a good one."
Some things never change – except to get worse. This session, says Tegart, "we've seen behaviour deteriorate and the disdain grow."
Hopefully this was rock bottom.
Maclean Kay is Editor-in-Chief of The Orca
SWIM ON: