In the words of Canada's Joni Mitchell: "Don't it always seem to go, that you don't know what you've got till it's gone."
As B.C. horse racing fans anticipate the province's most prestigious event of the year with the running of the B.C. Derby at Vancouver's Hastings Park this Saturday September 7, Interior fans of the "sport of kings" are reminded of what they no longer have.
"It's not just a B.C. phenomenon," explains Ole Nielson, the President of the B.C. Thoroughbred Owners and Breeders Association, when asked about the struggles facing horse racing over the past two decades.
Sadly, the racetrack on Renfrew in East Vancouver is now the only horse racing facility in British Columbia; all other tracks across the province have closed for a myriad of reasons.
"I don't have a lot of hope for the sport in the Interior," Nielson admits.
After close to 50 years in the industry, Neilson has witnessed the best of times and the worst of times. In the sport's heyday, Nielson recalls regular racing at four Interior tracks: Sagebrush Downs in Kamloops; Kin Park in Vernon; Sunflower Downs in Princeton; and Desert Park in Osoyoos.
"It makes me feel sad," Nielson laments.
Horse racing has steadily declined throughout North America, which Nielson contends has resulted from a shortage of racehorses and the proliferation of lotteries and casinos. He points out that even Hastings Park is no longer what it used to be with only 51 days of racing a year, compared to 70 in the "good ole days."
"We're doing our best, but it's hard to attract young people to our industry," acknowledges Nielson with a tone of resignation in his voice.
While attendance in Vancouver appears to have stabilized in recent years, the challenges are never ending:
"We can just hope that at some stage, they'll get bitten by the bug and learn how to bet."
Longtime track announcer Keith Reid called races for several years in the Interior. He says part of horse racing's demise outside the Lower Mainland was self-induced.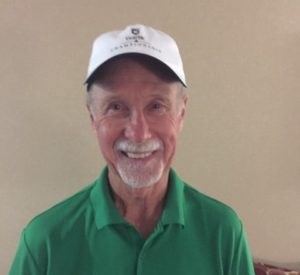 The younger brother of former Hastings Park announcer Doug Reid, Keith is convinced the beginning of the end was tele-theatre wagering:
"My thought was the people who were betting came to the track because they had a legitimate way to gamble. Would they rather come out to the track and sit in Vernon in 35-degree heat and dust – or go sit in an air-conditioned hotel bar with a drink and watch on a 60-inch screen?"
"Sagebrush Sam," as he was known in Kamloops, also blames the industry for failing to change with the times as modern technology posed new challenges, and that racetrack owners failed to make their facilities family-friendly. "They were the only game in town for gamblers and did nothing to foster continued growth" regrets Reid.
With a recent court ruling clearing the way for the site of Kin Park in Vernon to be redeveloped, both Nielson and Reid agree that horse racing has little to no chance of making a comeback in the Interior. They also concur that father time isn't helping; as longtime supporters grow older, younger generations express little interest in continuing a once vibrant, but very expensive industry.
Still a breeder himself, Nielson notes that his farm in Aldergrove is only breeding about 50 mares a year. In the mid-1990s, it was about 250.
As Reid reflects on the end of an era, he warmly remembers the characters of the sport who lived hard and played hard regardless of wealth.
"When they got to the track, you couldn't tell who was rich and who was a pauper," recalls Reid, noting that everybody wore jeans and a work shirt.
"It's what I loved most – there was no class separation."
Ahead of Saturday's nine-furlong B.C. Derby, Reid recalls one of the harsh realities of horse racing:
"You can have the best horse, but the best horse doesn't always win."
As always, I welcome your comments and criticism on Twitter @kammornanchor and email [email protected].
Bob Price is a veteran B.C. broadcaster who anchored the morning news on CHNL radio in Kamloops for the past 30 years. Bob is also a past Webster Award winner whose previous stops included Vancouver and Calgary. 
SWIM ON:
Last week, Bob wrote about a very different horse race in the Interior - a fascinating electoral contest in Kamloops-Thompson-Cariboo.
There's probably a good bridge between horse racing and this Jody Vance piece about Kitsilano character, but I couldn't find it.
What are the kids doing instead of horse racing? Well, vanity license plates were unusually popular last year...