Just for fun, let's play a little what if.
What if Dr. Bonnie Henry – BC's highest-profile public figure – suddenly tired of daily COVID-19 briefings and days of scrutinizing data and pandemic research? What if she decided to hang up the microscope and enter the bloodsport that is BC politics?
Again, just for fun, what if she led a political party? A new poll – done exclusively for The Orca – says she would move voters in a big way.
With Dr. Henry as leader, any of BC's three major parties would win the popular vote; in the case of the NDP or BC Liberals, an easy majority.
It would be (forgive me, I can't resist) a shot in the arm.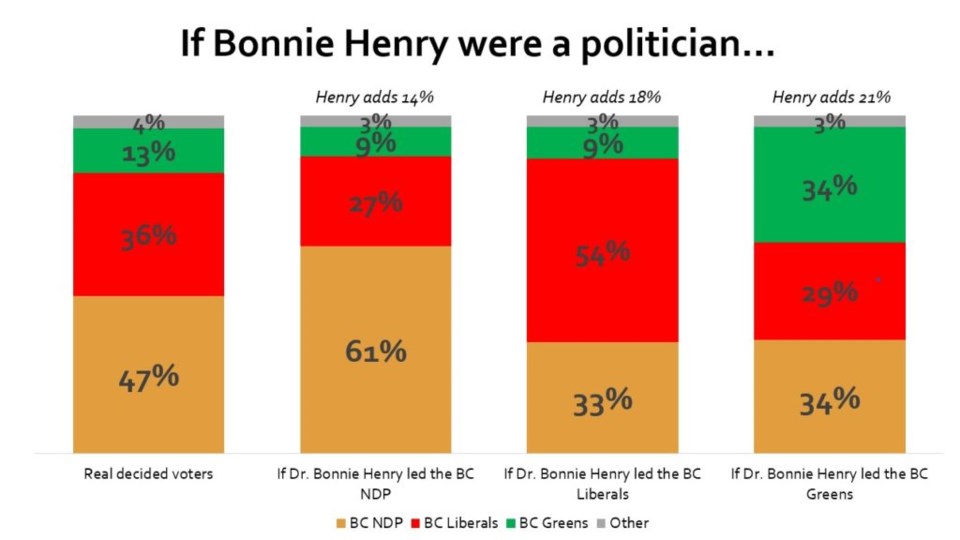 As things are (with John Horgan, Andrew Wilkinson and Sonia Furstenau at their respective helms), the poll found decided voters divided between the NDP (47%); BC Liberals (36%); Greens (13%); and other (4%.)
If Dr. Henry was to replace John Horgan atop the NDP, she would add another 14 points, giving the party a commanding 61%. To put that in perspective, in 2001 the BC Liberals won 77 of 79 seats with 57.62% of the vote.
Taking over from another doctor, BC Liberal leader Andrew Wilkinson, Dr. Henry would bring another 18 points, to 54%. That's a full 14 points above the party's 2017 election share.
As leader of the BC Greens, things would be much tighter. Dr. Henry would add 21 points to the party's current poll numbers, which would create a virtual deadlock with the NDP, each at 34%. The Greens' best-ever showing was in 2017, with 16.83%.
Speaking of percentages, this is 100% hypothetical. Dr. Henry has shown exactly and precisely zero interest in the political arena. Nor is she publicly tied with any one party; she has worked closely with the NDP government, but was appointed by a BC Liberal one.
Hypothetical or not, these results aren't particularly surprising. Dr. Bonnie Henry's popularity is well-established, having earned enormous trust and respect for her calm, steady, and confident handling of the pandemic.
The parties are keenly aware of this; all those photos and quotes of Dr. Henry on caucus mail updates and other advertising aren't just selfless sharing of public health information. Even subconsciously connecting BC's most trusted figure with your local MLA can only mean good things when they're running for re-election.
What if? It's a fun game to play. But don't expect to see Dr. Henry taking her namesake Fluevog shoes out doorknocking any time soon.
Done exclusively for The Orca by One Persuasion, the poll was conducted September 30 to October 1 online. 761 British Columbians were interviewed. The margin of error is +/-3.6%, 19 times out of 20.
First in a series on this poll.
Maclean Kay is Editor-in-Chief of The Orca
SWIM ON: