If you're like me, you already feel profound helplessness watching the Russian invasion of Ukraine in real time. That helplessness is only amplified when the need for relief is met with distrust of fundraising.
The want to help is often met with confusion as to exactly where funds should go to have meaningful impact. And that's if you get past the initial online distrust: what's the skim, scam, or grift?
Today's Middle is a local arrow, in bold, pointing toward something specific and grassroots you can trust.
A pair of local heroes with Ukrainian roots, Madison Fleischer and her mom Lisa, found themselves driven to do something, anything good, to help those living the horrors of war in Ukraine.
About a month ago, Madison, a law student with a talent for graphic arts, messaged me sharing her idea for slavasweatshirts.com.
Her blunt message: "let's make this go viral."
Oh the chutzpah! Looking for ways to show my solidarity with Ukraine, I hopped on board. Madison's unabashedly honest ask sprung me into action, and a couple of clicks later, into a cool sweatshirt with an important message.
Madison said she was using this as a fundraising vehicle, building out from the art she created; the details of printing, distribution and delivery were still fluid. What was crystal clear was Madison's mission: give dollars to boots-on-the-ground relief and the Bank of Ukraine.
My first attempt to hit buy was paused over a delivery cost of $25 to get the shirt from North Van to Kits. (Really, Canada Post?). Still wanting my Slava sweatshirt, I reached out – and within minutes, Madison was on it, with a reply that "it's fixed!!".
Problem solver, indeed.
I placed my order for one medium sweatshirt on March 8th. My desire for this Slava shirt went next level when Ukraine President Volodymyr Zelenskyy called out to citizens of the world to wear Ukraine colours, take to city squares and public spaces to show support, and put pressure on world leaders to ACT.
Eventually it arrived. Gorgeous. Top shelf. I immediately put it on and sent a note to compliment the quality.
Madison requested a photo, so I took a messy home studio desk selfie, and hit send. Almost immediately she replied: "LOVE IT, can I post??" Sure.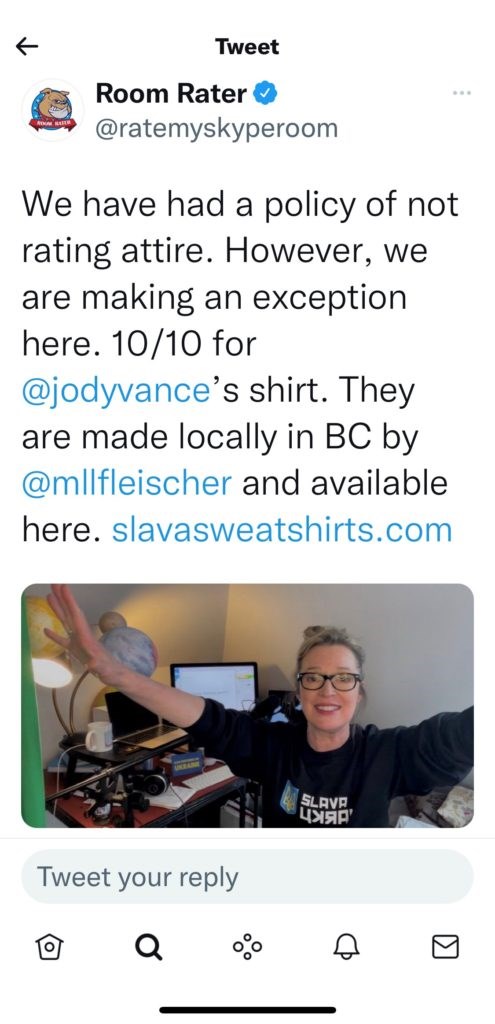 Never would I have imagined how far that shot would travel. Within hours that photo was tweeted, and retweeted, by the likes of Room Rater (412.2K followers) and New York Times bestselling author Rick Wilson (1.3M followers).
Madison was getting her wish – her mission to help Ukraine was indeed "going viral." The sweatshirts started flying off the shelves.
When there's such upheaval in the world, people like Madison and Lisa Fleischer are trying to make a difference. If you're like how I was, frozen in helplessness, here's an idea to give where it will help.