Maybe it's because I've lost track of what day of the week it is, or find my fingers too idle with strict social distancing and self isolating? Regardless of the reason, here's some extra Middle for you.
It's just a little something that certainly has me feeling far more connected during this crazy time. I sort of feel as though I've found a bit of a communication unicorn.
Have you attempted a virtual meet up with isolating friends or family? If you haven't, it's easier than you think.
Fascinating how just a couple of weeks ago we might dread an actual phone call, when a text thread was plenty. Now, we long to hear voices or see beloved faces.
We are social beings, after all. Isolation takes its toll — unless you do get into cool new ways to communicate.
There are SO MANY apps for this new way to stay social.
Here's a timeline of my not-so-tech-savvy experience in planning "wine o'clock" with my girls after we finally saw one of the crew return from abroad. We all wanted to hug her, but obviously that's out of the question as she quarantines for the next 14 days.
Cue the virtual hang.
After much trial and error with my sweet friends, here's how it went down.
First of all, it was my fault that we began our journey by hitting download on ZOOM, the current "yellow brick road" of the socially isolated. Very user friendly, with a built-in cloud option for saving video, it's the app George Affleck (my UnSpun Podcast partner) uses for his business, and taught me how to install and use for our remote pods.
There are a zillion others that are similar, one suggested to me called "house party" seemed like a quick and easy free download until it wouldn't let me install it without giving it access to my Facebook, et cetera. Pass.
We were going to meet on ZOOM at five.
While the other three were swapping emails and downloading I was doing a two hour lap in the Prius to deliver frozen "heat and eat" homemade meals to our family elders. My Apple Watch was buzzing every 10 seconds for 40 minute drive back home.
The thread I arrived home to was hysterically funny.
Seems that the iMessage text thread is all we needed. It is the unicorn.
Stay with me. Did you know that if you have a group text and you click on the FaceTime button it calls EVERYONE via the text thread? (Assuming, of course, that everyone has and uses Apple products.) On the screen, you show up in floating boxes; whomever is speaking gets the bigger box.
So yes, Dorothy, if you have an iPhone or iPad in your hand you are wearing the ruby red slippers!
One click, and everyone is there. Even my 80 + parents could navigate this.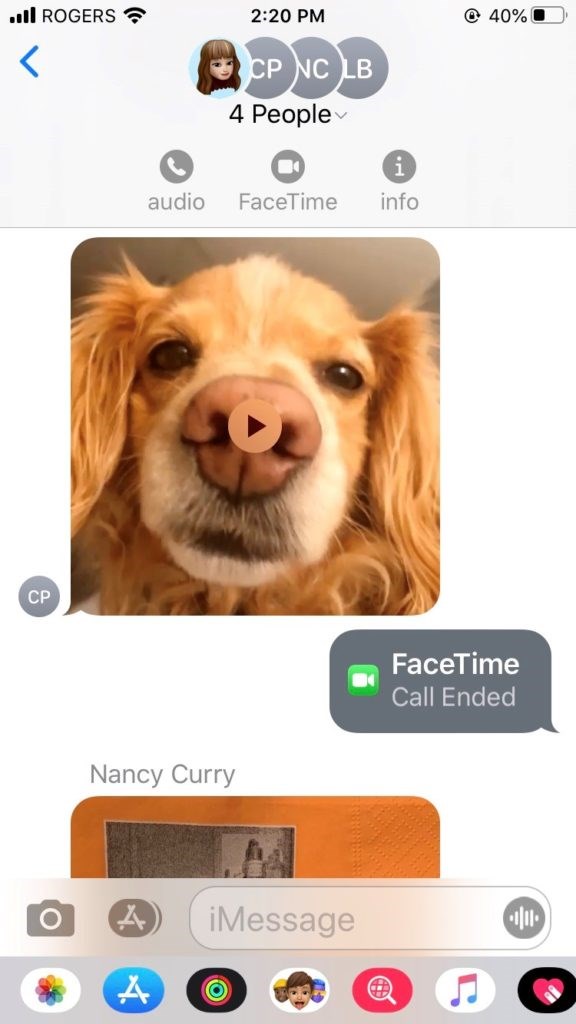 Sure, I could just be a GenXer late to this party. But if I can help lead more down this path to connectivity, I will take that eyeroll.
It's vital that we find ways to stay connected in this disconnected time of COVID-19. Kudos to kids who've had this figured out for ages. I now far better understand the community piece of online gaming with buddies.
We all might just come out of COVID-19 with a little extra digital savvy.
By the way, while we're covering the simplest of things, the "green button" on the screen is for making calls, remember those? Use that button often to check in on those without the tech options. Stay connected.
PS: If you don't have someone, reach out to me @jodyvance on Twitter, my DMs are open.
Jody Vance is a born and raised Vancouverite who's spent 30 years in both local and national media. The first woman in the history of Canadian TV to host her own sports show in primetime, since 2011 she's been working in both TV and radio covering news and current affairs.
SWIM ON:
Last week, Jody Vance shed some crucial light - social distancing will mean different challenges for different people. Be kind, stay calm, and we'll get through this.
Speaking of UnSpun, last Friday's show - done remotely! - touched on all the ways COVID-19 is affecting society.
Your daily dose of non-Coronavirus content: Back in April 2019, UnSpun 15 talked 4/20, surfed the blue wave of Alberta's provincial election, and dove into the Mueller Report. It's an oasis of news that have absolutely zero to do with pandemics.