It took more than 300 days – longer than the party's last two leadership contests combined – but on Wednesday night, things finally got weird in the BC Liberal leadership contest.
First, candidate Val Litwin declared on Twitter that if presumed front-runner Kevin Falcon wins, he'd leave the party.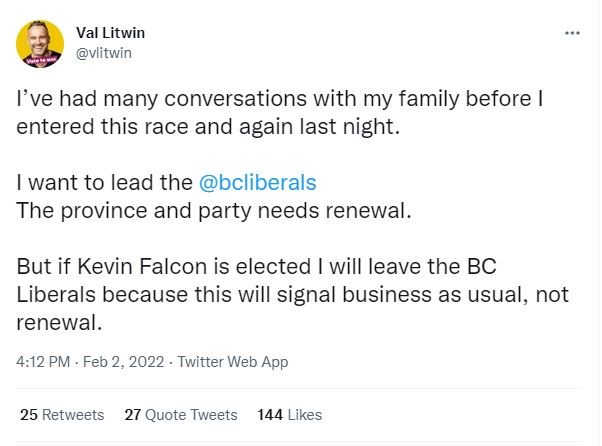 If Falcon does win - hardly an unlikely outcome, but we'll get to that - and Litwin does walk, it would not only be a loss to the party, but potentially end his political career before it really ever got started.
Smooth and polished, Litwin generally performed well in the four debates, but was never seen as having much chance of winning. This shouldn't be surprising. He's starting from scratch in politics; becoming leader of a major party before even contesting a riding nomination, much less a seat, was always a big swing for the fences. Even Justin Trudeau, whose name alone gave him a massive head start, started as a backbench MP.
Whatever Litwin does after this weekend's vote, an active leadership contender threatening to leave the party is remarkable. Yes, there are often mostly-unspoken understandings, such as a leadership hopeful who won't run in the next election if they aren't successful – think Peter MacKay or Dianne Watts, or in the last BC Green leadership race, Cam Brewer.
Even in this campaign, Falcon was asked if he'd commit to running whether or not he became leader; he demurred. But a stark ultimatum, spelled out so precisely and personally? That's new. So what's going on here?
Possibly a number of things – which may have become a little more clear just minutes later. Litwin's tweet was quickly (and separately) followed by a thread from rival candidate Renee Merrifield, also urging renewal, and hinting the future of the party was at stake.
Over the course of 15 tweets, Merrifield was much more specific about her concerns, referencing among other things issues with memberships. The party confirms 1,140 new memberships out of some 20,000 were not compliant, with another 1,423 being confirmed. If every single one was thrown out – which is highly unlikely –  that's 13% of new memberships.
Not ideal. No party benefits from the doubt and suspicions raised by this kind of story; it took the NDP a few years to successfully distance themselves from the undeniable visual of Mable Elmore stapling $10 bills to membership forms in 2011, for eventual winner Adrian Dix.
There are concerns with memberships in almost every leadership race across Canada and BC's major parties. And yes, unfortunately, sometimes there is real shadiness at work. Quite often, though, it's a combination of sloppiness, simple mistakes, or people's domestic circumstances triggering red flags, either via algorithm or visual inspection – for example, several generations listed in one household, or using one email address. (This is one reason some have called for party leadership votes to be overseen by Elections BC.)
In the meantime, someone will win on Saturday, and try to convert rivals into loyal lieutenants. Interestingly, this tweet from a senior figure in Falcon's team is as close to an official response to Litwin's ultimatum as we're likely to get.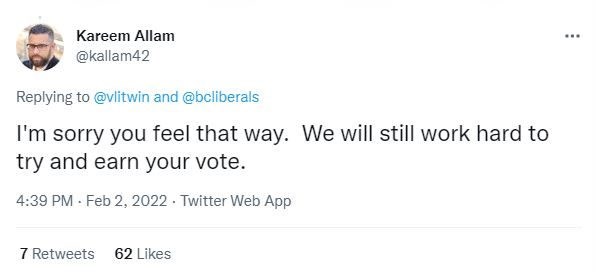 Unlike Litwin, Merrifield didn't say she'd leave if she lost – actually the opposite – but urged her supporters to rank Ellis Ross and Michael Lee second and third on their ballots, respectively. Probably not coincidentally, Ross, Lee, and Merrifield are the three sitting MLAs in this campaign.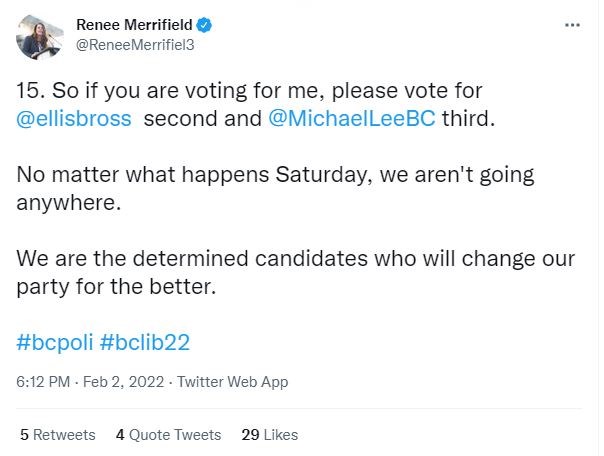 This is the first time a candidate in this race has explicitly encouraged their supporters to rank others second or third on their ballots. In 2018, there were more of these deals, including Mike de Jong and eventual winner Andrew Wilkinson agreeing to become each other's second choice, so to speak.
So, again: what's going on here? A few things.
First, Litwin and Merrifield's concern about some of the new memberships isn't news, or even unique to them. And there's no reason not to take them at face value, but if John Horgan and Mike Farnworth, who finished third and second in 20211, can rally behind Dix and all those stapled $10 bills, there's no reason to expect a mass BC Liberal exodus in 2022. Falcon himself famously served as bitter rival Christy Clark's finance minister - and then chose not to run in the next election. But I have been wrong before.
Second, there's probably some jockeying for position at play.
The race has always had a presumed favourite in Kevin Falcon, and nothing over the past 300-plus days has dented this impression, from endorsements to new memberships; nobody disputes his team led the pack here. The NDP clearly think he's going to win, having long since deployed their official and unofficial attack dogs on him.
But with a ranked ballot, presumptive favourites lose at least as much as they win. You're vulnerable to an anyone-but-them campaign; if the votes for the other six candidates all (or even mostly) magically coalesced behind one alternative contender, they'd win in a first-ballot walk.
Yes, easier said than done – but again, hardly unknown, and what do the others have to lose? Frankly, given how far in front Falcon has been perceived to be, it's surprising there hasn't been more maneuvering until now.
Registered members of the BC Liberals members started voting today. The results, and the party's new leader, will be announced Saturday.
Maclean Kay is Editor-in-Chief of The Orca