Kevin Falcon is back in BC politics, and that's a very good thing.
His campaign launch has been smart, focused, and smooth. Already, he has begun to defuse several of the NDP's attack lines, and he has articulated the reasons for his return after 10 years away from politics: his daughters' future. To those of us with kids, that feels authentic.
But there are doubts – even among BC Liberal supporters – that he will have to address. Consider this tweet: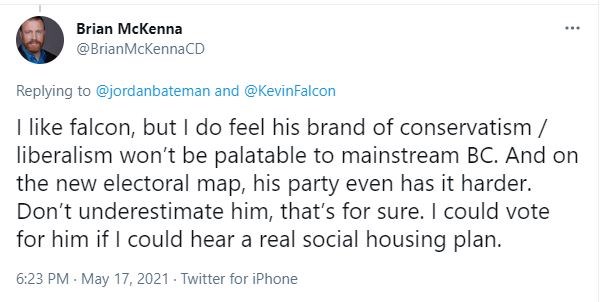 Falcon burst onto the BC political scene in the late 1990s with his pointed, effective "Have you had enough [of the NDP]?" campaign, which saw thousands of people protesting the Glen Clark government. And his legwork helped pave the way for the historic 77-seat landslide victory in 2001 which launched him as a high-profile cabinet minister.
If you're over 40, that's probably how you remember Kevin Falcon: as a cabinet minister. He was fiscally conservative as Christy Clark's finance minister, even publicly (although gently) rebuking the premier for a spending announcement he hadn't approved yet. He's on the podium of most notable transportation ministers in BC history (with Flyin' Phil Gaglardi and Alex Fraser). And he was a sought-after international expert after his work as Minister of State for Deregulation.
So for us over-40s, we naturally look back on that 15-year chunk of Falcon's career and presume that his views are the same now.
But think back to 2012. Are your views on many issues the same as they were then? Mine aren't. I bet Falcon's views have evolved too.
We see this phenomenon a lot in politics. Once upon a time down south, opponents of same-sex marriage included Joe Biden, Barack Obama, Bill and Hillary Clinton, and many other prominent, progressive politicians. But as time passed, they changed their views, as is their right to do.
When talking about growth, it's easy to default to social issues, but it can apply to all parts of a political ideology. Glen Clark – the very man protested by Falcon in the '90s for his general leadership incompetence – is now president of BC's largest private company, the Pattison Group.
After a decade away from politics, I am curious about how Falcon has evolved. How has being the dad of two young girls changed him? It changed me; it opened my eyes to a lot of systemic discrimination young women face. I suspect it's done the same for Falcon.
Authenticity will be important in this; you can't fake it, or it comes off like Gordon Campbell wearing a flannel shirt. But Falcon has passed this test before. In January, he made a splash with an op-ed calling for more help for those suffering mental health and addictions issues.
Deregulation-era Falcon might have raised an eyebrow at such an approach, but, to me, it's a sign of his evolution. What caused this change in perspective? Personal experience, he wrote in The Vancouver Sun:
"Since departing government seven years ago, I've volunteered time at a non-profit that deals with housing the homeless, along with researching mental health and addiction issues. I've concluded that our current treatment programs for the mentally ill and severely addicted are largely a failure."
That's exactly the kind of personal detail we need from Falcon. Authentic, affected by his lived experience, and willing to look at fresh ideas to make things better.
More of this, please. How has a decade in private business reshaped Falcon's views on government, red tape, and growing an economy? What does he consider to be the biggest successes of the Campbell Era—and what decisions would he like to have back?
The next few months will be vital to Falcon, both introducing himself to potential under-40 supporters, and showing those of us over 40 who remember him how he has grown.
Jordan Bateman has a long history of public policy work, championing small business and fiscal responsibility. Currently the Vice President, Communications & Marketing for the Independent Contractors and Business Association (ICBA), Jordan also served six years as the B.C. Director of the Canadian Taxpayers Federation, and was a two-term Langley Township Councillor.
SWIM ON:
Jordan Bateman last wrote waaaaaay back in October 2020, about a BC Liberal election pledge that committed to a referendum on the Surrey policing debate.
Of course, Jordan is more regularly seen (and heard) on #BCPOLI Hotstove, including this week - where the main topic of discussion was Kevin Falcon's leadership campaign launch, and the very topic explored in more detail above.
Dene Moore: The argument that BC is an 'outlier' for protecting rural representation is simply not true – and warrants a response.