"What We Are Seeing Now Is a Baseline For What's Coming for Soccer in Canada." - Bob Lenarduzzi
Remember the words and remember who said them.
Bob Lenarduzzi wasn't doing quite the same victory dance as sidelined star Alphonso Davies last Sunday following Canada's classic 2-0 win over the United States. But Lenarduzzi's message was clear.
Everything is now in place for Canada's men's national soccer team to qualify for a FIFA World Cup berth for the first time in 36 years.
Realistically if not mathematically, the follow-up 2-0 win against El Salvador Wednesday solidified Canada's presence to compete against soccer's elite November 21 to December 18 in Qatar.
A World Cup appearance for Canada hasn't happened since 1986.
Lenarduzzi was a tenacious defender for that squad under coach Tony Waiters. Canada failed to score a goal in three games, suffering agonizing shutouts against France, Hungary, and the Soviet Union.
"The big difference now is that we've got the infrastructure," says the man who is and always will be the face of soccer in Canada.
"In other countries it's referred to as 'the Golden Generation' when all the key players are young. This is our time. There is a pyramid that will certainly get better. The future of our game has never been brighter."
Canada's spot in the 2022 FIFA World Cup in Qatar is all but assured. Yet Canadians will have to hold their applause – and collective breath – to make it official until the final three qualifying games are completed in March.
Canada ends the trek with road games in Costa Rica and Panama, and a home game against Jamaica at a Canadian venue yet to be determined.
"I can only imagine if I was a kid, I'd want an Alphonso Davies jersey more than anything," Lenarduzzi says. "These are exciting times for soccer."
SCENE & HEARD:
When Larry Isaac graduated from John Oliver Secondary, he was on a mission to get into sports television. At age 18, he boldly walked into the office of Lorne Hassan, head of the sports department for an all-new Vancouver TV station that was about to launch as CKVU.
Isaac came armed with scrapbooks he'd kept of sports research and statistics. No resume, just scrapbooks. Hassan hired him on the spot as a co-producer of Sports Page, one of Canada's first hour-long sports-only highlight shows.
That was 45 years ago.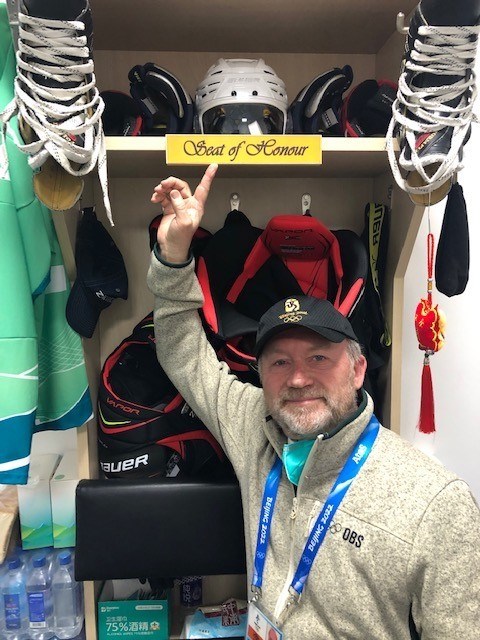 Today Isaac is working his 14th Olympic Games occupying a television producer's chair in Beijing after a 31-hour odyssey to get there from his home in Coquitlam.
He's been sharing a daily diary with family and friends:
"Alarm clock went at 3:45 at home Thursday to be at customs at 5 a.m. for 7 a.m. Skywest flight to San Francisco; then over to International Terminal to catch All Nippon Airlines for 11-hour flight to Tokyo; seven hours at Narita Airport in Tokyo before five-hour flight to Beijing.
"With nasal COVID test and deep throat swab stick after landing at 1 a.m., arrived at Beijing Yu Yang Hotel by bus at 3 a.m. Wake-up call at 7 a.m. to be told test results; if negative allowed to leave our room but only to walk outside the front door for breath of fresh air. PCR swabs in the lobby each evening; results are back in the morning before routine starts all over again."
Isaac's assignment along with a crew of 76 technical and production freelancers under Vancouver-based Team Leader and Director Greg Breakell is to produce the World Feed for the International Hockey Federation. Networks around the world take the feed and add their own announcers. CBC and NBC will be calling the games in a North American studio off large-screen TV's.
It's been an adventurous journey for the Gemini-winning producer since his CKVU days on West 2nd Avenue in Vancouver.
Isaac has made the circuit spreading his talents through BCTV, CTV, TSN, Sportsnet, Hockey Night in Canada, world track & field championships, WTA and ATP tennis, PGA & LPGA golf and now his 14th Olympic Games.
And to think, it all started with those scrapbooks he kept as a youngster.
Greg Douglas 'Dr. Sport' contributes to The Orca on a biweekly basis. His five decades of covering sports in British Columbia included 19 years as a weekly columnist with The Vancouver Sun.