Imagine a university where you can learn to be a lawyer, nurse, truck driver, or carpenter. Those are among the vast array of educational opportunities at Thompson Rivers University in Kamloops.
Created in 2005 when the University College of The Cariboo amalgamated with the B.C. Open University, TRU has grown to 33,000 students, including some 17,000 enrolled online. As of 2011, TRU is also British Columbia's newest law school.
Dr. Brett Fairbairn is the President & Vice-Chancellor of TRU, moving to Kamloops from the University of Saskatchewan where he served as Provost and Academic VP.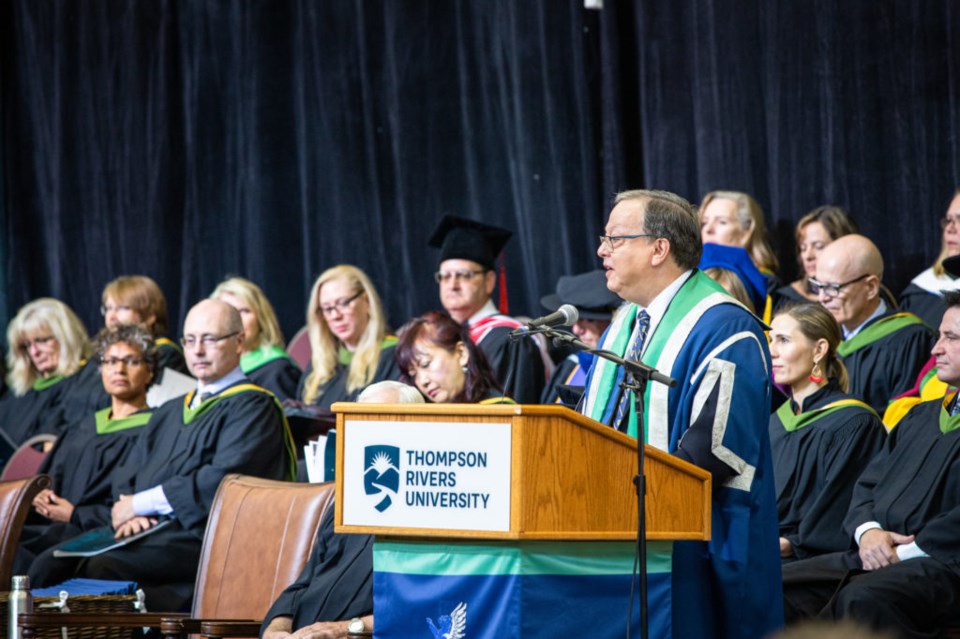 Bob Price: Coming from one of Canada's largest and most distinguished post-secondary institutions, what's the biggest difference you've noticed at TRU?
Dr. Fairbairn: There are both differences and similarities. Among the similarities is the fact that both institutions are closely connected to their communities. Thompson Rivers is also a young school while the [University of Saskatchewan] in Saskatoon has been around since 1907. Here at TRU, there is growth, dynamism, people are open to change, and what may be the biggest thing is a can-do attitude that comes with that.
Bob Price: Thompson Rivers certainly breaks traditional university norms by offering trades training. Is that an advantage?
Dr. Fairbairn: It is an advantage. Certainly we are unique in that we embrace all the educational needs in the region. From trades, to law, to a Master's Degree in nursing, we offer everything people need to realize their potential. There are also other ways we are distinctive; about half our students are online. As well, one third of our in-person students are international and 10% are Indigenous. The way I sum it up is diversity. We are inclusive with many different ways of studying.
Bob Price: Why should potential students from Vancouver or Victoria consider Thompson Rivers University?
Dr. Fairbairn: We actually draw a large number of students from outside the Kamloops region. There are many paths to succeed here, and you aren't alone. We have excellent support services including mental health and counselling, to students tutoring students. We have a really supportive environment for students to succeed.
Bob Price: TRU recently launched a 10-year planning process called Envision which invites public input. What are you hearing so far?
Dr. Fairbairn: I think of this as a conversation. We started with as close to a blank sheet of paper as we could get – and just asked everyone internally and externally about the most important things to keep in mind in terms of TRU's future.
We've had something like 2,500 people participate, and I think what I've seen and heard is the importance of values. So that we are committed to the success of students, to sustainability, to indigenization, and to growing our research.
Bob Price: So the future of TRU will include even more course selection and research?
Dr. Fairbairn: Absolutely! We are growing as a research university and what I'm looking for is research that fits our mandate, fits our region, and fits with what we're good at.
Bob Price: How do you feel about the current state of post-secondary education in Canada?
Dr. Fairbairn: We are certainly seeing increased scrutiny of post-secondary education – and that makes sense to me. Since I was a university student, post-secondary learning has gone from an option to a necessity. The government of B.C. has estimated that 80% of new jobs in B.C. will require post-secondary training. Universities are no longer an option for many people but rather essential. With that comes greater scrutiny.
Bob Price: And given that critical role of universities, my final question is whether post-secondary education should be free?
Dr. Fairbairn: That's an interesting question. It's both a philosophical and a practical question. I would love it if we could charge zero tuition fees. But I don't see any realistic future in which that is attainable. And I say that as I look at public sector finances. I look at the challenges facing taxpayers and I just don't see where the money would come from to make the system free. I believe a better way to go is to think about inclusion and to think about targeting those who face financial barriers and assisting them specifically.
As always, I welcome your comments and criticism on Twitter @kammornanchor and email [email protected].
Bob Price is a veteran B.C. broadcaster who anchored the morning news on CHNL radio in Kamloops for the past 30 years. Bob is also a past Webster Award winner whose previous stops included Vancouver and Calgary. 
SWIM ON: