If John Horgan is interested in finding new friends and supporters in the B.C. Interior, he has a strange way of showing it.
"Missing in action," says Clearwater Mayor Merlin Blackwell when asked to describe the NDP government's response to the crisis facing  BC's lumber industry.
"As far as getting out there and waving the flag of government, they've definitely been absent," laments Blackwell, who describes government communications related to several hundred lumber industry layoffs as "dreadful."
Faced with a shortage of timber, low lumber prices, and high log costs, British Columbia's forest companies have announced dozens of cutbacks this year. These include four permanent sawmill closures, 64 temporary closures, three indefinite closures and six shift reductions at mills which have somehow found a way to keep operating.
"It deserves the term crisis," says Blackwell.
"The fact the government is basically hiding out in the Lower Mainland and Vancouver Island is alarming." Blackwell maintains both Premier Horgan and forestry minister Doug Donaldson have barely commented on the situation, let alone shown leadership.
"There hasn't seemed to be a response."
"I think the biggest issue, is there hasn't seemed to be a response" says Joshua Knaak, president of the Kamloops Chamber of Commerce.
Knaack questions the NDP government's silence on the forestry crisis while suggesting the impact of forestry layoffs continues to mount.
"In many other industries, the government is quick to step in," says Knaack, who also points out only three New Democrats were elected in the Interior.
As mayor of Prince George, Lyn Hall shies away from throwing political shots. But he's keenly aware of widespread concerns – and pain – related to lumber sector job losses.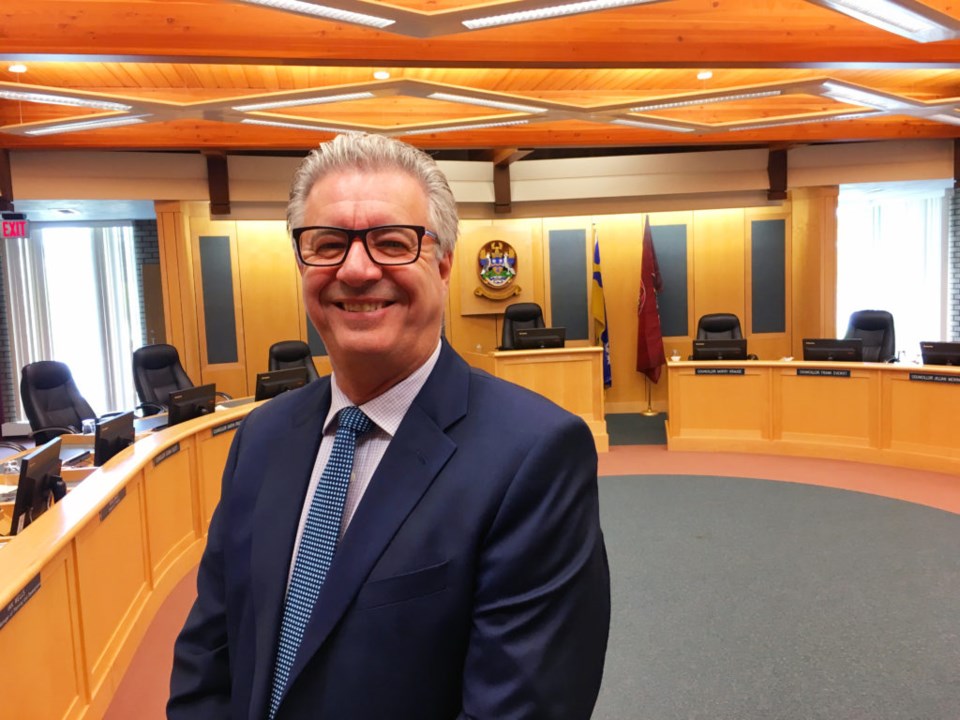 It was Hall who organized a recent meeting of central and northern Interior mayors. Thar meeting resulted in a letter to the federal government appealing for help for forest-dependent communities as a result of little action at the provincial level.
(The list of mayors who signed that letter had one notable absence: Quesnel's Bob Simpson, a former NDP MLA.)
For his part, Hall says he prefers to work with government in the hopes of finding long-term support for the forest industry – although he admits he has yet to secure a face-to-face meeting with Donaldson.
"Could they do more? Absolutely they could do more…there's no question about it," adds Hall.
Prince George Mayor Lyn Hall "has yet to secure a face-to-face meeting" with the forestry minister
So just why has the Horgan government been so quiet BC's worst forest industry crisis in 40 years? While some might suggest incompetence, the more commonly held opinion suggests the government was simply unprepared for the extent of the downturn.
Whatever the reason, at this point they have few answers beyond the appointment of Delta North MLA Ravi Kahlon as Parliamentary Secretary for forestry.
"We have pitched every opportunity related to wildfire fuel mitigation," says Blackwell.
The NDP's political critics have also questioned the province's failure to work with Ottawa to develop Employment Insurance benefits for workers close to retirement in order help prevent shift reductions. Other suggestions include community work programs for skilled trades people, a monthly review of stumpage rates (as done in Alberta) to help reduce production costs, and the formation of a special cabinet committee to deal with mental health and social services issues for laid off workers.
Critics also question this government's decision to expand log exports – which of course they said they would never do.
I've written before about the great divide in B.C. politics. While the current crisis facing the lumber industry could have been a golden opportunity for the NDP government to show leadership beyond its urban support base, their lack of action on this file has only served to deepen the line in B.C.'s political sand.
As always, I welcome your comments and criticism on Twitter @kammornanchor and email [email protected].
Bob Price is a veteran B.C. broadcaster who anchored the morning news on CHNL radio in Kamloops for the past 30 years. Bob is also a past Webster Award winner whose previous stops included Vancouver and Calgary. 
SWIM ON: