"We are going to need a good comms plan." Nine words guaranteed to send me into an apoplectic rage or make me irrationally hate you forever. Probably both.
Nine out of ten times, this sentence is spoken by someone who has never worked in communications. Usually a Minister or MLA who – upon uttering this hateful and obvious phrase – looks extremely pleased with themselves, as if they've just invented algebra, or discovered fire.
A wise man once reminded me, more than once, that "comms can fix anything. Also if anything goes wrong it's comms' fault." (Thank you former colleague and notable communications expert Corey Hogan).
Every political Communications Director knows what I'm talking about. When tasked with turning some godawful, irredeemably half-baked policy into gold solely through the power of language, it's inevitable: something (everything) will be your fault.
So why share this charming hot take?
Because, political comms of all stripes tribe, I get it. But here comes the pivot – sometimes it really is our fault.
Witness the perplexing, infuriating, and downright shady COVID communications "strategy" of last night.
COVID restrictions imposed on December 22nd were set to expire at 12:01am Tuesday, January 18th. These orders included the closure of gyms, fitness centres, and bars, limited restaurant tables to six people and reduced concerts, sports games and theatres to 50% capacity.
Rather than hold a press conference on Monday the 17th, giving fitness centres and bars a whole 24 hours to prepare for reopening, the provincial government chose instead to quietly rescind the end date from the official public health order, leaving the restrictions in place indefinitely.
One of the most popular journalists in the province, Richard Zussman, found the change and tweeted it to his over 55,000 followers.
All hell broke loose. Confusion, anger, sadness, and more anger.
Two hours later, the Minister of Health tweeted "The previous December 22nd orders had end dates of 12:01am, Tuesday, January 18. Dr. Henry will be providing an update on the new orders on Tuesday, January 18 – this updated order was made to ensure the order remained in place until Dr. Henry spoke about them on Tuesday."
Quickly followed by, "Dr. Henry repeatedly stated at Friday's briefing that she would be updating everyone on Provincial Health Orders at the briefing on Tuesday."
This convoluted explanation is deservedly getting ratioed on social media. Here are three ways why this was the wrong approach, and how the government could have done better.
Timing
January 17th is known as Blue Monday, the most depressing day of the year. Sure, this annual day of reflection is nothing but a travel marketing scheme, but given the hellscape of the past two years, it feels pretty bleak in 2022.
Exercise is scientifically proven to help with mood challenges and anxiety. An announcement focused on safely reopening the fitness sector would have been a great hook.
Instead, we got gym bans "indefinitely."
This timing snafu can't be chocked up to error. The provincial government's well-resourced communications and public engagement wing has a comprehensive corporate calendar that tracks every possible notable day of observation to align government announcements with. If political staff aren't currently using it, they should.
Execution
Yesterday, government was reactive instead of proactive. Changing the order with zero notification to stakeholders, media, or the general public on any platform whatsoever. A chat with selected press gallery journalists, plus a simple tweet from the Health Minister before the order was changed would have provided calm clarity and changed evening news coverage from negative to neutral.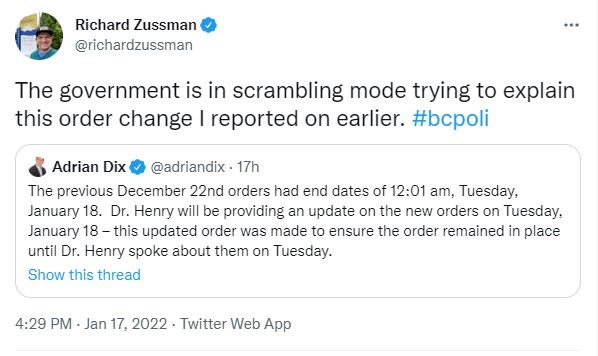 Message and Tone
Small business owners have faced enough hardship over the last two years. They need information and clarity. Instead, they got nothing.
Minister Dix's tweet, intentional or not, came off as frustrated and blame-ridden. It assumes every British Columbian still breathlessly stalks the government's COVID briefings, grateful for the wisdom and cloying platitudes of our public health overlords.
This isn't March 2020 anymore. We've lived with COVID and its variants for two years. It is not the responsibility of every citizen to track every press conference in real time. It is the government's responsibility to communicate clearly and effectively.
I want to give credit where credit is due. Judged on the whole, this government's overall approach on restrictions over the past two years has balanced lives and livelihoods better than many of its provincial counterparts.
But since the fall, we've seen a downward spiral into secrecy, hedging, arrogance, and cringeworthy expressions riddled with irony – remember "booster shots of kindness?"
If the team responsible for COVID communications, including the Minister, are understandably burnt out from two years of nonstop issues management, it's time to change the team.
And don't forget: you're gonna need a good comms plan.
Katy Merrifield is the Vice-President for BC at Wellington Advocacy, who has served as Communications Director to Premiers of both Alberta and British Columbia, and was the first woman to run a winning leadership campaign in BC.