Hecate Strait is famous for whale watching, but it also boasts a pair of unicorns – two international ports completely different from the rest.
The four most recognized shipping sites are Port Alberni, Nanaimo, Prince Rupert, and Vancouver-Fraser since they have been taken under the auspices of the federal port authority model. Not so for Stewart or Kitimat. The other four are located a short ply from open water while Kitimat's harbour is about 150km deep into the interior at the end of Douglas Channel and Stewart is about 180km up the northerly Portland Canal. Both are deep, sheltered, close to Asia, and totally private operations.
Kitimat's main terminal operator is Rio Tinto, which took over the Alcan aluminum smelter and all its assets, including the port. The head of Douglas Channel was home to the Haisla Nation for eons, but an act of classic colonialism established the modern town of Kitimat. It was build in the early 1950s especially for the Alcan smelter. The site was chosen for the deep, ice-free ocean access coupled with its relative proximity to the Kemano power station and the Nechako Reservoir, both created by Alcan for what was at the time the largest private investment megaproject in Canadian history.
To this day, Rio Tinto imports copious alumina (raw aluminum ore) from across the world and exports finished aluminum products at a rate of about 420,000 tonnes per year.
In 2014 Rio Tinto sold an amount of its harbour-front property (the deal officially closed in 2018 for $576-million) to the LNG Canada consortium, so a second major player could use the head of Douglas Channel. This LNG undertaking is now the record-setter for private investment megaproject in Canadian history.
At the time of the sale, Rio Tinto's chief executive Sam Walsh said, "This is an excellent example of how we can generate meaningful value from our existing assets by selling options on port facilities to LNG Canada enabling it to share one of the best deep water ports on the western seaboard of the country. This innovative approach will provide an expanded gateway for Canadian resources to worldwide markets which has the potential to benefit the communities and economy of British Columbia."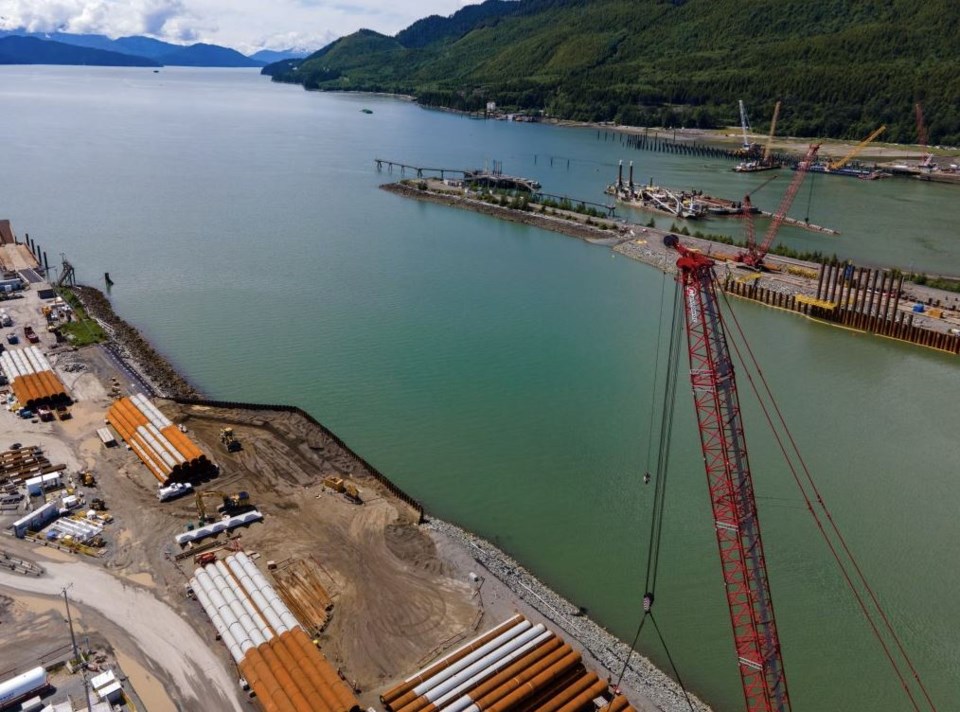 Rio Tinto declined to answer questions about future port opportunities, should other proponents wish to set up shop in Kitimat.
LNG Canada should be exporting by the middle of this decade, and are already receiving ocean-going vessels loaded with specialized equipment for the construction phase now underway. The federal government estimates LNG Canada will ship 26-million tonnes of LNG annually.
There are two other LNG facilities proposed for Kitimat's harbour, both of them slated to use Bish Cove slightly down the coast from the town. Both the Kitimat LNG facility (recent financial setbacks have endangered this project) and the Cedar LNG facility (recent financial investments have moved this project forward) would be erected on land controlled by the Haisla Nation.
"There is no real presence of anybody (colonial authority) in the Douglas Channel so if you want to do pretty much anything there it has to be in partnership with the Haisla Nation," said former Haisla chief councillor and current Skeena MLA Ellis Ross.
Ross said that the Haisla Nation has long advocated for port development.
"We've been trying to engage with Rio Tinto-Alcan on a private port for years but they hold that pretty close to their chest," he said, but some collaboration has occurred, like the wharf renovation happening this past year.
"The dock facility they are actually building, with Haisla consent, has a dual purpose," said Ross. "It has the capability of shipping out potash from their dock. I think at some point we will see potash shipments going out of Kitimat." The District of Kitimat owns none of the harbourfront property on which future developments might occur, but the municipality understands it might be a first point of contact for potential proponents.
"The District of Kitimat, as well as other stakeholder groups in the region, would definitely be willing to provide assistance in identifying stakeholders that would need to be contacted, and landowners who would need to be engaged, and partners that could be approached," said Mike Dewar, Kitimat's Director of Economic Development.
"One of our strong points is we have all forms of transportation connections: the highway, we have close proximity to the airport, we have the port that can reach international markets, and the connection to the CN line which goes from right here to the heartland of North America and all major locations along the way."
That critical infrastructure, the rail line, could soon receive a significant upgrade if yet another project reaches completion. Pacific Traverse Energy (PTE) is working on a liquefied propane / butane terminal project. This spring the same company handed off its startup stake in the Cedar LNG proposal to Pembina, allowing that Haisla-owned venture to move to the next level. Should it become operational, it would be the first Indigenous-owned LNG facility in Canada.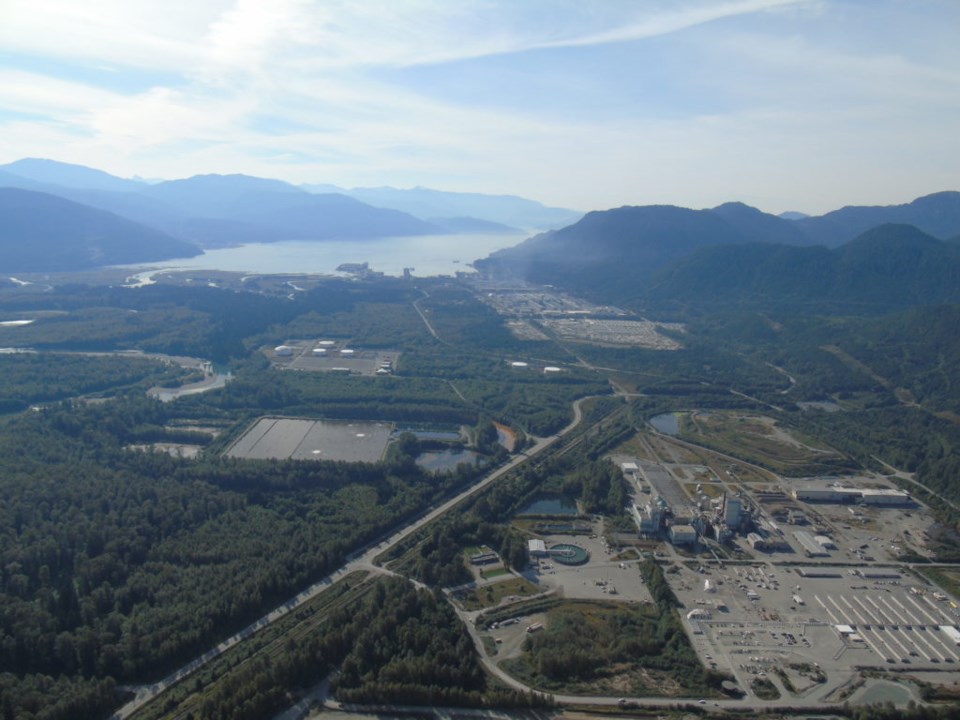 PTE isn't leaving the Douglas Channel, however, since they have their goal of bringing propane and butane into Kitimat by rail. This would require an upgrade to the existing rail system at the waterfront. PTE would also need to build a shipping terminal, which they hope to do on Haisla-owned land, and a short, specialized pipeline from the railyard to the dock.
The estimate for the project is the export of 1.25-million tonnes of the gas combination each year, with a workforce of 70 to 90 people.
One of the downsides of Kitimat's port potential is the landscape. While there is little development at the head of Douglas Channel, there is also steep and rocky terrain. Major river deltas like in Vancouver provide relatively flat and easy soil for construction. On the other hand, rock is incredibly stable to build on, and there is plenty of Crown and Haisla land available near Kitimat and all along the channel for the right proponent.
Nathan Cullen is B.C.'s Minister of State for Lands & Natural Resource Operations. He is also the MLA for Stikine and the former Member of Parliament for all of northern B.C.'s international ports. He is thrilled with the Haisla's pivotal roles in the development of Kitimat's shipping industry – especially because of what that industry means in relation to all the other natural resource sectors that flow in and out of such facilities.
"These ports are hugely critical," Cullen said. "A lot of the work around the cabinet table is about reconciliation, building up a stronger economy, better environmental performance. I think the current figure is: shipping things by sea is 20 times more efficient than by truck, in terms of
greenhouse gasses and certainly cost. So it's not going anywhere. Having more options on the coast, particularly in the resource-rich north, has this huge ripple effect right across not just British Columbia but all of Canada. We know the ports are choked in other parts of the continent, and so I think the future is nothing but bright."
Frank Peebles is a veteran magazine and newspaper journalist based in Prince George. He has won numerous awards for his work, including Canadian Community Newspaper Association and BC-Yukon Community Newspaper Association citations.
SWIM ON: