As far as funerals go, the Catholic mass held a few weeks ago at Christ Church Cathedral was a sacred and memorable event. The Requiem in D minor, Op. 48, written by French composer Gabriel Fauré, was performed flawlessly by the Vancouver Bach Choir, in collaboration with Early Music Vancouver, to a sold-out audience at this year's Bach Festival.
The score is unique, unmistakable, controlled and delicate. Intense and mystical, it carries with it a sobering gravitas undisturbed by worldly interferences, and transforms the participant (performer and listener) to the realm of meditation and prayer. Written more than 120 years ago, Fauré's Requiem also transcends time.
At least, it did on this occasion.
Under the spell of his baton, maestro Leslie Dala led us back across the decades to a Paris funeral in 1888, held at la Madeleine Church, where Fauré presided as choirmaster and where his requiem was first performed.
It's not often one gets to witness a live performance of Fauré's music, largely believed to be inaccessible to popular audiences and considered "too French to travel."
Author E. Phillips, who wrote Gabriel Fauré, a Guide to Research, explains: "It is more likely that the difficulty of much of Fauré's music…and the demands it places upon [the listener] are the principal reasons for its omission from concert programs and for a misunderstanding of Fauré's place in the history of French music," writes Phillips.
Yet for the purposes of Early Music Vancouver (EMV), which celebrated its 50th season this year, Fauré's music was exactly the kind of challenge that lends itself to "historically informed performance practice" – an approach to classical music that aims to be faithful to the manner and style of the musical era in which it was written.
By placing it in the correct context of its history, classical music becomes more accessible to modern ears, says Matthew White, executive and artistic director of EMV.
"Well, I should say that I don't think that historically informed performance practice is necessarily better than hearing modern instrumentalists using their most up-to-date technology for any given repertoire," he said.
"But in our experience, it often makes music easier to understand and interpret when played on the instruments for which it was written."
That ruled out Bach, ironically, for the Bach Choir. It's been proven that much of the great composer's vocal music was written for one singer per part, not large choirs of more than 20 voices per part.
"Faure's Requiem posed no such existential issues," said White, "it was written with larger vocal forces in mind, is spectacularly beautiful and works extremely well arranged for organ," he said.
Budget constraints meant the festival could not put on the orchestral version as it was performed in the 1890s.
"I will program this work again, however, at some point and hire a band of instrumentalists who will play on copies or original instruments from the 1890s," promised White.
"Amazingly, the instruments of the modern symphony orchestra have changed a lot in the last 120 years. This means slightly different brass instruments and gut strings for the violins, for example."
What else is amazing is the record attendance at this year's Bach Festival. White counts 5,545 attendees this year, compared with 4,822 last year. Before its rebrand in 2016, the festival was much smaller and held solely at the University of British Columbia, drawing just 1,883 attendees in 2015.
Despite the explosive increase in numbers, and an annual budget of $1.7 million, EMV still has a lot more room to grow, said White, who in his previous life received international acclaim as one of Canada's leading countertenors, and as a founding director of the Quebec-based ensemble Les Voix Baroques.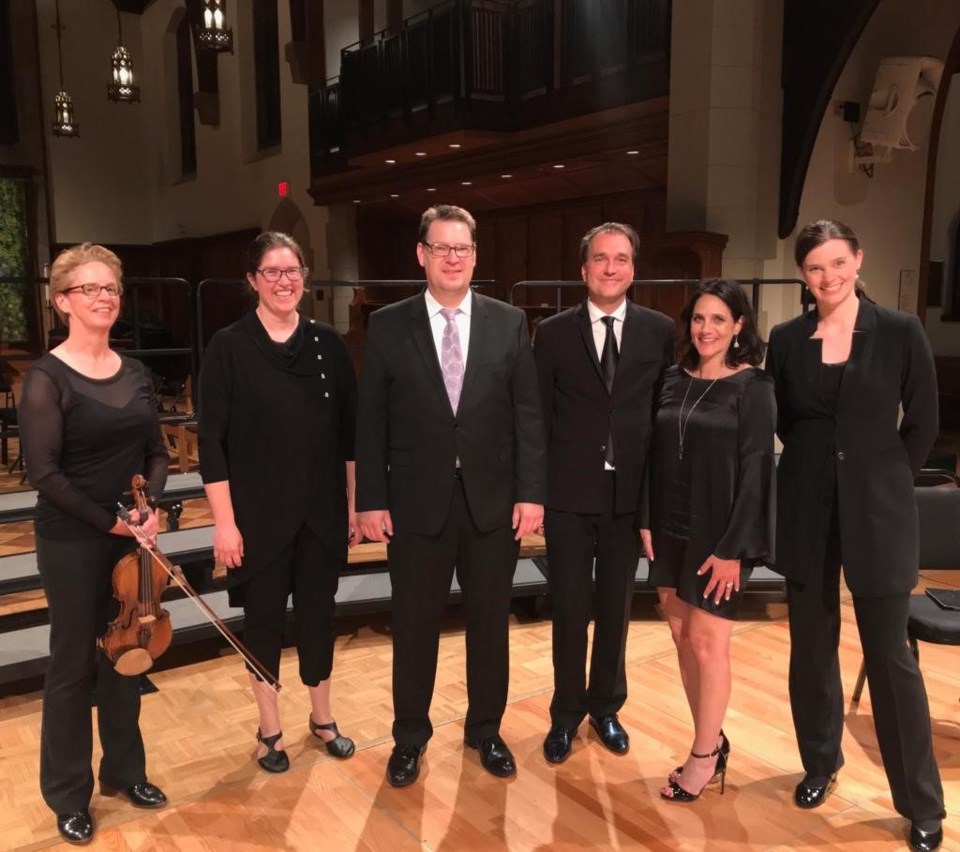 The Juno and Grammy-nominated artist laughs when asked if classical music has become mainstream. "Is that a rhetorical question?" says White.
"Classical music used to be on the CBC, it used to play in people's homes by choice," recalls White.
"When you asked someone if they had heard of Bach or Mozart, most people would say 'yes.' There is now, however, a very different market at work and less exposure through the publicly-funded education system as well," said White.
"The short answer is that classical music is now very clearly a niche market, but in my opinion, it is more important than ever as a result. This is music that should remain in people's general awareness in the same way as Shakespeare, for example. Sadly, this is going to be an uphill battle if we don't continue to fund public access and educational programs."
Founded in May 1970 as the Vancouver Society for Early Music, EMV's steady and continued growth 50 years later, is a good sign. As is the sold-out crowd attending Fauré's funeral celebration of hope and resurrection. EMV's continued presence and success in Vancouver offers proof that the music of the past will continue to find new audiences and hold value in the present, as well as for many years to come.
Paula Arab is a Vancouver-based writer and media communications strategist. She can be reached at [email protected].
SWIM ON:
Jody Vance on another aspect of festival success: booze laws that actually make sense.
Paula Arab's Orca debut focused on a very different kind of business: airline competition.
This isn't the first time The Orca has focused on a house of worship. May Q. Wong looked at the founding of Temple Emanu-El in Victoria - Canada's oldest surviving synagogue.