After a rough patch in the pandemic, the Port of Nanaimo (PON) is bouncing back like a champion boxer after a rare knockdown. It might have taken some blows against the ropes, but the way they've come out swinging is a model for how ports in B.C. handle adversity. They fight back with diversity within their own internal economies.
Nanaimo's port has known the best of times. When it was built on the strength of 19th century coal mines, then transitioned to 20th century pulp and lumber shipments, it was a booming place. In times when fortunes were measured in the thousands, that harbour was making millions. The Hatley Mansion at Royal Rhodes University and Craigdarroch Castle in Victoria stand as architectural proof: both built as residences for the Dunsmuir family that in those days monopolized the fortunes of Nanaimo.
Never mind that the mines, port, accompanying railway from Nanaimo to Victoria, and old-growth logging were all part of an industrial steamrolling over numerous First Nations who never ceded their territories, and even the trampling of one of the only B.C. treaties ever written, even as the ink was drying in 1854, with the Snuneymuxw people.
Times changed and so have the industries. Forestry and mining on Vancouver Island have shrunk to shadows. Nanaimo's docks today, once the hub of natural resource exports, now rely on imports and passengers to buttress the local economy. During Covid-ravaged 2020, even those sputtered.
But whatever 2020 represented, 2021 represents the hope and inspiration reflected by an increasingly urbane Nanaimo. It's a growing and optimistic city, and there is plenty to be optimistic about down at the water's edge.
Two major announcements have recently put extra spring in the step of Port of Nanaimo CEO Ian Marr.
The first was in February, when DP World confirmed it was making a major investment in Nanaimo. For years the shipping company operated a small wharf there, but now, and with the financial support of all levels of government, they will be building a full container terminal at Duke Point, turning Nanaimo into an international import centre.
Marr was excited because during the pandemic, there was no income relief for them.
"There was nothing for ports. We just had to continue on," he said, reporting a 20 per cent drop in gross revenues.
"Some ports did quite well, they recovered especially with container movement, but we're not into that at this point in time," he said.
But they soon will be. Maybe there wasn't CERB for ports, but there is the National Trade Corridors Fund (NTCF). The federal government collects an annual fee from all ports under the auspices of Transport Canada. Nanaimo pays Ottawa two per cent up to $10-million and four per cent over $10-million. That's on gross revenues, not net income. Ottawa does not pay anything annually back to ports, but there are grants available, and one envelope is the NTCF. Due to its plans with DP World, Nanaimo succeeded in acquiring $46.2-million.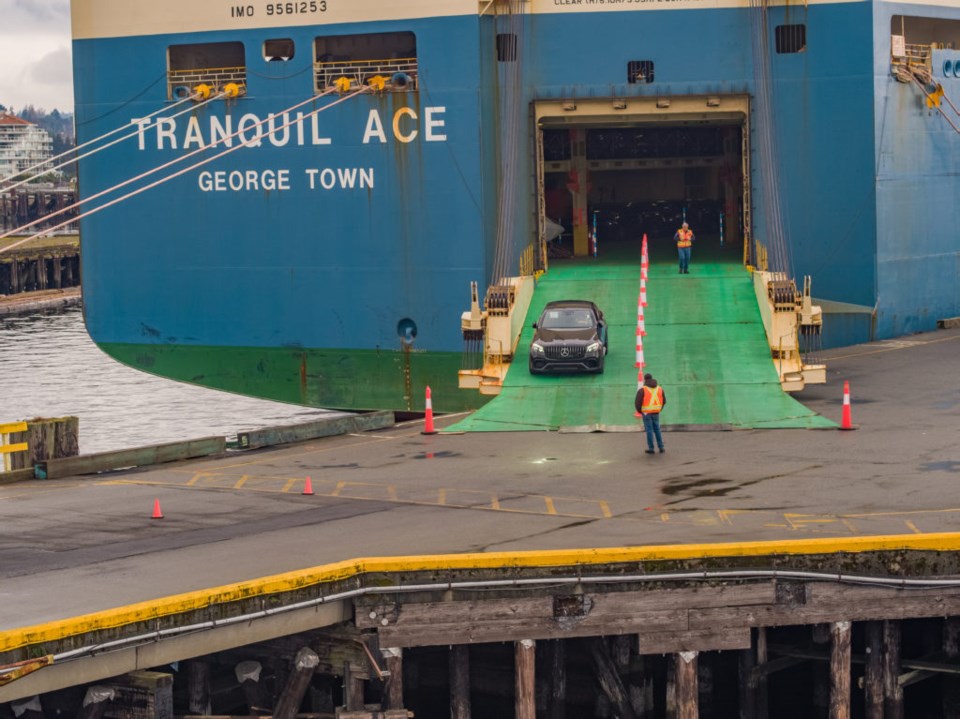 The Province of British Columbia is also part of the containerization upgrade, providing $15-million, with DP World and the port authority contributed about $50-million of their own money.
The wharf at Duke Point will grow from 182 metres to 325 metres, plus the addition of cranes, warehouse and maintenance buildings, yard storage space, and more. It will allow Nanaimo to handle 280,000 TEUs at a time. (One TEU is the equivalent of a standard 20-foot shipping container.)
The CEO of DP World, Maksim Mihic, said the Nanaimo evolution was what the British Columbia shipping industry needs.
"The Duke Point Expansion Project will bring Vancouver Island to world markets and put the Island on an even playing field with the rest of Canada in terms of trade," said Mihic.
"In addition to the significant creation of local jobs, it will also highlight Vancouver Island's advantage in industrial land availability and affordability in comparison to the Lower Mainland. The introduction of the Duke Point LO/LO (lift-off/lift-on) operation represents a significant milestone in shifting the B.C. transportation industry from a truck-based, single modal connection to a multimodal transportation industry where truck transport in part will be replaced with short-sea shipping, resulting in significant greenhouse gas reductions."
If this idea sounds familiar, it might be because the most recent article in this series profiled the aspirations of the Port Alberni Port Authority, less than 100 land kilometres away.
Chief among their plans is to build a short-sea shipping centre that would have container vessels offload, arrange all the containers into smaller shipping packages, then barge the containers strategically to the mainland. It would cut down on overall handling, reduce vehicle emissions, and help traffic congestion on Lower Mainland roads, western Canadian rail lines, and Salish Sea shipping lanes.
You could say Nanaimo has beaten them to the punch, but with so much anticipated container shipping expected in the next 20 years, a better way to put it would be that Nanaimo is showing the way.
If the Island rail system could be renovated, especially the link between Nanaimo and Port Alberni, said both Port Alberni's port CEO Zoran Knezevic and Nanaimo's Ian Marr, that work could be done even better. From a national economic strategy point of view, it would also create a safety redundancy in case one of the ports became disabled for some unwelcome but easily imagined reason, be it a mechanical incident, natural disaster, or anything in between.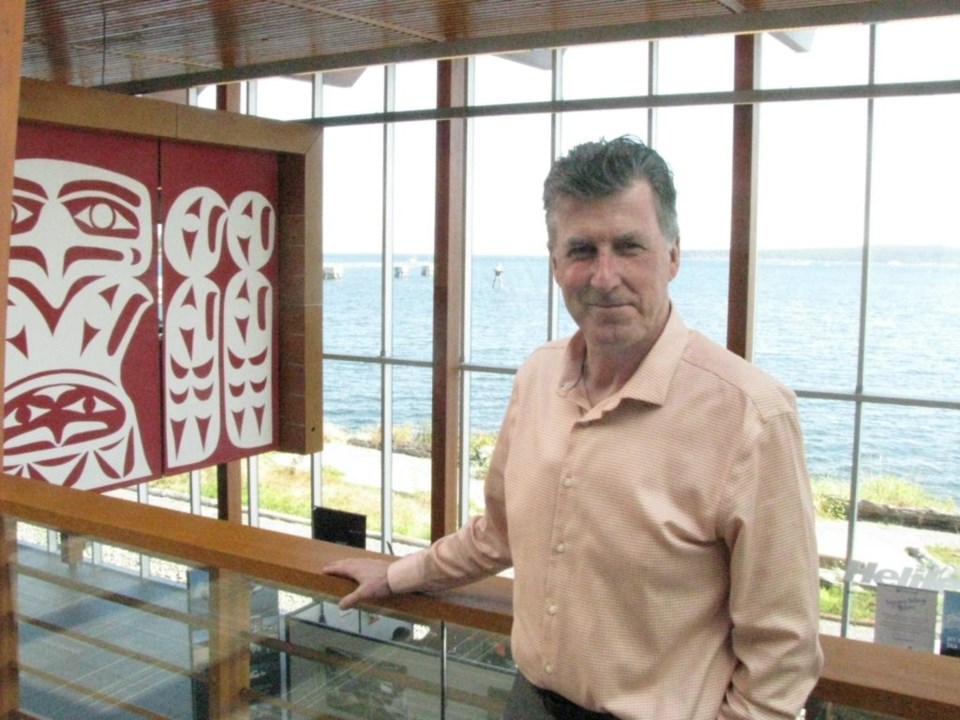 "What happens now? It goes to Calgary, gets redistributed, and comes back," said Marr. "So you could do it here, and then you're straight over to Vancouver and it's on the train. If you look at Vancouver, they are busy, might be too busy. If you look at them expanding (Roberts Bank II and CGT-Deltaport proposals), there's lots of issues with that. If you look at our operation, we've got lots of room based on our existing footprint without making it an intrusive expansion."
"We're just working with DP World on that strategy for the next five to 10 years, but we've been moving product on barge for the last several years, so we know how that works."
Something else the ports on Vancouver Island have learned is the legal and social imperative to include affected First Nations. In Port Alberni, there are two original cultures at the terminus of their inlet (the Tseshaht First Nation and Hupacasath First Nation), and two more at the ocean mouth (the Uchucklesaht Tribal Government and the Huu-ay-aht First Nations), all of whom have protocol agreements and other business connections with the port authority.
In Nanaimo, the relationship with the Snuneymuxw First Nation has been frosty. In 2017, they called for the abolition of the Nanaimo Port Authority altogether.
"Snuneymuxw First Nation has informed the federal government that it expects to have Nation-to-Nation discussions on the future of Nanaimo harbour in order to bring alternative harbour governance models forward to replace the Nanaimo Port Authority (NPA)," the nation said at the time.
"Snuneymuxw made its position clear earlier this year to the NPA and to Transport Canada. The Port Authority model is fundamentally broken and unresponsive to the needs of our community. To be blunt, the legal structures upon which it is based come from another era – one that was not based on partnership, cooperation, and the recognition of our rights. We were told that the federal government took our grievances with the NPA seriously and would engage with us to make the necessary changes to the NPA approach. That has yet to happen, and Snuneymuxw expects the federal government to diligently pursue fulfillment and implementation of its commitments enshrined in the Snuneymuxw Treaty of 1854."
Since then, the relationship has strengthened. When the Duke Point expansion was announced, Snuneymuxw chief Michael Wyse was involved.
The Duke Point containerization development is a significant step forward for Nanaimo's port and the fortunes of Vancouver Island on the whole, but it is not the only advancement.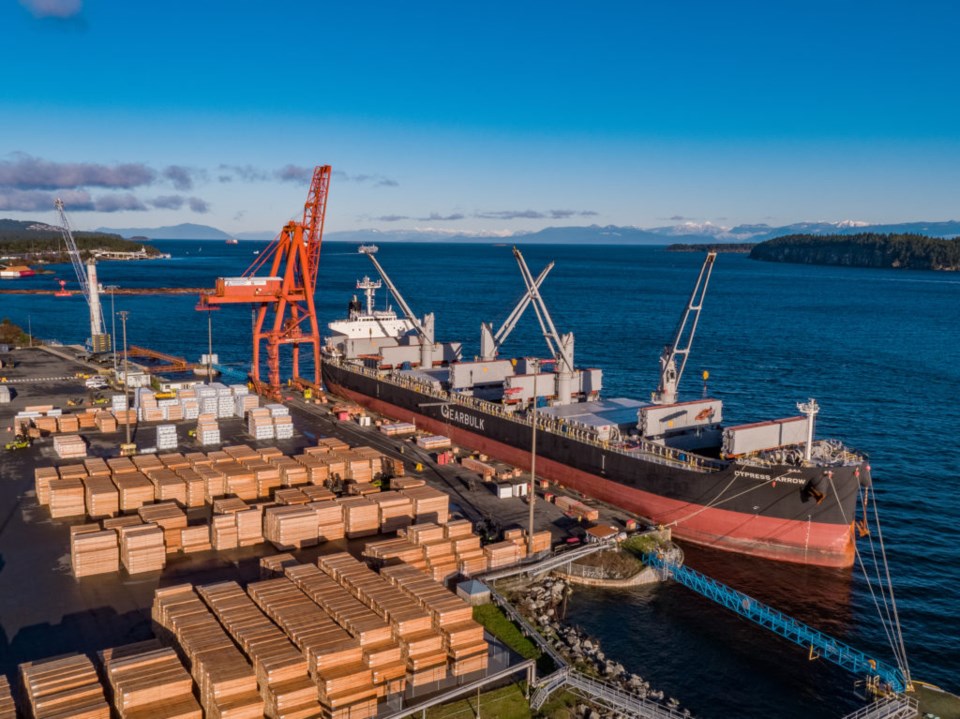 Last month, Marr announced a breakthrough in one of their longest negotiations, after decades of talking with proponents. Again, the Snuneymuxw First Nation is at the centre of the project. Along with Conqora Capital Partners Inc., they will run a fast-ferry passenger service between downtown Vancouver and Nanaimo's downtown cruise ship wharf, adding usage to existing infrastructure.
Some cruise ships have already stopped in at this facility, but it was sporadic, and Covid put the cruise industry on hold.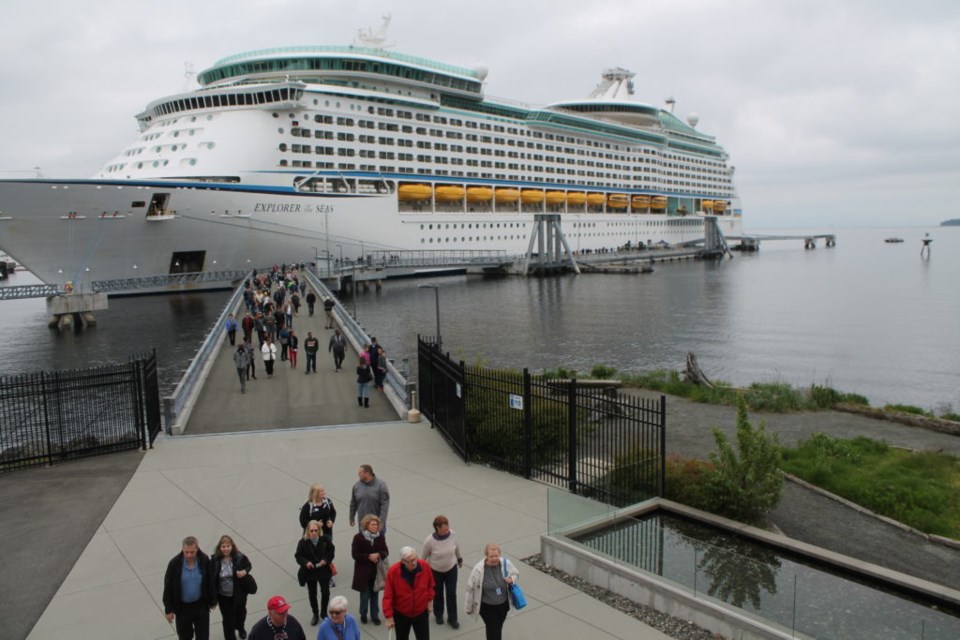 "It'll take awhile, so what we're targeting are the smaller cruise ships," said Marr. "The bigger ships are looking at stopping in Victoria and going to the west side of the island. We're a different sort of animal. What we're doing is working with the smaller luxury cruise guys – 500 to 1,000 passengers. It's a refocus we took at the beginning of the pandemic, and things are just getting reestablished."
What saw Nanaimo's port through the pandemic was the shipment of raw logs.
Also, about once a month, a large ship pulls into harbour and offloads a warehouse full of vehicles. Nanaimo is the site for arranging them into smaller loads for trucking to the mainland via BC Ferries to auto dealerships in B.C. and Alberta.
The Port of Nanaimo is also home to a helijet pad and seaplane dock, plus a disaster mitigation base for Western Canada Marine Response Corporation.
Marr looks at the congestion at the Port of Vancouver, the sustained growth at the Port of Prince Rupert, the potential synergies at the Port of Port Alberni, and the socioeconomic profile of Vancouver Island and calculates it all into his plans for Nanaimo.
"The whole Island has to be integrated so the people can move and the goods can move, and it's the most environmentally friendly of any mode of travel," he said, referencing rail and shipping. "And you have to look towards the future, here," in that environmentally sensitive area, but with an exploding population and plenty of economic opportunity.
After Nanaimo's bounce-back from the Covid turbulence of 2020, his operation might offer a business case for all industries on how to assemble several small victories into a big win.
Frank Peebles is a veteran magazine and newspaper journalist based in Prince George. He has won numerous awards for his work, including Canadian Community Newspaper Association and BC-Yukon Community Newspaper Association citations.