Editor's note: the following is an excerpt from City in Colour by May Q. Wong, a remarkable collection of stories that illustrate Victoria's vivid multicultural history. Full copyright information follows the excerpt. 
Blacks from the United States sought a safe haven to settle in, free from the fear of slavery, and the Colony of Vancouver Island fit the bill.
Beginning in 1850, the free state of California was becoming increasingly racist. Newly enacted laws were becoming more discriminatory. Blacks were precluded from testifying against Whites in court, unless White witnesses were forthcoming. Blacks had no recourse if they suffered violence, robberies, vandalism, or other assaults from Whites. Collectively, Blacks owned property worth up to five million dollars, and feared they would not be able to protect their holdings when attacked.
The Fugitive Slave Bill, passed in 1852, allowed not only fugitive slaves to be returned to their southern owners, but also any free Black person who could not show freedom papers to be claimed as a slaveholder's property. Black people had to register and wear a distinctive yellow badge. Blacks could not vote. Their children were either segregated in or banned from schools altogether. There was a move to ban Black immigration. More significantly, in 1858, legislation was being considered to make California a slave state.
The Black community became increasingly frustrated and concerned about the safety and the well-being of its families. Delegations were sent out from San Francisco on fact-finding missions to look for prospective settlement areas. One group came to the Colony of Vancouver Island.
The group met with Governor James Douglas to inquire about how Black immigrants would be received. The governor, himself the son of a Scottish father and a free West Indian mother, was known as a man of high moral character. Earlier in his career, he had attempted to abolish slavery among the local Indigenous tribes, so he was likely more than sympathetic to the plight of the Black Americans.
In addition, the governor had concerns about the thousands of White Americans flooding onto the mainland to the Fraser River goldfields. Despite the fact that the Oregon Treaty of 1846 had established the American and British colonial border at the forty-ninth parallel, he feared the current population of 1,000 Vancouver Islanders would not withstand a forceful takeover if the increasing number of Americans agitated for the annexation of the mainland extending to the Alaskan border. He needed settlers who would be loyal to the British government.
So Governor Douglas told the delegation they and their compatriots would be cordially welcomed. They would be able to purchase land at low cost, with one-quarter paid on possession. They could also pre-empt land by building a house or other buildings, clearing and farming the property, and generally making improvements before purchasing it at a minimal price set by the government. Their children could attend school. Most importantly, a landowner who had resided locally for more than seven years could become a British citizen by taking an oath of allegiance, and would have the right to vote, sit as a juror, and be treated equally under British law.
By the spring of 1859, 400 Blacks had landed in Victoria. It is estimated that between 600 and 800 Blacks, mostly freed men, answered the invitation during this period, many of whom settled in Saanich on Vancouver Island, and on Salt Spring Island. Some went to work in the gold mines.
As a group, the Blacks were the first non-British people to come to the new colony for the sole purpose of resettlement, as opposed to the temporary search for wealth. They were familiar with North American culture and spoke English. They worked as barbers, carpenters, domestics, farmers, greengrocers, laundrymen, merchants, porters, restaurant keepers, saloon keepers, and everything in between. They had pulled up stakes, sold their homes and businesses, and left behind their communities, such as their churches, schools, and neighbourhoods, in an attempt to escape discrimination, racism, and slavery.
They wanted to integrate and become part of the existing community. They actively participated in the commercial, civic, and social institutions of their new country. For example, Mifflin Wistar Gibbs (1823–1915), the son of free Blacks from Philadelphia, was one of the people who had led the migration north. He described himself as
a Fatherless Boy, Carpenter and Contractor, Anti-Slavery Lecturer, Merchant, Railroad Builder, Superintendent of Mine, Attorney-at-Law, County Attorney, Municipal Judge Register of United States Lands, Receiver of Public Monies for U. S., United States Consul to Madagascar—Prominent Race Leaders, etc.
 Gibbs had been active in the abolitionist movement before he went to California. In San Francisco, he was a successful retail merchant and had founded the city's first Black newspaper.
Settling in Victoria, Gibbs was again successful as a merchant and expanded his business dealings into property development and contracting. In 1860, with the approval of Governor Douglas, Gibbs helped to organize the colony's first military militia. In 1866, after becoming one of the first naturalized citizens, he was elected and served two terms on Victoria's city council. He was British Columbia's first Black person to hold office. He was also elected to the executive of the Confederation League and helped to establish the terms by which the Colony of British Columbia would join the rest of Canada. He built British Columbia's first railroad in 1869, as part of the development of a coal mine in the Queen Charlotte Islands. The Gibbs family was part of the congregation of Christ Church Cathedral.
The White residents of Victoria, however, were not immune to racist attitudes toward Blacks. Some churches segregated seating, saloons either refused to serve Blacks or charged them higher rates, and theatres either barred them or tried to limit their seating choices. Gibbs, as he had done in the United States and, as a recognized leader of the Black community in the colony, spoke out publicly in the newspapers against the growing prejudice.
An American and his family occupied a pew in a Victoria District Church, and one hot Sunday the sexton showed a colored man into the pew. The American left the church and wrote a very indignant letter to the Gazette on the insult offered to the American people by such a proceeding. This called for a reply from the Rev. Mr. Cridge in defence of his sexton. Also Mr. Gibbs wrote a very caustic letter, in which he handled the gentleman without gloves.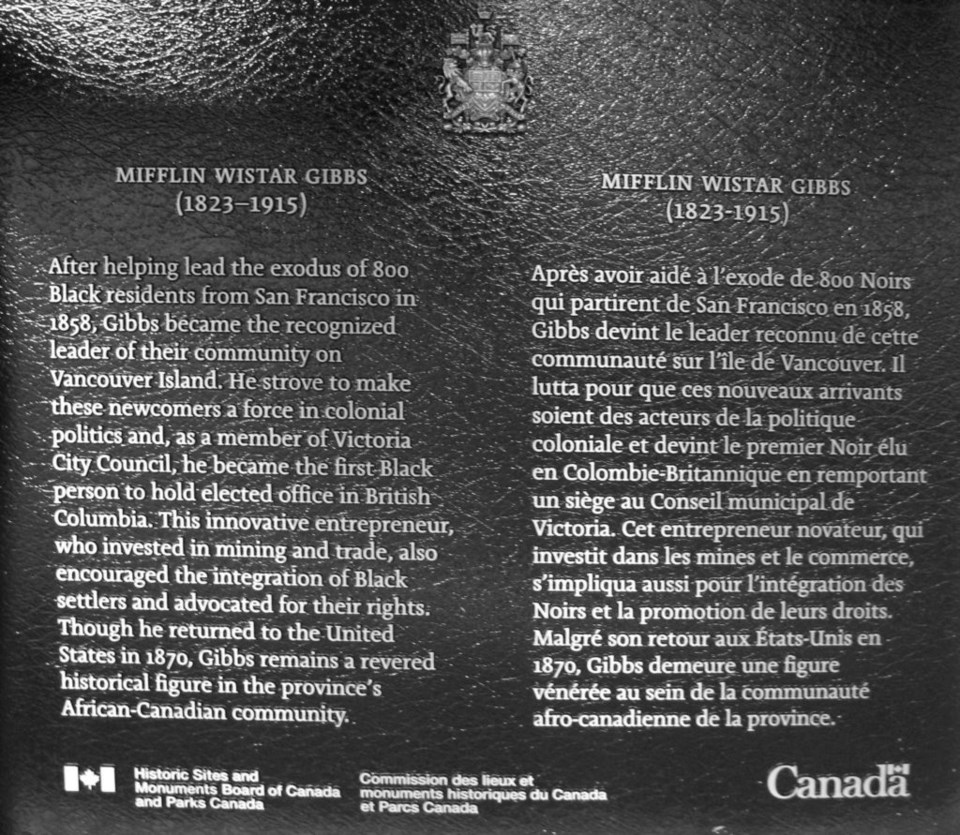 In addition to the negative circumstances in their chosen country, the American Civil War (1861–1865) had abolished slavery and there was no longer a need for a safe haven; life was improving for Blacks in the land of their birth. Gibbs returned to the United States in 1870 and enjoyed continued success. He settled in Arkansas and became the first Black judge and later was appointed consul to Madagascar. When Gibbs left Victoria, many others in the community also returned to the United States.
Gibbs published Shadow and Light: An Autobiography with Reminiscences of the Last and Present Century in 1902. On February 19, 2017, a bronze plaque was unveiled to commemorate Mifflin Wistar Gibbs for his contributions to Victoria, as part of British Columbia's Black History & Heritage Day.
 Charles Alexander (1824–1913) and Nancy Carter Alexander (1834–1912) was one couple that stayed. They were both born in St. Louis, Missouri, both of mixed ancestry, with Black mothers; Charles's father was Indigenous and Nancy's mother was Irish. They were married in Springfield, Illinois, on Christmas day 1849, and lived to celebrate both their golden and diamond wedding anniversaries at their home in Victoria.
Charles was a carpenter who built and ran a gristmill in St. Louis. The first two of their twelve children were born there: Martha (1851) and Agnes (1854). Unfortunately, baby Agnes died young; the tragedy spurred the young couple to seek a change.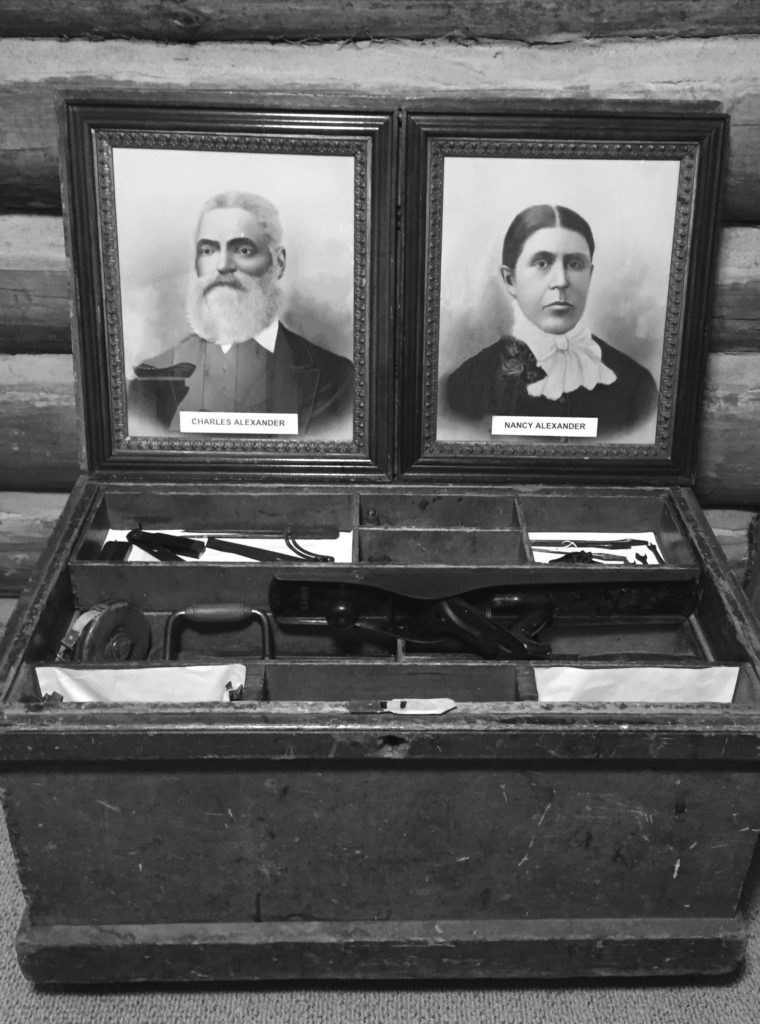 Packing their worldly goods onto a wagon pulled by a four-yoke oxen team, and accompanied by four friends and a guide, they made the gruelling 3,200-kilometre journey overland from Missouri to California via the Carson Route.
As St. Louis, Missouri, was where emigrant suppliers were based, it is likely that the Alexander family wagons would have been well stocked. They stopped at Fort Laramie for supplies and made any necessary repairs. Following the Sweetwater River to Fort Hall, they might have carved their names onto Independence Rock, known as the "Great Register of the Desert," in Wyoming, as other emigrants before them had done.
They passed by Great Salt Lake to reach the Humboldt River, where they were attacked by "marauding Indians." Placing its trust in a Bible, a compass, and a logbook, the group made good time, arriving in San Francisco intact four months after leaving home in St. Louis.
Charles found work in the goldfields, but was not very successful. However, their lives were enriched by the birth of their first son, James, born in January 1857. As the racial climate in California started to get more discriminatory, the Alexanders decided to join the Black migration north to the Colony of Vancouver Island. On July 1, 1858, they boarded the Oregon to Victoria. Their first home was a tent pitched among the hundreds of other such temporary shelters, located where Douglas and Fisgard streets intersect.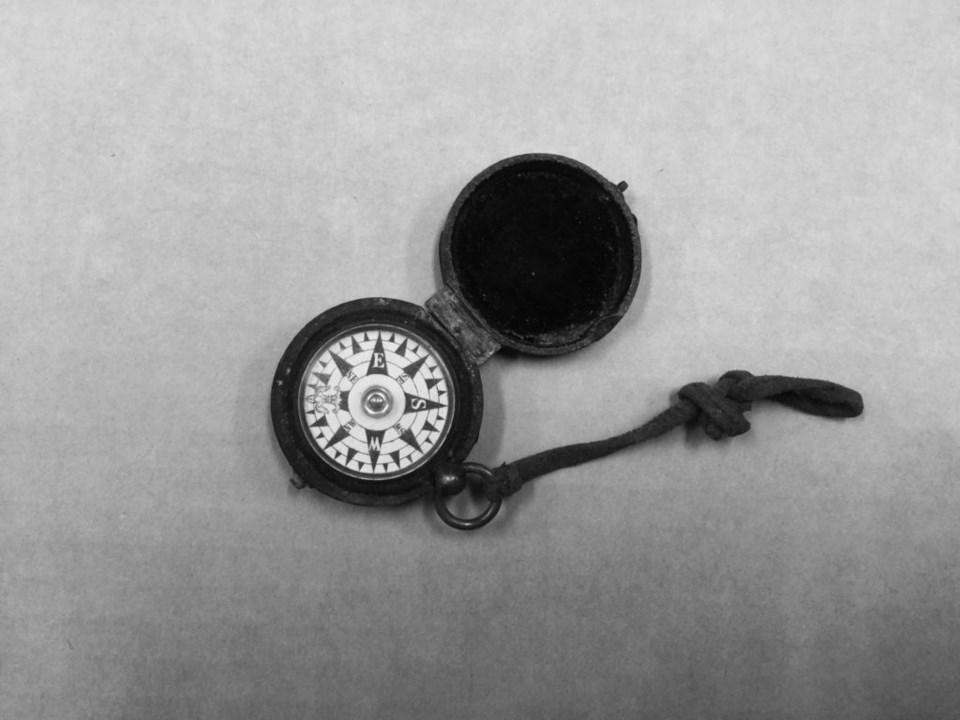 Leaving Nancy and the children in some improved accommodation, Charles went up to the Fraser River goldfields. This time he returned to the family after achieving moderate success. Back in Victoria, he worked as a carpenter; one of the houses he built was for the Finlayson family. Another son, Thomas, was born in February 1859. In the fall of 1861, the family moved to a farm in Saanich, where the rest of their twelve children were born. Their son George died very young, and an evening ice skating accident at Humber Pond took the lives of James and Edward. They were found the next morning, clinging to each other.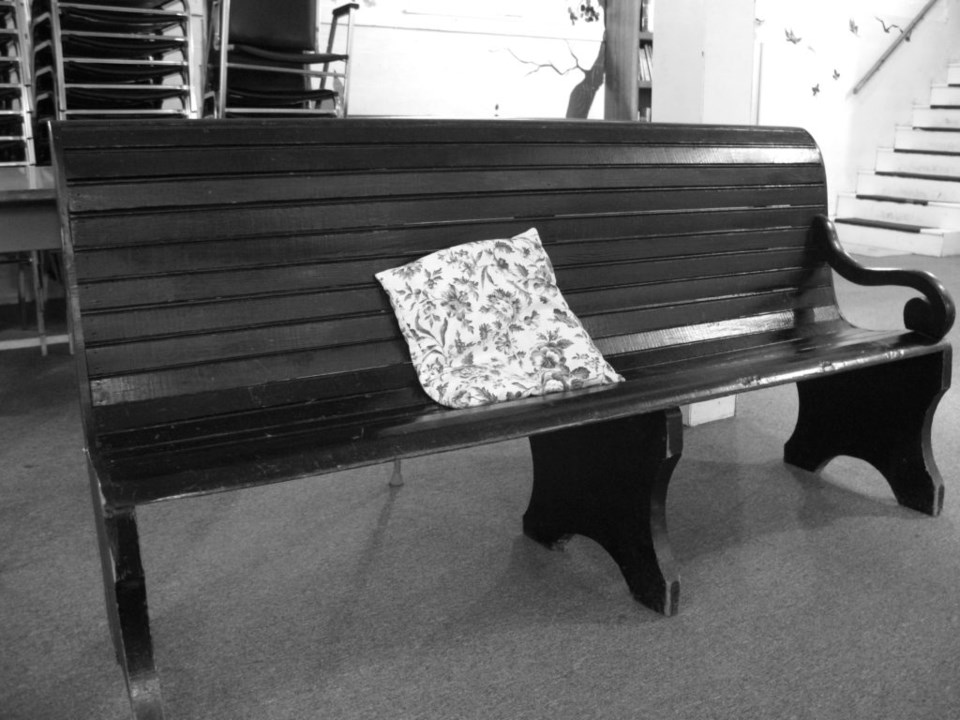 While on the farm, Charles helped build the first school in South Saanich and became a school trustee. He also initiated and helped build the first Shady Creek Church in 1862, on land donated by Jesse McMillan, situated between East Saanich Road and the current Patricia Bay Highway. Charles built the pews, "not for comfort, but so one could sit up straight to hear the word of the Lord."
Later, when the church was moved to its present site at 7180 East Saanich Road in Saanichton, the straight-backed pews and stained-glass windows were installed. Charles, an eloquent speaker, was one of the church's first lay preachers. He also founded the Temperance Society and the Saanich Agricultural Society. Nancy would later join the fledgling Lake Hill Women's Institute, becoming a valued member.
After thirty-three years of farming, Charles and Nancy retired to the Swan Lake (now Lake Hill) area, to a home they named "Rockabella Gardens." Here, they celebrated their long and happy marriage. In the photo taken of them on their sixtieth wedding anniversary, Nancy is dressed in a black silk taffeta jacket and skirt, with white ruffles at the neck and wrists. She stands erect beside a seated Charles, with a hand draped on his shoulder. He wears a three-piece suit, with a watch chain. Despite his white hair and beard, neither of them looked their ages of seventy-five and eighty-five, respectively. The photo hangs on the wall in the Shady Creek Church foyer, and during British Columbia's Black History Month, Nancy's dress and other family heirlooms take pride of place in the church hall.
Nancy passed away on March 23, 1912, and Charles followed soon after on January 13, 1913. Both are buried in the cemetery at Shady Creek Church. A bronze plaque on the church grounds commemorates the Black pioneers of Victoria. Alexander Park, located between Bay Street and Walnut Street at Oregon Avenue in the Fernwood neighbourhood, is named in honour of the pioneer family.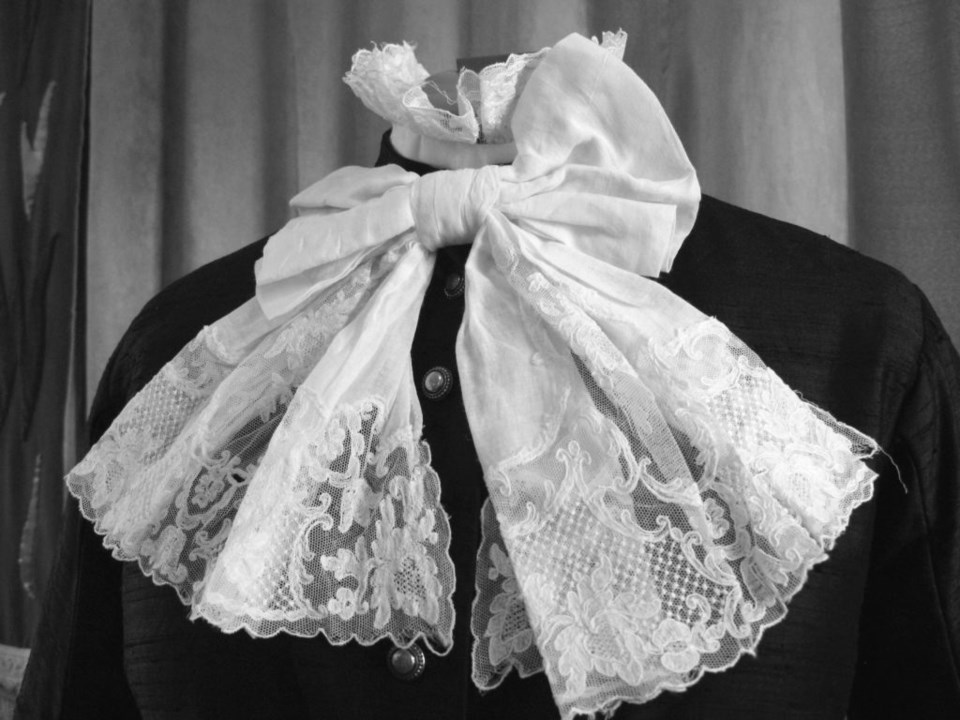 Doug Hudlin (1922–2014), a grandson of Thomas Alexander, drew a family tree in 1992. At the time, there were 400 descendants. Doug, born and raised in Victoria, was a graduate of Victoria High School and worked for the City of Victoria. Like the marriage of his great-grandparents, his marriage to Agnes lasted over fifty years. His lifelong love of baseball and accomplishments on the field as an umpire have been recognized by his induction into the British Columbia Baseball Umpires Association Hall of Fame in 2011 and the Canadian Sports Hall of Fame in June 2017. He was also a founding member of the BC Black History Awareness Society.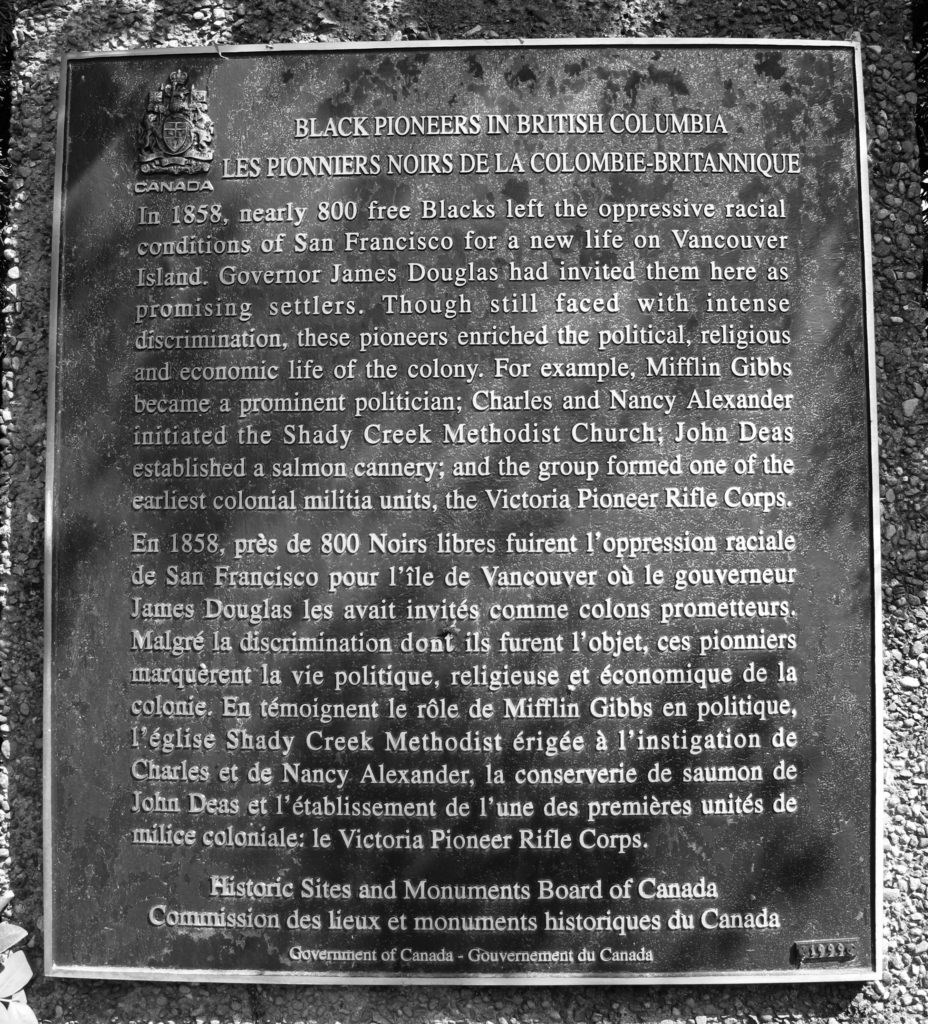 Another descendant of note is Karen Hoshal, a great-granddaughter of the youngest son, John Alexander. Karen has followed in her great-great-grandfather's footsteps by playing a key role in the Shady Creek Church community. Also a dedicated member of the BC Black History Awareness Society, Karen is active in celebrating the contributions and achievements of Black Canadians and fighting discrimination.
The Children of Nancy and Charles Alexander
Name
Date of Birth
Married
# of Children
Date of Death
Martha
1851
Unknown
Unknown
Unknown
Agnes
1854
N/A
N/A
1854
James
Jan. 1857
Unknown
Unknown
1890
Thomas
Feb. 6, 1859
Corinthia Elizabeth Pierre (1868–1939)
3
1926
Lucretia
1861
Unknown
Unknown
Unknown
Charles Jr.
1863
Unknown
Unknown
Unknown
William
1865
Unknown
Unknown
Unknown
Fred
1867
Unknown
Unknown
Unknown
Henry
1870
Unknown
Unknown
Unknown
Edward
1872
N/A
N/A
1890
George
1875
N/A
N/A
1875
John
1876
Flora Rowden (1919–1981)
1
1955
Reprinted with permission from City in Colour by May Q. Wong, 2018 TouchWood Editions. Copyright © 2018 by May Q. Wong.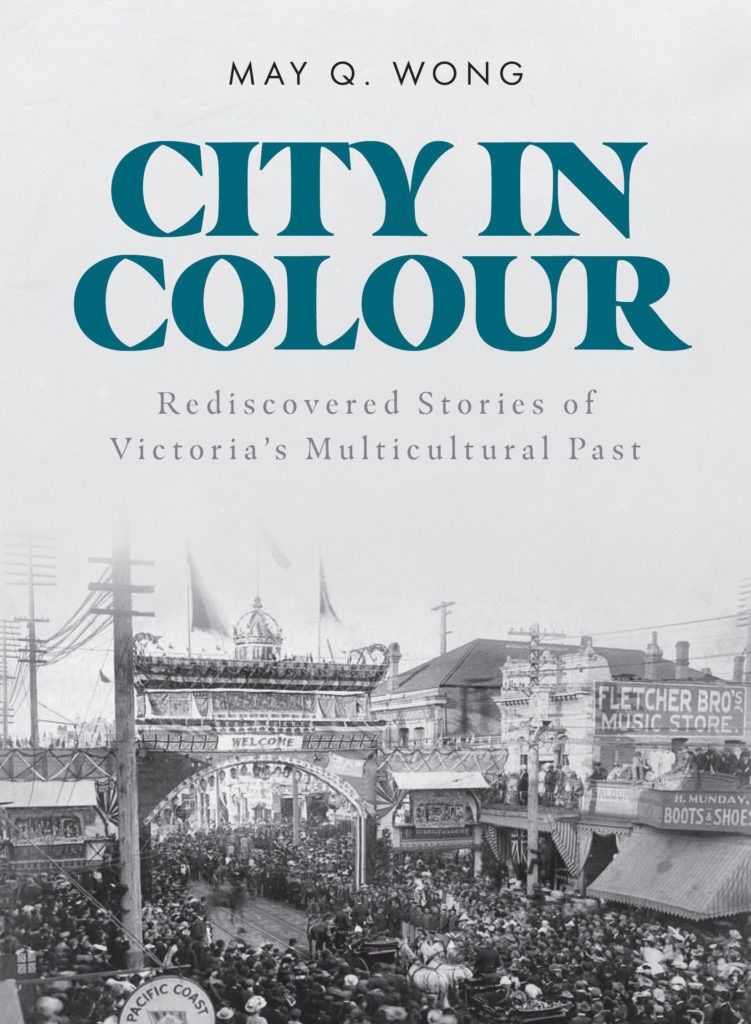 SWIM ON: