The Green Island Lighthouse now shines the way for hundreds of ships each year plying from Asian and American waters to Prince Rupert, but this traffic was on the radar of one railroad tycoon at the dawn of the 1900s.   
It took more than another century for the newborn port to go from Tsimshian archipelago at the mouth of the Skeena River to Covid-proof Asian trade route, but the results were almost exactly what Charles Melville Hays banked on to his dying day.  
That dying day came in spectacular and ironic fashion when Hays sank into history with the Titanic. It was as if the ocean wanted him for itself so his dream could mingle with the waves – a vision of the continent's shortest pathway from Asia to North America, without a single iceberg.     
Hays was the president of the Grand Trunk Railway (GTR) company. In addition to being celebrated for saving the GTR from bankruptcy, he was also the recipient of the Order of the Rising Sun in Japan for his philanthropy and business interests in that country.  
His primary vision was a second Canadian trans-continental railroad. The Canadian Pacific was the so-called "National Dream" legacy of Prime Ministers John A. MacDonald and Alexander Mackenzie, completed in 1885. The leading railway executive in that tumultuous endeavour was Sir William Van Horne.  
This second proposed rail line's executive powers were placed in the hands of Hays in 1895 when he was appointed general manager of the GTR. By 1910 he was president.  
His champion Prime Minister was Sir Wilfred Laurier. The New York Times reported that, during a 1911 address to The Canadian Club in New York, Laurier said "Mr. Hays is beyond question the greatest railroad genius in Canada. As an executive genius he ranks second only to the late Edward H. Harriman." (Harriman was the vaunted boss of Union Pacific Railroad and Wells Fargo Express Company, among others.)  
Laurier also saw Hays' vision of a cargo and passenger connection from Moncton's Atlantic shipping facilities in the east, linking to a number of American connection lines in Central Canada, carry on to Winnipeg, and continuing from there all the way to the Pacific. He agreed with Hays that establishing the western terminus on British Columbia's north coast, not Vancouver, provided an advantageous distance to Asia that shippers would value.   
Laurier led the political effort and the enabling legislation was passed in Ottawa in 1904.  
The route was completed in 1914, but Hays did not live to see it finished.  
On the centennial of the Titanic's tragedy, Ottawa Citizen writer Don Butler explained that Hays "founded Prince Rupert, B.C. at the western terminus of the Grand Trunk Pacific rail line, which he virtually willed into existence…He'd chosen the location because of its fine harbour and relative proximity to the markets of Asia. He imagined an active port."  
In the early years of the 1900s, the GTR purchased coastal land and obtained more in federal grant – a total of 24,000 acres on Kaien Island. Author Phylis Bowman wrote in Whistling Through The West that by 1906 a post office was established and the British Columbia government provided $200,000 to build formal roads, plank sidewalks, water mains, and sewer systems.  
By 1909 there were multiple hardware, clothing, and grocery stores, several restaurants, two banks, a dry goods wholesaler, and many other modern amenities. It was incorporated in 1910. 
Every board and nail was as a result of GTR's port plan – but no plan could have foreseen the First World War. The global economy was thrown into turmoil and the GTR corporation was taken over by its primary investor, the taxpayers of Canada. The federal government nationalized the rail line and established a Crown corporation called Canadian National Railway. It exists today on that route as CN Rail, although no longer a Crown entity.  
Prince Rupert quickly developed other economic legs, like commercial fishing and canning, pulp and other forestry products, and a significant buildup of troops during the Second World War when the population swelled from about 6,000 to 35,000 – plus infrastructure alterations like shipbuilding facilities, anti-aircraft guns, nine different forts, and much more.  
It wasn't paranoia; Japanese submarines and planes were spotted in the area. Two U-boats were sunk by Allied forces along the west coast. At Prince Rupert itself, signal lights were reportedly seen flashing between land and sea, and the water reservoir was drained when it was discovered to have been tampered with.
On June 9, 1942 eight unidentified planes were observed flying towards Prince Rupert over the islands of Haida Gwaii. More Japanese naval activities were spotted in Alaskan waters. On June 21, it was reported that Estevan Point on the west side of Vancouver Island sustained approximately 40 minutes of sustained shelling. Prince Rupert was on high alert.   
When the war ended, the military forces stationed in Prince Rupert took a lot of their effects with them.  
Yet much infrastructure was left as legacy, and it inched the town closer to what Charles Hays had in mind. In a way, his chosen location received an indirect stamp of approval by both the probing Japanese navy and the defending Allies as the most northerly continental railhead in North America.  
The second half of the 20th century muddied the waters of Prince Rupert's port potential. On one hand the federal government made it part of the National Harbour program in 1972 and the Fairview break-bulk terminal was opened in 1975. Break-bulk was the standard shipping method of that time, whereby large quantities of cargo came off ships and were broken at the docks into smaller packages for distribution by train and truck.  
In 1984, the whole operation was nationalized as a Crown corporation, in keeping with federal port policy at the time, and expanded to adjacent Ridley Island where a coal terminal was built. In 1985 a grain terminal was added.  
In 1997, the federal government included Prince Rupert in its nationwide restructuring of international air and sea contact points, and the Prince Rupert Port Authority was born.  
But on the other hand, both federal and provincial governments continued to favour Vancouver, a shorter route from the prairies and a shorter connection to the United States.  
Another factor was the dramatic drop in coal value at the close of the century, forcing Ottawa to once again assume ownership of a Port of Prince Rupert asset, taking over Ridley Coal Terminal in 1991.  
There was also an underwhelming effort to direct grain from the prairies to the northern port, which kept some of Prince Rupert's luster from shining. The feds also assumed ownership of the grain terminal in 1991 when they collected the financial wreckage of the coal terminal.  
The town's pulp operation, Skeena Cellulose, finally succumbed to financial woes in 1998. Other forest industry operations in the Prince Rupert region also closed or curtailed operations during this downturn.  
There was also the small – but huge – factor of BC Rail.  
When economists warn about the pitfalls of governments running businesses in a market shared by the private sector, BC Rail might well be a case study. The north-south line from Prince George to North Vancouver was a provincial Crown corporation, and had a lot of fans within the province, but none of them saw what it was doing to Prince Rupert.  
It was impactful on the fortunes of the northern port in two ways.  
First, when it ceased operations, it triggered the windfall of cash to set the port up right. Not since Wilfred Laurier had a government gotten so behind the Port of Prince Rupert's potential, until 2003, when the Gordon Campbell-led government turned BC Rail into a company that would only administrate the railbeds. It was controversial, and there was drama within the process, but the outcry was no match for the fiscal realities of the deal's aftermath.  
CN Rail paid more than $1-billion, plus a long list of stimulation promises to turn the northern rail route into an economic powerhouse.  
Prince Rupert was suddenly a hot location. It was, as Charles Hays spotted, enticingly close to Asia and a swift CN ride away from virtually every North American destination.  
The second way it was impactful was addition by subtraction.  
The voters of British Columbia are largely concentrated in the Lower Mainland. Prince Rupert (and the entire north) doesn't possess the same electoral clout. BC Rail trains rolling loaded to Vancouver tidewater played well for political parties of any stripe.  
Reason two, BC Rail was a Crown corporation and had to make money or eat holes in the public coffers. No politician, even northern ones, wanted to see that happen.   
University of Northern BC professor Dr. John Young sketched out the conundrum in a Canadian Political Science Review report in 2008.  
"The Canadian National Railway track that ran west through Prince George to Prince Rupert was thus in direct competition with the provincial railway," Young explained.
"Prince Rupert was left out of the loop, and the provincial government faced pressure to maintain the status quo. By one calculation, BC Rail might have lost up to 80 per cent of its freight to Canadian National had the port in Rupert developed to rival Vancouver."  
With a public train now off the tracks and a private enterprise seamlessly rolling in all four directions right from its door, the Port of Prince Rupert suddenly stood the chance of becoming what it was always heralded to be.  
The first major development towards that end was the new and modernized Fairview Terminal. The old break-bulk dock was transformed into a container facility, opening on September 12, 2007 as the first dedicated terminal in North America to the intermodal process, where containers leave the ship and go directly onto rail lines.  
CN Rail speedily moved much of the containers to an inland port in Prince George (a second is now being added in Terrace) where it could be sorted and directed in whichever direction.   
This was the realization of what the Prince Rupert Port Authority called Project Silk, a symbolic play on the Asian trade opportunities they were positioning for. One hundred years earlier, Charles Hays had used silk as an example of the goods North Americans coveted from Asia that he envisioned Prince Rupert delivering.  
The Port Authority CEO at that time was Don Krusel, who told The Northern Voice in 2012 that some outspoken skeptics didn't believe Prince Rupert could live up to the hype.  
"We've defied probability by becoming the fastest growing container terminal in North America…This year, 2012, we will exceed the original design capacity and will ship more than 500,000 TEUs, so it truly is remarkable."  
A TEU is the amount of space inside a standard 20-foot shipping container. That first year, 2008, Fairview processed 182,523 TEUs. In 2018, like a cosmic 10th anniversary present, the union handling the goods in and out of the port celebrated handling in excess of 1-million TEUs that calendar year. That total has been surpassed each year since. 
By then, DP World Canada had purchased the terminal and embarked on a major expansion regimen. The first phase was completed in 2017 and the recent second phase brought capacity to 1.34-million TEUs, but even then, construction only took a pause.  
"Demand will soon outstrip that level of capacity and further volume growth is projected into the foreseeable future," said CEO Shaun Stevenson in a statement, where he estimated the complete expansion program would provide for 1.8-million TEUs by 2023.  
Also, there is now a significant amount of goods travelling back to Asia in those containers, instead of arriving full but returning empty. Forest products, agriculture products, bioenergy products, mining, manufacturing, and many other eastbound goods are increasing container efficiency.   
Work was also done to reimagine Ridley Island. In 2019 that complex was taken back from Crown control, purchased by AMCI Group and Riverstone Holdings along with a 10 per cent limited partnership with the Lax Kw'alaams and Metlakatla First Nations.  
There are a number of Tsimshian nations in the Prince Rupert area, the most directly involved in the Port of Prince Rupert's activities being the Metlakatla and Lax Kw'alaams, plus the Gitxaala Nation, Gitga'at First Nation, Kitselas First Nation and Kitsumkalum First Nation. All have important consultancy input on the land-use of their ancestral and modern-day territories. There is also a heavy Indigenous presence in direct port employment and indirectly through spinoff goods and services suppliers.   
Between those products, wood pellets, LNG, cruise ship passengers, and potentially bulk liquids, the activities of the Port of Prince Rupert make it the third-largest shipping location in Canada behind only Vancouver and Montreal.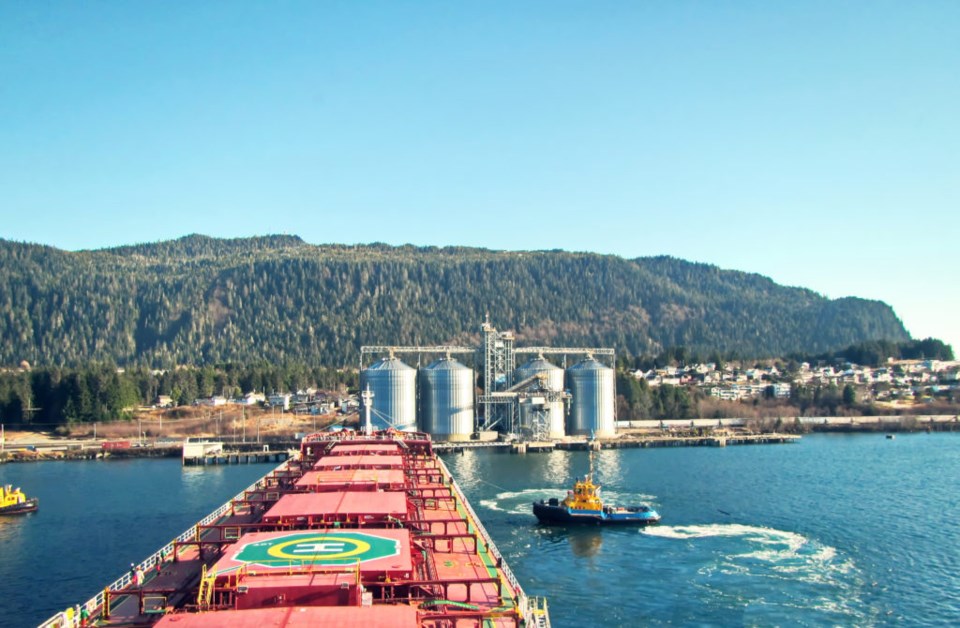 The Port Authority is not stopping to take a breath. In January, The Port announced an ultra-modern transloading system, getting provincial, federal, and private funding.   
Port Authority CEO Shaun Stevenson said, "This pivotal project presents an unprecedented opportunity for sustainable economic recovery, improved competitiveness, and greater diversification and stability throughout northern B.C." 
Once built, this new platform will increase the port's export transloading capacity from 75,000 TEUs to over 400,000 TEUs annually.  
Another major in-house construction project is the nearly complete Fairview-Ridley Connector Corridor, a 5-kilometre private haul road that will "reroute container trucks away from city streets and significantly reduce truck emissions."  
These improvements have speed and efficiency as a target. Sometimes dwell time at any jurisdiction is affected by factors beyond a port's control, like labour disputes or rail car shortages. The average dwell time for a container at the Port of Prince Rupert is about 2.5 days, which, said one port executive, "leads the west coast."  
By comparison, the recently tracked dwell-time at the California ports of Los Angeles and Long Beach (the No.1 and No. 2 busiest cargo ports in North America) averaged 7.9 days, according to the Pacific Merchant Shipping Association.  
The Port of Vancouver is comparable to Prince Rupert, according to the Journal of Commerce, which pinned the dwell time there at less than three days in 2019. But the rail lines from Prince Rupert to Chicago – a primary destination point for cargo logistics – are fast. The line is shorter from Vancouver, but the northern route through the Rockies is easier and less problematic.  
However, only CN Rail operates out of Prince Rupert, while Vancouver has three companies doing regular cargo trips. That is sometimes a contention with shipping companies, but the Port Authority's Vice-President of Public Affairs and Sustainability Ken Veldman said they have the ability to make up for it in other services.  
"We see ourselves as innovators," Veldman told The Orca.  
"We see ourselves as adding value to the imports and exports that come through here. That's part of our competitive advantage. And our ability to be innovators is very much based on relationships, be that with other key partners right here within the port but also understanding what shippers need and really taking an origin-to-destination approach to innovation so that it's not just about the port, it is about that whole supply chain – solutions that are in everyone's best interests."        
Veldman said the Port has transformed the regional economy by providing steady and well-paying jobs within the port, but also spun off into many of the supply chain areas of work across the north.  
One of their main challenges is, being a small town, having enough skilled workers to take the jobs that come with the port's growth. It's a pleasant problem to have for towns along the port's line of influence more used to boom-and-bust cycles of the natural resource industries.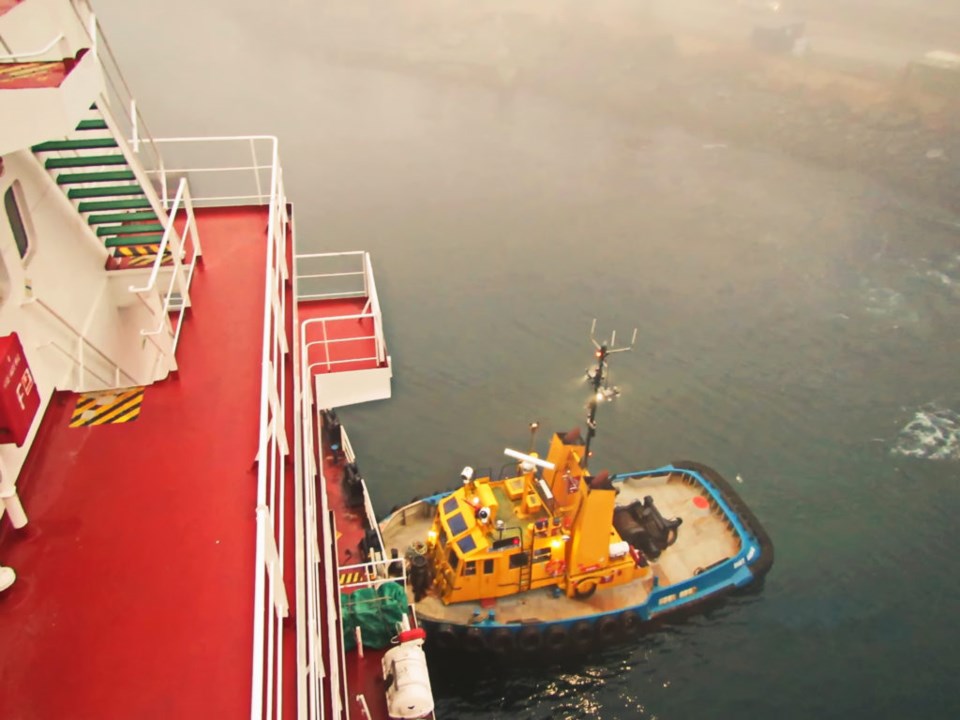 Most major world ports offer a degree of urban anonymity between all stakeholders involved, but when your staff mingles with the general public in the same grocery store aisles, town parks, and school parking lots, that looking of each other in the eye can affect decision-making – for the better, said Veldman. 
"The fact that more people know me as Ken the hockey coach and Ken the baseball coach has a lot of value. There is an accountability that comes with it. I can tell you we have a number of commercial partners that are not based in Prince Rupert, and they love that dynamic, they love coming here, they love that sense of team."  
Team Prince Rupert was one of the few to score a fiscal win during the pandemic. Not only did the port sail through those troubled waters, they broke a record in the process.  
The total number of TEUs was down, reflecting the pandemic's effect on the consumer market and manufacturing sector. Nonetheless, the Port of Prince Rupert still handled 32.4-million tonnes of cargo in 2020, a nine per cent increase over the year before.   
And TEUs were still surprisingly high, more than 1.1-million, and that represented only a six per cent decrease from 2019, but the gains were made in coal, wood pellets, agriculture products and propane.  
"Growth is a big part of our story but another big part is diversification," said Veldman.  
"Last year was another really good example that…diversification provides a level of stability. While it looks like a singular shipping industry, the reality is that there are really multiple businesses that run through here. While the port is based here in Prince Rupert, it is really a supply chain industry, a trades-supporting industry, that runs right through the region." 
"That stability adds a lot of value."     
It can all be seen clearly from the top of the mountain on Kaien Island that looks down upon the city of Prince Rupert, and the busy port below. You can see out into Hecate Strait where the Green Island Lighthouse shows the way out into the open ocean.
Some would say you can also see the future from up there, at the top of Mount Hays. 
Frank Peebles is a veteran magazine and newspaper journalist based in Prince George. He has won numerous awards for his work, including Canadian Community Newspaper Association and BC-Yukon Community Newspaper Association citations.
SWIM ON: