Your natural resources business plan is only as solid as your First Nations partnerships.
The cross-Canada wave of social disobedience over the impasse in Wet'suwet'en territory is all the evidence companies should need to get this message. There are several other high-profile projects that also point to this same conclusion.
The question companies may be asking is, how? How do we move "at the speed of business," and still get the job done?
During the BC Natural Resources Forum in Prince George, that conversation was hot on the agenda even when it wasn't a line item on the official program. Almost every conversation somehow involved the ways and means of factoring First Nations into the industrial sector, and in defence of both the companies and First Nations of the province.
That's been that way at the Forum for at least the past five years. This is not a new discussion.
The protests might be recent, but the maps to mutual success have been drawn for some time, the detail keeps getting clearer, and more clarity is added every day as these latest blockades and court challenges unfold.
"It is clear that doing the same things in the same ways and expecting different results is more than crazy, it is harmful," said Dan George during one of the Forum's panel discussions.
George is the proprietor of Four Directions Management Services, a firm specializing in moderation between dissimilar parties who find themselves together in a business or governmental situation and need help finding common ground.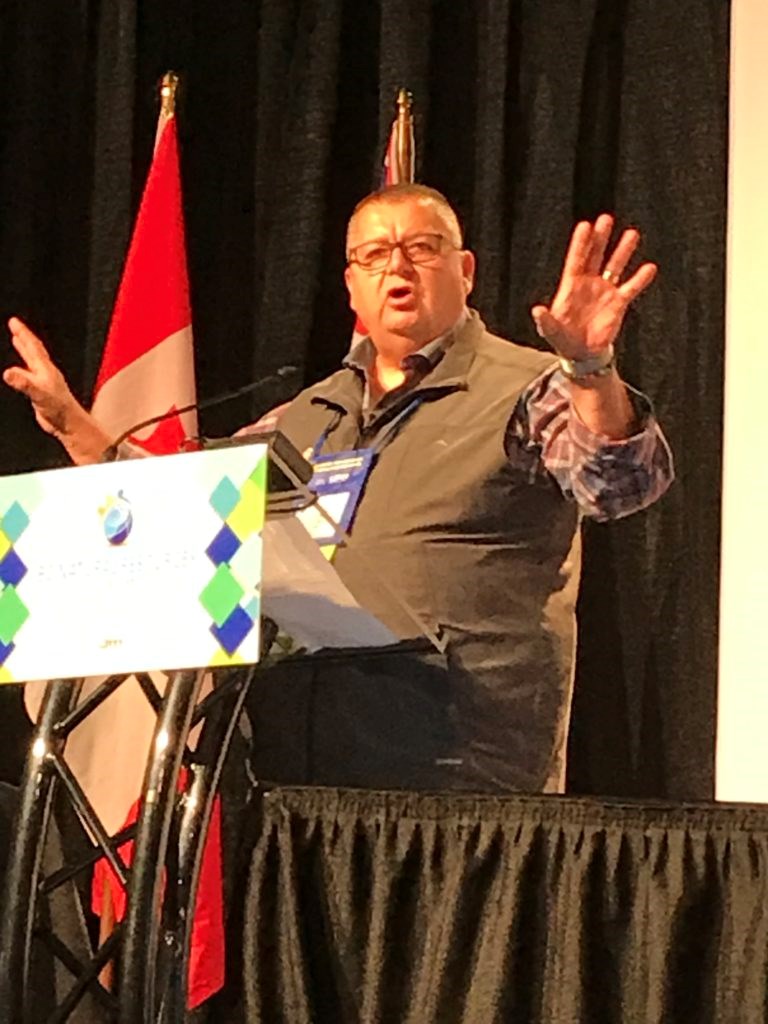 George is also of Wet'suwet'en background, and was once a negotiator for that powerful First Nation's hereditary chiefs. Remember, it was the Wet'suwet'en along with the Gitxsan First Nation who got modern rights and title enshrined in law when they took the famed Delgamuukw Case through the Supreme Court of Canada in 1997.
It is a faction of these same hereditary chiefs who are rallying opposition to LNG Canada's section of pipeline slated for their territory near Houston.
"Doing the same things in the same ways and expecting different results is more than crazy, it is harmful."
George is also the former executive director of the Prince George Native Friendship Centre – Canada's largest. He is in a unique position to understand the nuances and scope of First Nations business relations.
"The great news," said George, "is that there are now many examples of partnerships that have created unprecedented results by intentionally tearing down real or imagined silos, engaging everyone at every level, and a shared vision with common values and a measurable action plan that furthers the vision, sharing power and leadership across the table, establishing decision-making rules essentially deciding how to decide, setting in place the mechanisms for reciprocal accountability, embracing a solution orientation to your shared work, and using our conflict as a unifying force rather than having our conflict separate us on the land-base once again.
"And last but not least, strategically empowering everyone in the partnership to make suggestions and take ownership in that vision.
"I have watched these partnerships benefit by letting go of historical turf wars, for the good of the partnership and the good of the people we serve, being crystal clear on where the partnership is going and how it proposes to collaboratively leverage opportunities, and dampen challenges."
The most important factor, said George, is the timing of the consultation.
"There are lots of examples of things done properly."
"I think the biggest trip-up has been baking the project before you come to the (Aboriginal) community, and having some preconceived notions about what reception should look like and how the Indigenous group should respond," he said.
"Our people are alive to that and resist that. When the idea is just starting to germinate, you should be starting to talk to the Indigenous communities in whose territories you might want to operate the project. (Industry is) starting to get it right. There are lots of examples of things done properly."
A prime example of a project that put Indigenous consultations first is New Gold Inc.'s Blackwater mine project near Vanderhoof. Partnerships were forged with the affected First Nations before the applications were ever filed for provincial environmental permits. That project is moving along at the speed of its own business due to deals being done well in advance that satisfied the Aboriginal interests and fit within the fiscal viability of the project.
Innergex Renewable Energy Inc. made strong bonds with the Sekw'el'was First Nation and together they created the Cayoosh Creek hydroelectric energy project near Lillooet.
Byng Giraud has been involved in a number of major projects that required the sign-off of numerous First Nations over his years in business. He was also present at the BC Natural Resources Forum, but it was at the 2017 Nation2Nation Conference that he spelled out his winning formula for achieving partnerships: take off the suit and tie, prepare yourself to not do the project at all, and go for a drive into the First Nation communities that can perhaps enable you. Then keep driving there.
"If you get to know their kids, the Elders, the everyday members of those First Nations so you can say hi to them on a daily basis, then as a company you are not going to falter," says Giraud.
Go for a drive into the First Nation communities that can perhaps enable you. Then keep driving there.
"If you are going in a First Nation's traditional lands - and you are - acknowledge that. Start opening your ears and closing your mouth. Learn. Start from that position of 'I don't know' and ask. I'm the crown prince of stupid questions. Get people talking about themselves. Get to know who their families are. It's not all linear. Stop focusing on getting straight to the deal. And I believe in being transparent. I think huge amounts of the things we keep secret we don't need to keep secret. We've got to get around that. Most of the stuff should be all out there. Some things need to be kept confidential, but broadly speaking, this relationship is not served by all the secrecy."
Chastity Davis, a consultant specializing in business advocacy and member of the Tla'amin Nation, told the same Nation2Nation audience that proponent company executives are best advised to adopt a First Nations thinking process, not the one they learned in business school.
"The governance structure of companies is different than the governance structure of community," she said. "Companies have deadlines, agendas, stakeholders, investors they need to answer to. In community, that is not our governance structure. Our structures are about taking care of the land, taking care of the Elders, honouring our ancestors. So how do we find those ways that we can work together and make that project mutually beneficial? You actually save time if you slow down, up front, and invest in relationship building."
Davis's main hint: not all Aboriginal leaders in a First Nation are elected. Go meet the hereditary chiefs and the cultural influencers who have no formal title.
Juergen Puetter is a founder and current president of Aeolis Wind Power, as well as involved in the founding of Blue Fuel Energy, the Canadian Methanol Corporation, and most recently Renewable Hydrogen Canada. His projects have often been based in northern B.C., interfacing closely with a number of First Nations.
"How would I like to be treated?," Puetter posed, to sum up his approach to doing business with First Nations. "I am coming here as an outsider. I've got to bring something. We have to find a common denominator and particularly since we are thinking long-term."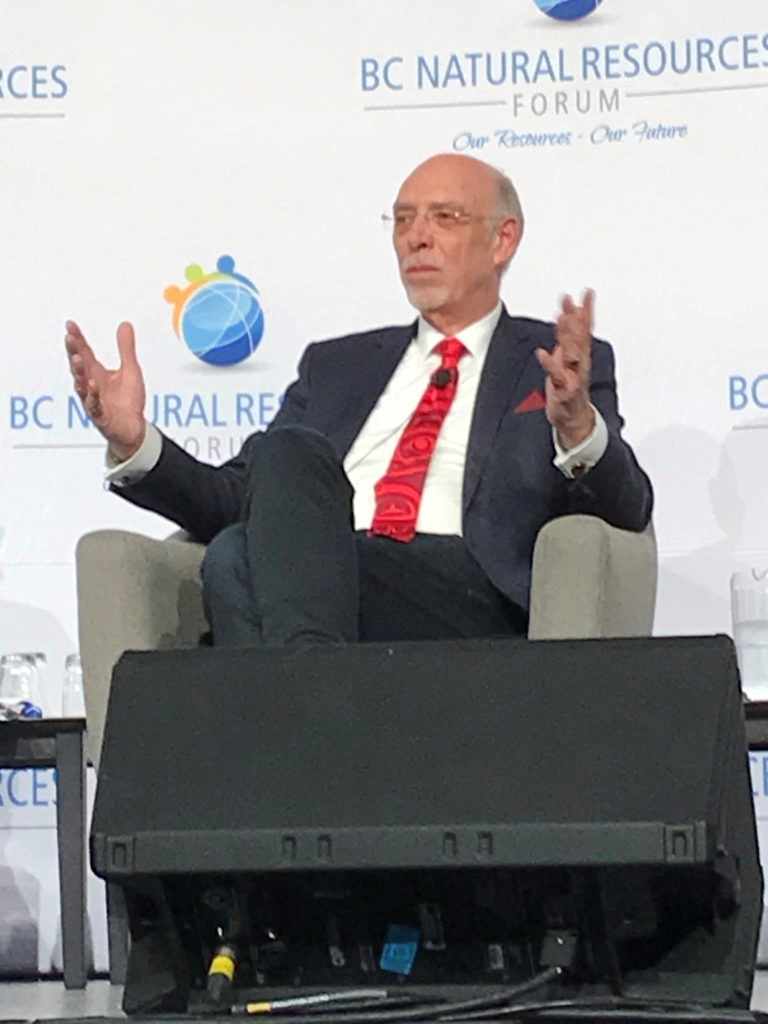 Chief Willie Sellars of the Williams Lake First Nation mimicked the kind of proponents he has heard far too often. "Don't worry, don't worry, we have a tonne of openings. Flagging positions. We'll give you the flagging," said Sellars.
"That's a key one we heard in the beginnings of our relationship with the ministry and those contractors that were coming in and actually having a meaningful chat with us."
"That just isn't going to cut it anymore. We wanted the construction work, we wanted that archaeology work. Those big-ticket items are going to see the most bang for buck in each of those communities. Especially those training opportunities. That's where the individuals are going to be making the most money, and that's what it's all about – keeping that money in the community. That's what's going to make those homes healthy."
"Flagging just isn't going to cut it anymore. We wanted the construction work, we wanted that archaeology work."
Puetter admitted the BC scenario was unique, where the First Nations permission had to be curried before moving up the regulatory chain to provincial, federal and municipal governments:
"We are probably an outlier internationally."
Puetter explains that "the fact of the matter is, the capital (for big projects) comes largely from elsewhere," and foreign investors don't have much frame of reference for Indigenous relations.
Nonetheless, he invoked a commonly-heard phrase at the BC Natural Resources Forum this year: going slow to go fast.
Since mines, wind farms, hydroelectric installations, oil and gas activity, and forestry have planning process that extend for years anyway, that time can be used to get to know the Aboriginal people you're asking to give of their land – a Supreme Court-enshrined fact, not a rhetorical view.
"Finally, I said this is very difficult; how can we get somewhere? They said, why don't you ask us?"
By becoming close friends with the First Nations in his intended business area, Puetter reports he was able to successfully move through a lot of Indigenous protocols.
In one such case, he said, a lucrative wind resource was discovered; he wanted to place turbines there. Some signs emerged of possible cultural modification of rocks at the site. In another location, there was sacred burial ground. The First Nations opposed any development in those spots.
"Trying to have a battle there is a lose-lose situation," Puetter said, and he simply stopped dreaming of those locations.
He added that relationship-building wasn't just a matter of cajoling the green light out of a potential opponent. These people have become friends, he said, and when he sincerely listened instead of just pitching, he got a better project out of it.
"We needed locations. I proposed five different sites and they (the First Nation involved) always said no, no, no.
"Finally I said this is very difficult, how can we get somewhere? They said why don't you ask us? So I said ok, where do we go? (The Aboriginal leader) turned around to the map behind us and said 'right there.' That is where the project is being built. I didn't have the local knowledge. They had it. All the components were there.
"It was by far the best location. It was their input that enabled the project."
Check back tomorrow for part 2.
Frank Peebles is a veteran magazine and newspaper journalist based in Prince George. He has won numerous awards for his work, including Canadian Community Newspaper Association and BC-Yukon Community Newspaper Association citations.
SWIM ON: