Beginning this April, ICBC expects to do something it hasn't done since 2014 – operate in the black.
I say "expects", because ICBC has missed virtually every one of its financial targets over the past decade.
Despite that, moving from a $1.3 billion deficit to $86 million in income in just over two years is a remarkable turnaround. But if you look through the smoke, you see what is really being used to douse the flames.
At the beginning of 2017, when the infamous "dumpster fire" moniker was coined, ICBC brought in $5 billion in premiums. This year, this will hit $6.82 billion – an increase of 38%.
While Basic rates are frozen, optional prices will continue their steady march upward with ICBC scooping another $343 million from drivers this year. By ICBC's own admission, auto insurance rates now average a staggering $1,900 – far and away the highest in the country.
Clearly, the solution to ICBC's problems has been found in the pocketbooks of drivers.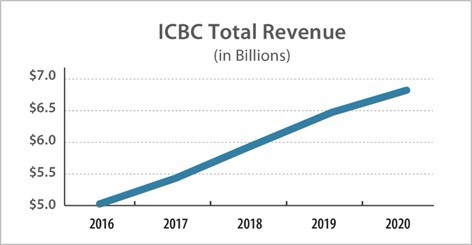 In an attempt to rehabilitate its public image and build support for a move to no-fault insurance, ICBC plans to give half of its recent rate increases back to drivers – just in time for the next provincial election.
But once it does, ICBC still projects total revenue of $5.9 billion, nearly the same amount it brought in from drivers in 2018.
ICBC says that if all goes according to plan, its rates will average $1,500. That means drivers will still pay among the highest car insurance rates in the country – potentially still the highest.
This fact has been somewhat ignored in the rush of self-congratulatory high-fives by ICBC and its supporters.
Part of the problem is that nothing the government or ICBC have done will change, or actually improve, ICBC itself. Its inefficiencies and ineptitudes will remain. And there is the distinct potential that its systemic issues will only worsen in the years ahead as ICBC's monopoly grows larger.
A quick look at its operating costs is illustrative of the problem.
In 2016, ICBC's operating costs were $1.45 billion. This year they will hit $1.8 billion.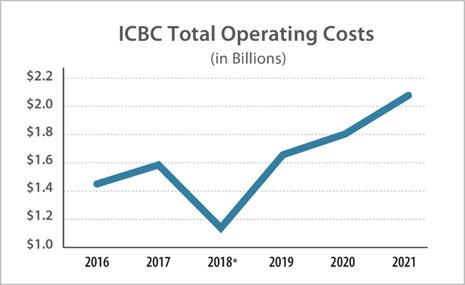 * ICBC's 2018 operating costs included a premium deferment, making it appear smaller than it actually was.
Instead of addressing internal challenges, as any company would have to do in a competitive market, the province is moving to a no-fault insurance system. They don't want to call it that, but as the saying goes, if it walks like a duck and talks like a duck…you're looking at a duck. And BC is moving to no-fault, plain and simple – as stated on page two of the government's intentions paper.
ICBC is eliminating the right of British Columbians to sue for pain and suffering if injured in a car accident, while at the same time allowing ICBC's internal operating costs to continue to grow. They will save money because you will receive zero – as in nothing – in compensation for pain and suffering, but you're still going to have to pay for their growing bureaucratic largesse.
ICBC admits its price reductions sound "too good to be true," and that's because it is.
Unfortunately, the driving public won't find out the truth until after the next election. But given ICBC's record of broken promises, British Columbians shouldn't be fooled.
Just six months ago ICBC promised "two thirds of people [were] going to be better off" under its new pricing structure that came into force September 1.
It turned out to be demonstrably false.
Faced with an enormous consumer backlash, ICBC finally admitted 75% of drivers were instead hit with increases.
Or consider how ICBC proclaimed its last round of reforms – the cap on minor injuries and moving claims to the Civil Resolution Tribunal – were going to provide "fair, affordable rates for British Columbians." You need only look at your last renewal notice to see that hasn't happened.
But perhaps the most telling example was the last time competition was seriously discussed before a provincial election.
In early 2001, faced with a growing public backlash against the crown insurer, ICBC provided "rebate cheques" of up to $100 to drivers.
It was a $200 million giveaway that ICBC couldn't afford, as drivers soon discovered when rates jumped 18% after the election.
With ICBC set to give rebates starting May 1 next year, history is about to repeat itself. Will anyone believe them this time?
Aaron Sutherland is Vice-President, Pacific with the Insurance Bureau of Canada (IBC). IBC is the national association representing Canada's private home, business, and auto insurers.
SWIM ON:
Just days before the provincial government announced the switch to no-fault insurance, Aaron Sutherland discussed a study that showed, apples to apples, BC drivers simply pay more for car insurance.
Maclean Kay: The government doesn't want to call it no-fault, but that seems to be the model. Will it turn out to be too good to be true?
Charlie Grahn looked at ICBC's pivotal pivot from an industry insider's perspective.