Even on short acquaintance, Nanaimo Mayor Leonard Krog distinguishes himself as someone inclined to see both sides of any issue, and who laments the demise of rational, informed debate.
He therefore, while acknowledging the emotions associated with old growth, does not support the push for harvesting bans. In fact, in a year that saw Nanaimo city council vote 5-4 to oppose logging 'at-risk' old growth and in November, government moving to protect 2.6 million hectares of old growth to "prevent irreversible biodiversity loss," Krog has emerged as a persuasive forest industry advocate.
Krog dismisses the council vote as largely symbolic, but he regards government's initiative as an assault on an industry his community depends on. "About 27 percent of BC's annual harvest is old growth, with 50 percent of it located on the Coast so if old-growth logging is shut down, then so too is a major portion of our forest industry," he says. "Municipal governments are obliged to balance their budgets every year, so if we lose our mills, taxes on residential homes would increase for starters, and service industry jobs would be lost. People would move out of Nanaimo, and the ripple effect could be enormous."
Data shows that in 2019, forest companies spent $191 million in the City of Nanaimo, in transactions involving 420 regional suppliers. "That's a lot of money and a lot of jobs, even though the absence of the smaller mills that used to line our waterfront have led some people to assume forestry is no longer important to our community," Krog says.
Krog is well aware he is reiterating the same arguments made during the ugly anti-logging days of the 1990s when he was a fledgling MLA, and he recalls the infamous incident when protesters smashed the glass of the door into the BC legislature chamber: "It was my first experience with that kind of violent zealotry, and it disturbed me because it was governed by misinformation, a complete misunderstanding about the facts of our industry.
"Today, nothing has changed. I've been hearing for 30 years that the last of the old growth is about to be logged, yet here we are 30 years down the road, and the doomsday scenarios that appeal to some folks just aren't true."
Informing Krog's urge to speak out is a deep-seated commitment to protect the welfare of Nanaimo, whose original economic driver was coal mining but evolved into forestry, symbolized by the construction of the MacMillan Bloedel pulp mill, Harmac, in 1958. While today Nanaimo is attracting more young families and professionals than ever partly due to a push to give technological start-ups access to education and venture capital, the city of 100,000 residents still very much relies on forestry to maintain its economic standing (it has been said of Harmac that the employee-owned company alone injects well over half a million dollars a day into the local economy).
Krog cites Western Forest Products as an example of what he calls a good corporate citizen. "It is heavily invested on Vancouver Island and, among many other things, spent millions of dollars to ensure residents weren't disturbed by noise."
Coastland Wood Industries Ltd. is another outstanding community player whose veneer products are internationally known. "In addition to using small logs that would have been discarded in the old days, Coastland is a prime employer of our Snuneymuxw First Nation and has been for decades," Krog says.
The importance of forging meaningful work relationships with the 1,700-member Snuneymuxw First Nation cannot be overstated with regards to Nanaimo's economic future and forestry. In 2017, a partnership between TimberWest, Nanaimo Forest Products, Western Forest Products, Coastland, and the Snuneymuxw was announced and is widely regarded as a blueprint for how First Nations and industry together can grow the economy in a way that achieves benefits for everyone (the partnership intends to unlock 3,200 hectares of timber for harvest on an economically sustainable basis, create 160 direct and indirect forestry jobs in the region, and provide a guaranteed flow of timber to Coastland).
Krog, who was first elected as an NDP MLA in 1991 and stepped back from provincial politics to run for Nanaimo mayor in 2018, has deep family roots in the forestry industry. "My father, who died when I was five, was a truck logger," he says. "My brother John worked for MacBlo at Northwest Bay as did my sister-in-law Susan. My uncle Chuck was a mechanic for MacBlo, and I went to college on a MacBlo scholarship." As for Krog himself, he pulled lumber off the B chain at the Somass sawmill in Port Alberni when it was the biggest green chain in the province.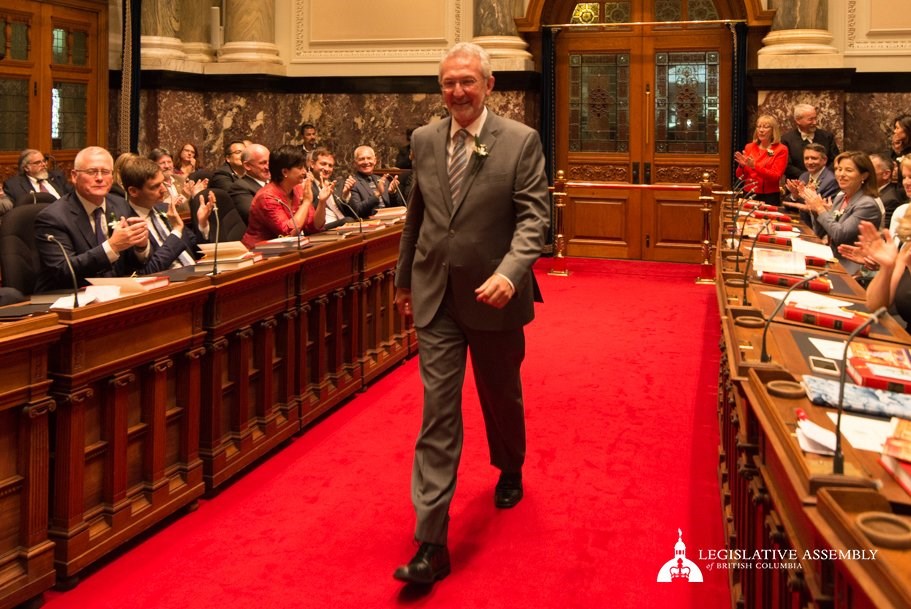 And like anyone who comes from a multi-generation logging family, Krog can attest to the inherent sustainability of the industry. His paternal grandfather settled in Coombs in 1911, by which time all of the surrounding lands had been stripped clean without any of the extensive controls and regulations that are common today. When Krog's mother's family members arrived in Coombs in 1929, the trees were already growing back. They were logged once more in the 1980s, and they'll be ready for harvest yet again 40 years from now. "Navigating some of the back roads through these stands, you would swear you're in an old forest," he says.
As someone who insists that verifiable information, not propaganda, must inform any debate, Krog wearies of the academic argument that forest workers ought to transition to other sectors such as tourism and tech. "Back in the '90s an approach was taken to help the workforce transition, and some did," he says. "But is this reasonable for such a large workforce on Vancouver Island? Is it reasonable to ask this of people in remote communities, or of our First Nations who are finally starting to gain control of their own economic destiny?"
The only solution to the issue as far as Krog can see is for community public education to take place on a grand scale: "People need to know the true numbers, what exactly is being preserved, what exactly is old growth, what's our annual production and allowable cut. And then, maybe, informed decisions can be made. But as it stands, it's almost impossible to have a rational public debate."
In the meantime, Krog is trying to view government's intent to defer 2.6 million hectares of old growth constructively: "I'm hopeful that any deferral will be informed by a thorough examination of the facts, with the final decision recognizing how much old growth actually exists in this province.
"One thing is absolutely certain, however: our need for wood products isn't going away, so if we further decimate our forestry industry, some other country without our regulatory or labour standards will take up the slack and that won't please the people who are protesting and blocking logging roads here in BC."
This article originally appeared in Truck Logger BC Magazine. Click here to subscribe  or here to read the latest or past issues.