In the forest industry, old growth is a common term. In B.C.'s preeminent forest city, it has taken on a new meaning.
Hemp had been illegal to fully cultivate in Canada since 1938. But thanks to new legislation dropping that prohibition, a new company, BC Hemp Corporation, is going back in time to spark a modern industry out of an ancient utilitarian crop.
With an estimated $350-million investment they are establishing modern labs and production facilities in Prince George, bringing the old growth of hemp into the new age.
Under Canada's new cannabis laws, for the federal government to even consider your application to be a processing facility, you need to actually build the processing facility. BC Hemp is under construction now on a parcel of land fortuitously inside the city's boundaries for convenient location and also inside the Agricultural Land Reserve, allowing the company to abide by farm regulations.
The 26,000-square-foot facility is on the same road as the city's original two Canfor pulp mills along the base of Prince George's iconic Nechako River cutbanks. They are renovating a former mushroom production facility that had more recently been an indoor paintball site.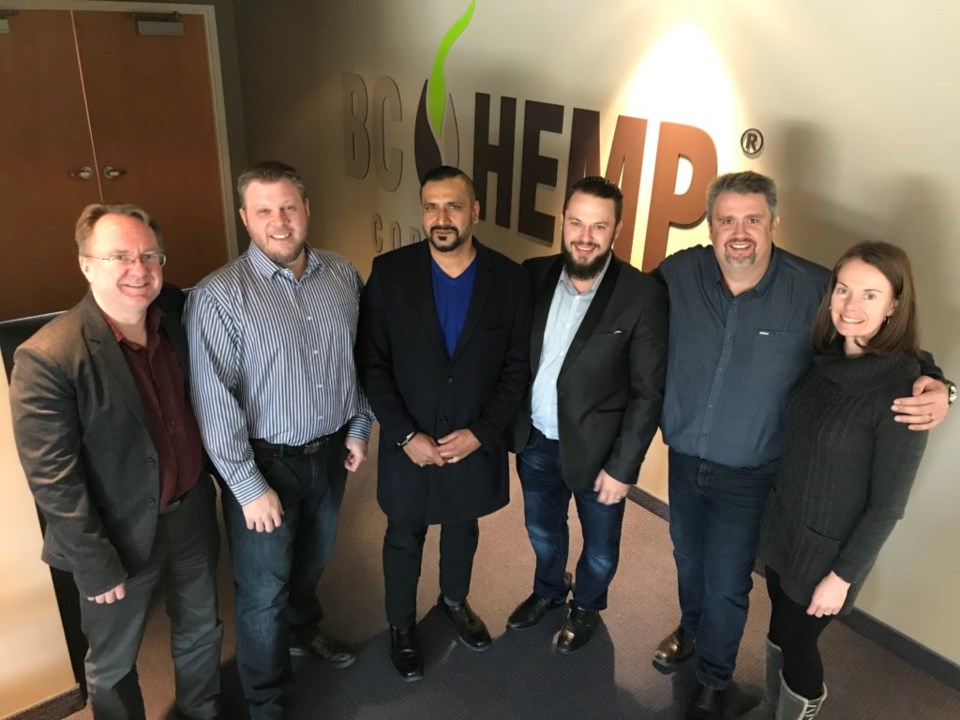 The COVID-19 crisis set them back. They had intended an August opening; that got pushed down a season or two, depending on how the economy reopens.
"We are looking to be up and running sometime between October and January and that would employ about 80 people there: biochemistry, laboratory work, genetics, R&D," said Romanian-born Remi Balaj, the company's president and chair of the board.
"The laboratory will be testing for product acceptance and then product validation," said BC Hemp's CEO Michael Fazakas. Those are terms that mean establishing each plant's and/or product's degrees of apitoxin, mycotoxin, potency, molecular composition, pesticide contamination, plant genetics, microbials, and other necessary properties to determine its authenticity and legality.
The facility will be capable of both hemp research and cannabis research, as the two plants are related by both species and law. Industrial hemp products come from the stalk, leaves, and grain of the plant, while the flower contains the chemical CBD (cannabidiol) oil prized for medicinal uses. CBD is regulated under cannabis laws, even though it does not possess the recreational effects of its marijuana cousin THC (tetrahydrocannabinol).
"Both CBD and THC have the exact same molecular structure: 21 carbon atoms, 30 hydrogen atoms, and two oxygen atoms. A slight difference in how the atoms are arranged accounts for the differing effects on your body," said the mainstream health journal HealthLine.
Hemp products including CBD oil contain no more than 0.3 per cent THC, which has no psychoactive effect; marijuana-based products have an average of 12 per cent THC content and can go as high as into the 20s.
Despite the non-effect of hemp on the human mind, it was still wrapped up in the bans led by the United States in the early 20th century. CBD wasn't even identified as a distinct entity until 1940, but it was just as illegal as marijuana.
Today, restrictions on hemp are now melting around the world, putting industrially resourced Canada in a position to capitalize.
BC Hemp has a license to operate from Health Canada, intending to open as a Centre Of Excellence as designated by international life sciences research organization PerkinElmer, the only location in Canada with that certification.
"We are extremely excited to designate BC Hemp Corporation as the first Canadian PerkinElmer Centre of Excellence in hemp research," said Corey Marcombe of PerkinElmer.
"Utilizing PerkinElmer's strong knowledge in both cannabis and hemp testing, we hope this partnership will lead to further fruitful developments in hemp science in the years to come."
"It will be a certified manufacturing lab. With that comes a lot of regulation and a lot of control of how the product moves through the site," said Fazakas, a pharmaceutical chemist by trade in his native South Africa.
He added that BC Hemp Corporation would train those hired to work on the specialized science equipment at the lab. It would not, in their estimation, require foreign workers or specialists from elsewhere.
"We come with a little bit of baggage, and that baggage is training material. This is what I did in Africa," said Fazakas.
"We can take people and gradually build them up to operators of sophisticated instrumentation. You don't need to have a four-year degree to do this. We can train our staff up."
The business plan also includes a heath centre that will utilize hemp products, and a full-service pharmacy.
The Healx Integrative PharmRxCare facility falls under the purview of Berdine Fazakas, director of quality assurance. In South Africa she was the responsible pharmacist for a pharmaceutical and nutraceutical manufacturer.
"There will be other health practitioners there, too, so it won't just be your regular pharmacy where you can get your eggs and sugar while you're waiting for your prescription," she said.
"It is going to have a heavy focus on specialty compounding, we will also be doing pharmacogenomic testing, food intolerance consultation, and we will have a doctor on-site to help get access to medical cannabis if they need that. We will have some other healthcare practitioners in there as well, so you can go get all your healthcare needs met, not a fragmented system."
The third component of BC Hemp Corporation's plans requires the most real estate and off-site personnel. They have a parcel of their own agricultural land adjacent the city's airport and close to the major highways – but to meet the company's potential they will need many other growers supplying their factory.
This isn't as simple as just putting out a call to local farmers. Northern B.C.'s agriculture sector is deep, but not diverse; crops tend to focus on staple grains and hays.
The 100 Mile House Industrial Hemp Pilot Project got traction in 2009 and 2010, complete with a symposium, field trials, and a final report on the suitability of preexisting farming equipment. The conclusion was hemp fiber less than six inches in length could be cut with swathers common to this area, but longer fiber required specialized equipment.
Canada is now considered one of the world leaders in the production of hemp grain, with about 175,000 acres across the country already in hemp production (which, by cash crop standards, is not very much), most of it in the prairie provinces, and largely aimed at the seeds.
It was a costly startup. Some of those who attempted to use common combines were hit with repair bills for breakage or fire caused by the fibrous stalks getting jammed in moving parts of the machines.
"We don't want to have a bunch of train wrecks out there," said Chris Hatfield, BC Hemp's director of agricultural services. The last thing the company wants is a local farming community unwilling to consider hemp due to undue costs or frustration with equipment.
"So we want to get out there, do it ourselves, prove a system, and then start reaching out to producers and teaching them how to do it."
The world was once rife with hemp production. It was a colonial imperative that farmers in the early United States each grow some for England in the days prior to the American Revolution. It grows wild on the side of Romanian roads, Belaj remembered from his childhood. Archeological evidence of its use in China goes back thousands of years. So doesn't that mean an industrial sector exists for processing hemp today? What equipment do you need?
"That's a really big question," said Hatfield. "That's part of what we are trying to figure out. What equipment do you need, and how many acres do you have to have to make the numbers feasible? I now have some sense of it, but we actually have to do it before we can nail that down."
For the farmer considering growing hemp, much depends on the intended end product. With more than 55,000 known products, from root to flower, there has to be awareness of that before machinery is acquired.
No one doubts its ability to grow. Even when looking at the illegal production of marijuana over the years, the proof was there that northern B.C.'s landscape and weather is prime ground for these cousin plants. Balaj said he has reason to believe it will grow to some extent all the way to the 65th parallel, which takes in most of the Canadian territories. In this province it is expected to grow tall, thick, and quick.
Dr. Jane Young studied this carefully when she was a professor at the University of Northern British Columbia. Her experimentation in 1999-2000, along with graduate student Charlene Forrest and Dave Ryan from the Gitsegukla Economic Development Corporation, proved that organic fertilizers worked just as effectively on the growth and structural characteristics of the Fedrina strain of hemp as did nitrogen-based fertilizers.
Her field plots and greenhouses were, respectively, in the community of Gitsegukla (near Hazelton) and at UNBC's I.K. Barber Enhanced Forestry Laboratory in Prince George.
"By studying this plant's ability to produce such amazing fibres, we could learn more about what a great candidate it would be in both economic development and botanical exploration," said Dr. Young.
"We found that a high number of variables influence the growth and development of hemp, and that it's a highly adaptable plant that can grow in many different conditions. The more we understand how hemp grows, the more we will realize its potential as a fibre, grain, and oil crop."
To help shine some light on these topics, there's a seminar in the works for Prince George (COVID-19 permitting). Farmers will also want to know about financing. BC Hemp learned this firsthand, as they struggled to find a bank willing to work with them.
Northern B.C.'s branches were initially reluctant, but soon discovered prairie farmers were already striking such arrangements. BC Hemp had offers for private funding and offshore lending options, but they wanted the business certainty of a traditional domestic bank, so they persisted.
Instead of relocating to the prairies, several factors favoured Prince George, including real estate cost and availability. The other was logistics.
"It's the perfect place to be," says Balaj.
"It is a centre of logistics. From here, you can go all the way to the U.S. (CN Rail's freight system flows directly to global dissemination centres Chicago and Vancouver) and through Prince Rupert to anywhere to the east. We have the CN inland port here, the connecting highways, and we have the international airport here."
The latter is the final major obstacle for the company. Prince George's airport has all the regulatory infrastructure to service the world, including a customs office, but it lacks one important amenity: more fuel storage to gas up planes on international routes.
Currently, those planes fly chiefly through Anchorage. But Prince George is poised to be a better choice, certainly for the hemp company based literally across the highway from the third longest runway in Canada.
There would be a local market for hemp products, according to the company's projections, but limited in scope. The biggest opportunities are international, hence their keen desire for an upgraded airport.
"We are in a world now where plants are becoming even more important for our economy, but also for our health, and this is reflected in the increasing popularity of plant-based diets and natural medicines," says Young.
"I think Prince George is an ideal place for a central location for the hemp industry," Young added. "Economic diversification is important for any place, and to have an additional industry in Prince George will only strengthen its economy."
"I think it is long overdue to take advantage of the many uses of hemp and how it can help our health and economy."
Frank Peebles is a veteran magazine and newspaper journalist based in Prince George. He has won numerous awards for his work, including Canadian Community Newspaper Association and BC-Yukon Community Newspaper Association citations.
SWIM ON: