June 23, 1990. It was quite a day.
It was a historic collision of events – the day the Liberal Party of Canada had two future prime ministers on stage and the day that the 1987 Constitutional Accord (The Meech Lake Accord) expired.
The events leading up to June 23rd and the events that followed are among the most remarkable in Canadian history and have been unmatched since. The era of 1987 to 1995 led to a transformational shift in Canadian politics resulting in the revival of Quebec separatism and the ascendancy of western populism, combining to destroy the Progressive Conservative Party of Canada. More fundamentally, this era would feature three epic constitutional struggles – the Meech Lake Accord, the Charlottetown Accord, and, ultimately, the 1995 Quebec referendum. It also produced an uneasy, but workable Liberal partnership that defined an era of governance and restored Canada's fiscal health.
On stage in Calgary that day, Jean Chrétien – derided as 'Yesterday's Man' – prevailed as leader on the first ballot. He issued his rallying cry, "We have work to do". He would take over the party following decisive defeats in 1984 and 1988, backed by a loyal and capable network across Canada but fighting against perceptions that his time had passed. His rival, Paul Martin, would join him in helping steer the currents of change in the Liberals' direction.
The Long Road to Calgary
From 1988 to 1990, I led the BC Young Liberals (at the time, it served both provincial and federal Liberal parties). I loyally campaigned through the 1988 federal election for John Turner, and had a front row seat to grassroots party politics. Despite a spirited run, and a debate performance for the ages, Mr. Turner was outgunned by the well-oiled Big Blue Machine and Prime Minister Brian Mulroney. Mulroney had two centrepiece initiatives – the Meech Lake Accord and the Free Trade Agreement with the United States. The election was about Free Trade; the internal debate in the Liberal Party was about Meech.
When the Meech Lake Accord was agreed upon in 1987 by the all-male group of premiers and the prime minister, it was a surprise – in fact, to many, a welcome surprise in that Quebec was signing on to a constitutional deal. Liberals divided quickly on the point and Turner, painted into a corner, backed the position of the federal government, the Province of Quebec, and indeed all the provinces. Many in his caucus were opposed, but the real threat was outside his caucus. His predecessor, Pierre Trudeau came out strongly against Meech as did the runner-up to Turner in the 1984 leadership convention, Jean Chrétien. Chrétien, who had resigned his seat in Parliament in 1986, was not constrained by caucus discussions. He made his views known straight to the people.
As a Young Liberal among many during that time, there were countless discussions and arguments in university pubs about the minutiae of the Meech Lake Accord. Whether it was Quebec being a distinct society, a veto for all provinces, the absence of Senate reform, or federal spending powers, there was passion and a thirst to understand the details. There was a real sense of the gravity of the Accord and that the country was literally at stake. Maybe it was because I was young at the time and feel nostalgic about that period, but I have not encountered such a spirited and momentous time in politics since then.
Following the defeat of the Liberals in 1988, the leadership race was on, beginning formally in 1989. It was a given that Chrétien would enter the race. Many would say he never left the race after 1984. He had a well-established network of seasoned veterans across Canada bolstered by a diverse group of grassroots supporters. It was more than a machine though. Chrétien was a very unique force in Canadian politics. He was a populist crowd-pleaser who was strongly associated with the federalist cause in the 1980 Quebec referendum and the fight to patriate Canada's Constitution in 1982. His biography Straight from the Heart flew off the shelves. He was more popular than John Turner across Canada, but despite internal Liberal machinations, he would have to wait. Turner would get a second chance.
By the time 1989 rolled around, grassroots Liberals were picking sides between Chrétien and the main contender Paul Martin Jr., who had just been elected MP in 1988. The son of a namesake Liberal cabinet heavyweight, Martin had his own national network to fall back on, along with the support of many in the Turner network. He was the pro-Meech candidate (along with Sheila Copps).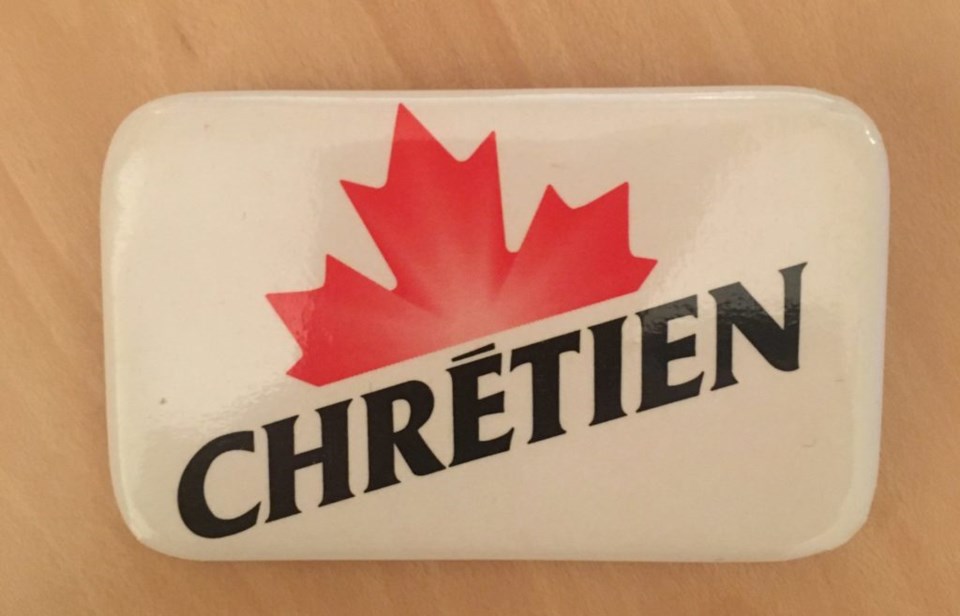 This was in the days that leadership conventions were delegated affairs. The grassroots of the party came alive as members jockeyed to become delegates and participate in an historic democratic event that came along once a decade (or less). Organizers for Chrétien and Martin fanned out across the country calling in chits, identifying the local power brokers (then identifying the people who really did the work), and putting together delegate slates and the memberships to get those slates elected.
In a bygone era, longstanding members might contest for a spot and be elected on their own personal standing. By 1984, that quaint practice had largely been disposed of and by 1990 it was a straight slug fest between two rival, well-financed teams. Yes, Sheila Copps was a presence, along with fellow MPs John Nunziata and Tom Wappel but this was a Chrétien-Martin fight and everyone knew it.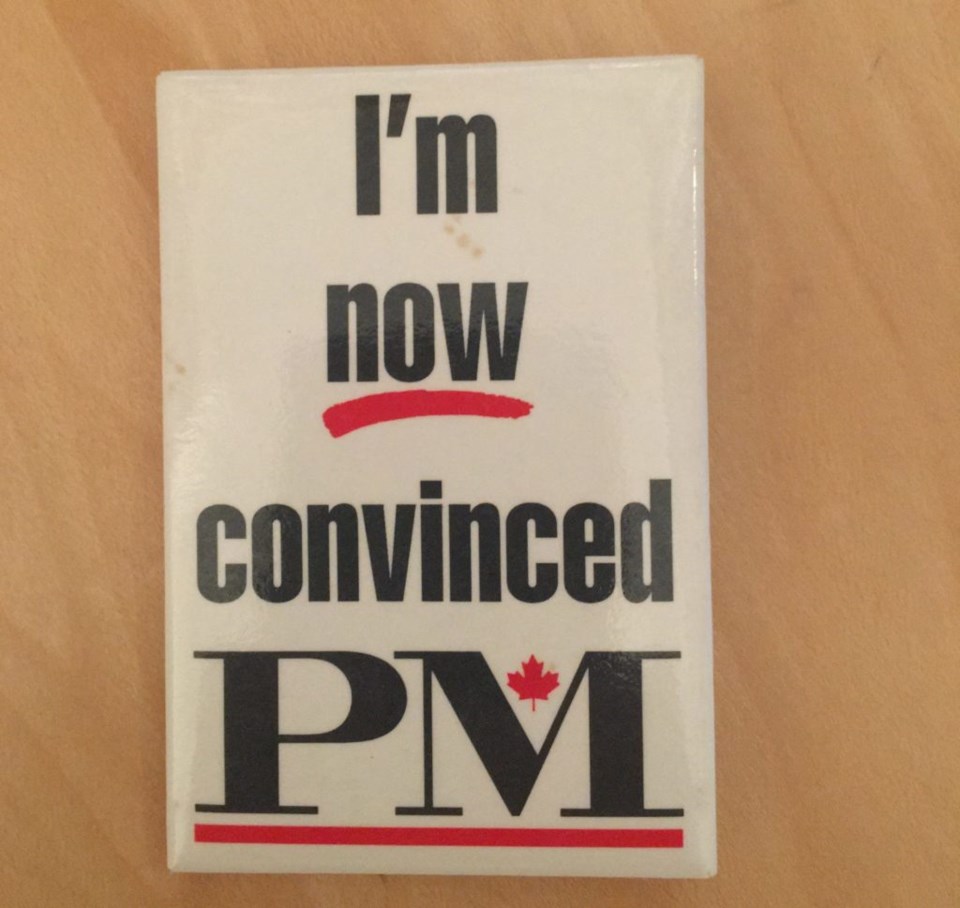 While largely staying out of the fray in 1989, I had a chance to meet and hear many of the candidates. I took a liking to a darkhorse candidate, Clifford Lincoln, a former provincial cabinet minister from Quebec. He resigned from Robert Bourrassa's cabinet protesting the infringement of language rights ("Rights are rights are rights") and from there jumped into the Liberal leadership race. His campaign winnebago pulled up to my house in Maple Ridge to meet the locals as he sized up his prospects. The moral of this story is that despite meeting him a few times, Lincoln never made the ask for support. I have seen this many times over the years – candidates who go 99% of the way then fail to make the sale. This was not a problem for Chrétien and Martin. They were going full Glengarry Glen Ross.
Into 1990
By the time 1990 arrived, the leadership campaign was heating up while the wheels had been falling off Meech. Prime Minister Mulroney needed to have the Accord approved by every provincial legislature, but as provincial elections took place, he was left with less cooperative partners.
Frank McKenna stormed to victory sweeping all of New Brunswick's 58 seats in 1987. He would not be following his predecessor's direction and was the first crack in the armour among the premiers.
Then in 1988, the Manitoba NDP government lost a confidence vote. An election was triggered in what was expected to be a waltz to victory for Gary Filmon's Progressive Conservatives over new NDP leader Gary Doer. Along came Liberal leader Sharon Carstairs, a ferocious opponent of Meech Lake, taking control of the campaign agenda. Carstairs started with one seat and rocketed to 20 seats, just behind Filmon's 25, forcing a minority parliament. Meech stalled.
In my Forrest Gump-like youth politics life, my pal, Iain, and I drove to Manitoba to campaign for Carstairs. She was a force who galvanized opinion in urban Winnipeg. In due course, the position of the Manitoba government would change, demanding amendments to the Accord and holding back ratification. Rather than be led by Carstairs on the issue, Filmon seized it, bringing along Carstairs and Doer to the final negotiations. The 1988 Manitoba election was also noteworthy for the election of NDP MLA Elijah Harper. (My former colleague, Greg Lyle, ran Filmon's campaign and would go on to fight the Meech wars as Principal Secretary – I'm looking forward to his retelling of that some day).
However, there would be no greater challenge for Prime Minister Mulroney than Newfoundland's new Liberal premier, Clyde Wells. Elected in 1989, Wells, an accomplished lawyer, campaigned against Meech with relish. He became a folk hero among Liberal anti-Meechers. Back in the day, the national media was much more robust and the views of Wells, Filmon, Carstairs, et al. had a lot of airplay alongside the Prime Minister and the Meech defenders.
In BC, both the Vander Zalm Social Credit government and the Opposition NDP, led by Mike Harcourt, supported the Meech Lake Accord. The anti-Meech forces were led through the media by CKNW radio host Rafe Mair and politically by Gordon Wilson who was leading the then-seatless BC Liberal Party. As a new leader and political unknown, Wilson was able to fill a political vacuum and gain profile, while building key political relationships with Carstairs, Wells, and Chrétien.
While Mulroney held his Quebec fortress solid, with lieutenant Lucien Bouchard by his side, he had a grassroots brushfire on his hands in Western Canada. Denied seats in the 1988 election, Preston Manning's Reform Party was clearly on the rise and, in 1989, it elected its first MP, Deb Grey, in an Alberta by-election. Manning was a fierce opponent of Meech and making life difficult for western right-wing premiers like Bill Vander Zalm, Don Getty, and Grant Devine who were finding it increasingly difficult to justify their support for the Accord.
That was the lay of the land heading into Liberal delegate selection meetings slated for March 1990. Each riding would elect 12 delegates – 4 adult males, 4 adult females, and 4 youth (2 female, 2 male) delegates (ages 14-25).
Teams were being solidified. I was on the fence. My heart leaned toward Chrétien, though I was looking for something a bit different. My Dad had always gravitated to the long shots, backing Eric Kierans in 1968 (not a contender) and always favouring the John Crosbies and Don Johnstons from the comfort of his arm chair. I had taken a look at Clifford Lincoln but he had actually dropped from the race in any event. I spent hours debating Sheila Copps at a friend's kitchen table into the wee hours of the morning, but I just couldn't do it. I didn't agree with her on issues important to me (though I admired her for making a hard pitch). I did like Paul Martin but I just didn't feel like he was the right guy right then. So, humming and hawing, I paid a visit to friends at Chrétien HQ in Vancouver. While there, a key Chrétien organizer, Joan Lew, taught me one of life's lessons, paraphrasing her, "Mike, whether or not you support our candidate, make up your mind. No one is going to care what you think four weeks from now." Gulp. I supported Chrétien. Joan was right, and I jumped in and never regretted it.
The next 3 or 4 weeks was a blitz of candidate selection meetings around British Columbia. It was a Chrétien buzz saw, as it was in most provinces, with slate after slate delivered for le petit gars de Shawinigan. Working as a naive youth volunteer, I began to see how the sausage was made in the sausage factory learning more life lessons. One key takeaway is that the Chrétien campaign had discipline. There was respect for campaign leadership. BC's leader was Ross Fitzpatrick and everyone knew that he had Mr. C's ear before and after everyone else. Another key point was getting real about the numbers. You had a list, you had to know the list. Get the memberships in, and once you got 'em, get 'em out. And make sure those delegates don't turn! They better be solid.
On one occasion, I happened to be in Alberta and rode along to a delegate selection meeting in Wetaskiwin with my good friend Raj Chahal, a Chrétien organizer. It was the same there as it was in BC or any other province – working the list, getting the bodies out, right down to the presence of the prominent local lawyer make sure he was seen to be doing his part. There was something reassuring knowing that this process replayed itself in 295 ridings across Canada in similar ways, with regular folks showing up to have their say.
In my own riding of Mission-Coquitlam, I had a responsibility to deliver for Chrétien. My federal candidate and mentor, Mae Cabott, was strongly for Chrétien so were aligned and getting organized. There was an independent contestant for delegate, my Dad. I knew that Chrétien was going to be a hard sell on the old man, but I dearly wanted him to be elected and come to Calgary. So, at the meeting I stood up and spoke for the Chrétien slate, but requested that the good people of Mission-Coquitlam leave a spot open for Dad, who had paid his Liberal dues in years past. A hopeful pitch that didn't work! But he did get elected as an Alternate.
At one point, some of the Young Liberals supporting Chrétien were sent to our own buzz saw experience in Kamloops where we had a slate contesting the Martinites. We were put up at the then-Stockman's Hotel and went out to win hearts and minds. Some misguided soul in the Chrétien campaign thought a good strategy would be to promote me to be a guest speaker addressing Kamloops Young Liberals, with free pizza!
My first sign that the evening's vote would not go so well when 18 year old Martin organizer Todd Stone showed up for free pizza, and made sure no one else did. The Martin team won the day and, since many were good friends, it wasn't so bad. But in another life's lesson, you can often as much fun losing (if you fight the good fight). We left Kamloops the next day with a few sore heads following a night's entertainment at the Jack Daniels, with a letter from the hotel manager chasing us to Vancouver seeking damages after a drunken pillow fight went horribly wrong.
The 1990 leadership race also featured the active presence of the South Asian community. For the Chrétien side in BC, Prem Vinning was ubiquitous. When doing the math, you might expect 50 to 100 members voting in a typical BC riding to elect 12 delegates who will help choose, maybe, the next prime minister of Canada. A small membership in the Fraser Valley or Williams Lake had as many delegate spots as downtown Toronto. That's a lot of power for a small number of people. Now, if you are able to recruit, say, an extra 50 members who will vote for your slate en masse, it's a huge advantage.
The flexing of muscle by the South Asian community – and other communities – has manifested itself in a substantial improvement in the diversity of MPs and MLAs across Canada since then. Membership strategies were not unique to the Chrétien campaign or the South Asian community. For example, pro-life MP Tom Wappel won 5% of the vote on the strength of the pro-life network within the Liberal Party. Moreso now, because of the decline in the role of membership participation and active riding associations in political parties, party politics is an open door for groups that want to influence policy and outcomes. But everyone has a chance to do it – that's democracy. I saw it firsthand in 1990.
The Convention and the demise of Meech
The meetings were over, the debates had been had. Proxy battles were being fought with Chrétien candidates and Martin candidates contesting the national executive positions and youth executive positions in Calgary. I became campaign assistant for a friend who was seeking the role of VP External Relations. We've worked on a few campaigns together since.
Successful candidate for YLC executive, 1990
Thousands of Liberals were finding their way to Calgary including well over a thousand young people. Lifelong friendships were formed throughout the process and in Calgary. Where can you find so many people that share your affliction – political involvement – in the same place? That year, it was Calgary. It was a very exciting time.
By the time the Calgary Convention had arrived, my Dad had been upgraded from Alternate delegate to Full delegate status. It was kind of like an Aeroplan upgrade for longtime Liberals. Once he had his delegate package, he finally declared for Paul Martin. We spent an afternoon on the convention floor, me with my Chrétien gear, him with his PM for PM button, chatting with old and new friends. A great memory bonded by our mutual passion for politics, similar to many multi-generational political families across Canada.
In parallel to the leadership convention was the demise of Meech. It was a surreal overlap of events in a time before social media or cell phones.
Much had happened leading into June. Federal cabinet minister Jean Charest issued his report outlining constitutional recommendations to break the impasse. Colleague Lucien Bouchard would not stand behind it leading to his ouster from Cabinet, and his rededication to Quebec sovereignty. It was a shocking turn of events and huge blow to the Mulroney government, especially given that Mulroney had personally recruited him straight into cabinet on the strength of their personal friendship.
Following the Bouchard conflagration, high stakes constitutional negotiations took place in early June in Ottawa. Extreme pressure was placed on the holdouts with CBC Newsworld breathlessly reporting every hallway conversation to the millions of Canadians tuning in. Premier McKenna found his way to support a compromise. Manitoba promised to bring back a compromise to its Legislature. Newfoundland Premier Clyde Wells was the most adamantly opposed but even he relented and promised to bring it back to St. John's for a vote. At one point, Wells was intent on bolting the negotiations but was blocked by other premiers who pleaded with him. Ontario Premier David Peterson, recipient of much laudatory pro-Meech media coverage for his role in backstopping Mulroney, put six Ontario senate seats on the table to make the deal happen. It was dramatic deal-making stuff. And it looked like it would work.
Largely ignored throughout this entire process were Canada's indigenous people. Indigenous leaders had been excluded from the 1987 negotiations that led to the Accord in the first place and had grave concerns over the impact of the Accord on their rights. While the premiers may have found their pathway to say yes, an incredible turn of events was yet to unfold.
By the time the Calgary convention convened on the week of June 18th, the Meech Lake Accord was barrelling to its conclusion. The Accord would expire on June 23rd, meaning ratification would have to take place by Friday, June 22nd.
Following the 'successful' Ottawa negotiations in early June, Prime Minister Mulroney made a publicly reported comment that the had "rolled the dice". His lack of post-agreement humility angered premiers who had given way to pressure and compromise and caused a media firestorm. He had made the task of ratification much harder.
Ratification was fought on two provincial stages – Newfoundland and Manitoba. My recall of events is imprecise, so I defer to official accounts. On June 21st, while the Calgary Convention was underway, Prime Minister Mulroney went to Newfoundland to speak from the floor of the Legislature – an extremely rare move for a sitting prime minister to address a provincial legislature, pleading for ratification. Meech was really on the ropes.
Manitoba required unanimous consent of the Legislature to allow for the ratification process to take place before June 23rd. A single MLA, Elijah Harper, denied approval for that consent effectively stopping Meech dead in its tracks.
Clutching an eagle feather in his hands, Elijah Harper exercised the rules of parliament and his rights as MLA to reject an Accord that, he argued, had ignored indigenous people. He refused to grant leave on eight separate occasions between June 12 – 21st.
In Calgary, delegates were straining to catch snippets of these events on televisions where they could find them, or hear reports from other delegates. The delegates choosing the next leader of the Liberal Party of Canada were in a vacuum-sealed bag, finding it difficult to keep up with fast-moving events. No cell phones, no social media. It was bizarre to be part of a historic event and not entirely knowing what was happening with the other.
With Elijah Harper delivering a mortal blow to Meech Lake, Newfoundland opted not to proceed with a ratification vote, which signed the Accord's final death warrant. By the end of the day on June 22nd, Meech was dead.
Throughout the month, Chrétien, who had opposed Meech, had avoided taking a strong position on the June compromise, walking a delicate line. Now that Meech was dead, he may have thought he had steered clear.
Saturday, June 23rd
I'm sure there was no doubt in the minds of the Chrétien and Martin senior commands when they woke up on the 23rd. The numbers were the numbers.
Yet for impressionable Chrétien youth delegates, you heard all sorts of wild convention floor rumours. So and so was defecting to Martin or this riding or that riding had switched sides. And some, in fact, did switch allegiances. The Martin campaign fought valiantly until the end – and they did sing a lot.
Meanwhile, Clyde Wells arrived in Calgary sparking an electricity in the building, meeting up with Chrétien for a famous hug. In his book, The Big Red Machine, author Stephen Clarkson writes that repercussions of the hug were immediate. Wells was blamed for refusing to bring Meech to the floor of the legislature for a vote, thus denying Quebec.
At one point when I was on the floor of the convention hall, I looked up into the seating area and saw Pierre Trudeau in a bright orange shirt, thinking, "He's here?" It hadn't occurred to me that he would attend. There were a lot of strong feelings in the hall, fuelled in large measure by Meech.
But any notion that there might be a second ballot was made ridiculous by the results of the first. Of the 4,888 votes cast at the Calgary Saddledome, Chrétien stormed to victory with 56.8% of the votes. Martin was well back with 25.2% while Sheila Copps garnered 11%.
Chrétien mounted the stage and paid tribute to Mr. Turner and to his rivals, announcing that "we have work to do". Meanwhile, Liberal MPs Jean Lapierre (a senior campaign official for Martin) and Gilles Rocheleau quit the party before they even left the building, joining Lucien Bouchard in a newly formed breakaway group in Parliament.
At that point, it was time to leave the Saddledome and enjoy the after-party.
Postscript
From that dramatic day, numerous events flowed from it.
Prime Minister Mulroney, with Joe Clark at his side, would try again to deliver a constitutional deal – The Charlottetown Accord. It went to national referendum and failed decisively.
Decimated in Quebec by Lucien Bouchard and by Preston Manning in Western Canada, the two-term Progressive Conservative government was reduced to only two seats in the 1993 election. The Bloc Quebecois became Official Opposition and the Reform Party elected over 50 MPs. The PC's ultimately merged with the Canadian Alliance to form the Conservative Party of Canada. It has a fundamentally different character today than it had prior to 1993.
Quebec voters elected a separatist government under the leadership of Jacques Parizeau who readied the province for a second referendum. Lucien Bouchard was the heart and soul of the Oui campaign, which led the polls, but narrowly lost (49.42%) to federal forces (50.58%). Bouchard would shortly become the next Premier of Quebec.
Ontario Premier David Peterson rashly called a snap election in the aftermath of the Meech collapse. He badly misjudged the mood of his voters and was shocked by Bob Rae and the Ontario NDP that September – the first and only NDP government in Canada's largest province.
Manitoba Premier Gary Filmon called an election after Meech Lake and won a majority government. Carstairs' Liberals were pushed down to third-party status and have never recovered.
A year after Meech, Gordon Wilson's BC Liberals rose from zero seats to Official Opposition, a platform from which he would oppose the Charlottetown Accord.
Elijah Harper put indigenous issues more firmly on the agenda in constitutional discussions and went on to serve as a Liberal MP. He was voted Newsmaker of the Year by Canadian Press in 1990.
Paul Martin would become one of Canada's most successful Finance Ministers before serving as prime minister from 2003 to 2006.
What of Jean Chrétien? He successfully navigated through treacherous waters to win three successive majority governments, a feat not accomplished since Mackenzie King. He took a fractious party and brought it together – for a time – to govern and win. Underwriting his three majorities was a near total dominance in Ontario due to the vote split between the PCs and Reform Party/Alliance. Lucky? Sure, but smart enough to take advantage of his opponents' weaknesses. His partnership with Paul Martin led to a huge improvement in Canada's fiscal health and the slaying of the deficit`.
But for a modest shift in Quebec opinion in the 1995 referendum, Chrétien could have been a short-lived prime minister who had failed to defend federalism. Instead, federal forces rallied in the final days and he scraped by, ultimately bringing forward the Clarity Act which has helped put the constitutional question into hibernation. Starting on the back foot with Quebec voters, the reclaimed support by his third election. For over 25 years, Canadians have been spared the constitutional wars, as exciting as they may have been.
These were exciting times. As a 21-year old university student, it was a privilege to be a witness to these historic events and the leaders who drove, steered, harnessed them.
I haven't seen a time like it since.
Mike McDonald writes on issues and topics related to British Columbia's politics, history, and regions. He is a partner at Kirk and Co., BC's leading public engagement and communications firm. Mike blogs at rosedeer.com and is @bcmikemcd on Twitter. 
SWIM ON: