Local First Nations were quite familiar with the long fjord that went far into the northern mainland from the Pacific. In 1793, Captain George Vancouver was the first European to sail its length and document it, and named it after the Duke of Portland.
On that voyage he reported meeting two friendly Aboriginal people at the site of modern-day Stewart; thus began global seafaring transactions on that spot.
Those Indigenous people were likely members of the Tsetsaut Nation, an extinct culture that reportedly moved in from elsewhere and established a thriving community, then succumbed to war and disease in the 19th century. Their few final members sought refuge within the Nisga'a Nation in about 1895 and were amicably absorbed. It is Nisga'a territory to this day.
Stewart's community fortunes have similarly fluctuated in modern times. The first European settlers moved in in about 1898 for gold and silver mining. Twenty years later, the population was about 10,000 – but by 2005 had dropped to less than 500 people. The mining had ceased.
What never changes is the deep, sheltered water that carries ships in from all over the world.
No port in Canada is so far north without any ice.
There is also no end in sight for the mining and forestry in the broader vicinity.
One shipping terminal in Stewart is already working in this field. Mining concentrate is being exported from the Stewart Bulk Terminal facility, a wharf that is owned and operated by the Soucie family who took on a preexisting (incorporated in 1987) dock operation in 1994 as an extension of their longtime construction ventures. It has done steady business ever since.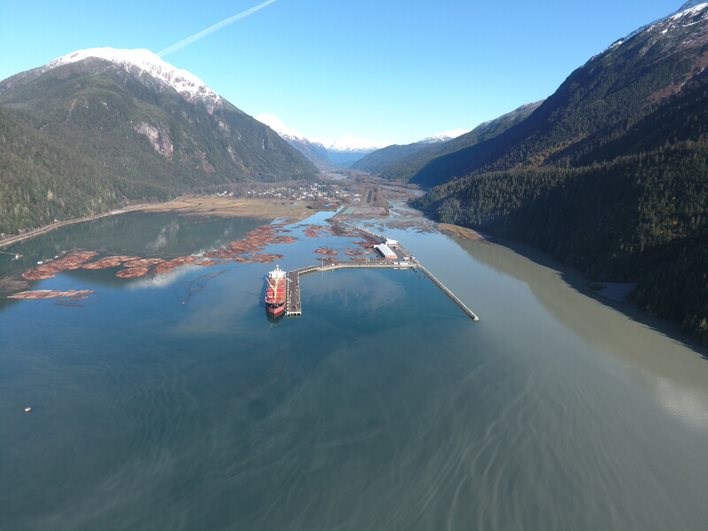 Stewart Bulk Terminals did not provide comment on their activities and future plans.
Across the harbour, another long-established contracting company, Arctic Construction owned by Ted Pickell, stepped in to own and operate a preexisting wharf. Pickell obtained the disused dock in a lease agreement with the District of Stewart signed in 2014. Pickell and company commenced upgrading the facilities in phases to be a break-bulk terminal capable of handling even Panamax-sized ships (the largest bulk carriers able to navigate the Panama Canal, just shy of 80,000 tonnes deadweight). Today it is called Stewart World Port (SWP) and it earns its name.
The goods have started to arrive at this unique spot with two terminals, two well-resourced industrialists, two private ventures at a location where two nations meet – the Canada-U.S. border bisects the canal, and the village of Hyder is just a customs office away from the municipality of Stewart. The feds have no governance control of Stewart's port activities, so clients can make customized deals for importing, exporting, storage and moorage.
Stewart's docks were salvation for a wind-farm project in northeastern B.C. The 58-metre windmill blades were manufactured in Europe and could not be handled by any other west coast port in Canada.
Other hulking items like steel pipeline sections and oil field modules have also been offloaded in Stewart.
"One thing our port is well suited for is over-dimensional cargo," said SWP President Brad Pettit. "The windmill project was the first time one had been discharged on the west coast of Canada. They can't deal with that in Vancouver or Prince Rupert. Because of the length of the blades, they can't move them through the city. So they always came through the U.S. ports, so it was nice to see some come in through Canada."
Pettit said there is plenty of land capacity to develop their operations for import-export needs, and the existing facilities are "nowhere near capacity" so there aren't any lineups for ships at anchor, or long dwell times for cargo on the docks.
"As new commodities come on, it requires us to add different types of infrastructure, like conveyors and storage facilities," Pettit said.
"It all depends on what the product is. Right now we could easily take a couple of ships a week and we are nowhere near that level yet."
Industrial and even military views at the federal level have drawn a circle around Stewart's port as key to the national interest – but there hasn't been much follow-up on the calls to action. In 2015, former industrial executive and key federal cabinet minister David Emerson released a report entitled Pathways, a national logistics review commissioned by the Government of Canada.
"Nation-building initiatives, both immediate and long-term, should be put in place to attract investment and resource development, as well as to reinforce Canada's sovereignty over its northern territory," Emerson stated. "Research indicates that there are six main northern Canadian transportation corridors that hold promise for improved infrastructure and development."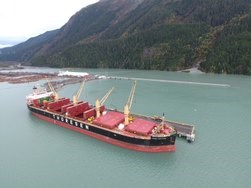 At the top of his list was a rail line from Stewart's port to the Yukon's economic bounty, with British Columbia's in between. A connector to the CN Rail mainline would complete this north-south nation-changer.
Rail bed, including bridges, already exists between Fort St. James and Dease Lake. It was built during prior railroad initiatives but never received tracks. Some of this corridor could be used for connecting Stewart's tidewater with northwestern B.C.'s untapped potential and finally provide Yukon with industrial-grade access to the rest of Canada. Connections on to Alaska and the Arctic Ocean would be relatively easy after that.
Pickell has construction ventures in both the Yukon and BC, and sees the need for a rail line to Stewart as critical infrastructure in the national interest, whether he owns a terminal or not.
"North of Stewart there is an area called The Golden Triangle, where the mineral potential is literally unmeasured. There are millions of tonnes of ore that could be mined and shipped, to say nothing of what lies north of the Yukon border. There are millions of tonnes of ore in that area, too. The closest port would be Stewart. And south of Stewart has great potential, too," says Pickell.
"The geography is challenging. It takes a real ambition and deep pockets to put something like that together," said Stikine MLA and Minister of State for Natural Resources Nathan Cullen, "that being said, the opportunity is there, because if you look at the billions of dollars in just the mining interests alone going on in the northwest, in that Golden Triangle, and the implications for road traffic and all the rest, a rail line or slurry pipe or something that allows an amount of material to be moved more safely and cost effectively is of interest."
The current Member of Parliament for the region is Taylor Bachrach, the former Mayor of Smithers and currently the NDP's federal Critic for Infrastructure & Communities. He sees the potential, but also cautions about negative impacts that must be addressed in advance.
"Some people certainly look at the northwest and see it as this vast, resource-rich region just ready to be tapped," Bachrach told The Orca. "Of course there are other perspectives and a lot of other considerations as well. Securing consent from Indigenous nations is obviously the foremost question, and also the cumulative impact on other values has to be considered."
While the ports of Stewart are within Nisga'a territory, much of the mining, forestry and rail development being proposed is in neighbouring Tahltan territory. Their partnership would be a requirement as a first priority in the process.
"We don't deal with the Talhtan much. We know them all and we have several friends there, but their territory doesn't come right down to Stewart," said Pickell. "We are mostly involved with the Nisga'a and they have been very supportive and cooperative with us. The Talhtan's input would be definitely needed for the rail line, but don't forget they are for industry, they want mines and everything, but let's not damage the environment when building these things. And there is no need to in today's world. Let's use it and don't abuse it."
Should a rail line be built, removing high numbers of transport trucks from the roads and highways would help traffic safety in the northwest, and also cut carbon emissions. Pickell and Pettit have even been in discussions regarding a fully electric freight train system, which would be an environmental coup.
Some environmental wins have already been scored in Stewart, related to port development.
"Part of the permitting process is, you have to reestablish habitat that you have disturbed," said Pettit. "We built habitat and it is very successful. We've monitored it over the years and there are more young fish and spawning areas since we arrived."
Pickell said, "We're both boys from the north, so we want to protect it and help it wherever we can."
"We designed our present dock there, which will accommodate a Panamax vessel, and when we put the cap on the dock we spent over half a million dollars making it sloped with drains in, so if we are loading a concentrate or something, and spill it on the dock, we can wash it into a vat. We've put a lot of effort and planning to design the dock so it's as environmentally friendly as anybody can do today. It's not compulsory to do that, and I'm sure it's the only one in B.C. built that way, but we did it."
Those last four words might be the new slogan for Stewart's ports. There are many hopes still emanating from the border village, as there was 100 years ago, but some of the big talk has resulted in tangible development. There is a demonstrated business case for private-sector ports, and for those who aspire to cultivate business in the untrammeled northwest, there is safe harbour at the end of the Portland Canal.
Frank Peebles is a veteran magazine and newspaper journalist based in Prince George. He has won numerous awards for his work, including Canadian Community Newspaper Association and BC-Yukon Community Newspaper Association citations.
SWIM ON: