50 years ago this week, in the riding of Dewdney, an earnest 36-year old father of five stepped into a provincial election campaign, hopeful for a breakthrough for a new generation of politics. Instead, Premier W.A.C. Bennett outfoxed the opposition parties, earning an unprecedented seventh consecutive term.
It was W.A.C.'s greatest and sweetest electoral triumph, but it was also his last.
This is the story of that campaign, what led up to it, and how its outcome changed the course of BC politics. It's also the story of Peter McDonald, Liberal, Dewdney riding.
My Dad.
Leading up to 1969
Politics were very lively in the 1960s. Federally, John Diefenbaker and Lester Pearson dueled three times between 1962 and 1965.
Unrest and tumult south of the border were in full view – civil rights, Vietnam, and, in 1968, the assassinations of Martin Luther King and Robert Kennedy. Pierre Trudeau catapulted into the leadership of the Liberal Party of Canada on a wave of "Trudeaumania."
The times were a changin', but not so much in British Columbia.
The Social Credit government was clocking in at 17 consecutive years. Impatient politicians like 36-year old BC NDP leader Tom Berger, an accomplished lawyer, and 42-year old BC Liberal leader Pat McGeer, a prominent academic, sought to surf generational undercurrents into office against the man who seemed from another time – W.A.C. Bennett.
The response from this 69-year old, teetotalling merchant from Kelowna? The Good Life – a grand narrative of progress under Social Credit rule combined with blunt attacks on the Opposition as Marxist radicals.
Like many long-serving governments, they were young when they started but now looking old.
In the previous four elections, W.A.C. had faced NDP (and CCF) leader Robert Strachan. Each time, same result – a Socred majority. In six mandates, the Socreds had disposed of three CCF/NDP leaders, not to mention chewing through Liberal and Conservatives leaders as well.
Though Strachan was 13 years younger than W.A.C., he was facing a challenge from a even younger generation within the NDP. In 1966, Tom Berger was elected MLA from Vancouver Burrard at age 32. He had already been a one-term Member of Parliament, president of the BC NDP, and built a reputation as a labour and aboriginal rights lawyer.
There was no doubt he was an up-and-comer.
Berger challenged Strachan in 1967. In a party convention, Strachan pushed Berger back and remained leader, but the damage was done – to Strachan, and ultimately to Berger too. The party was deeply divided. Strachan resigned as leader in 1969, setting up a leadership race between Berger, backed by Labour leaders, and Dave Barrett, first elected in 1960 and, like Berger, still in his 30s.
It was a hotly contested battle. Berger edged out Barrett, entrenching deep divisions. It was now Berger's task to dethrone W.A.C., a man clearly of another era.
Meanwhile, the Liberals were also in the midst of a change. Outgoing leader Ray Perrault took on the leadership in 1959 and led the party through three elections. He restored credibility, electing a small but talented caucus – but the party was stuck on 20% of the popular vote. It wouldn't budge.
Perrault opted to leave for federal politics and in 1968, pulled off one of the great upsets in BC federal political history, shockingly defeating national NDP leader Tommy Douglas.
A leadership was contested between two seatmates from Point Grey – Dr. Pat McGeer and Garde Gardom, with McGeer prevailing. The nephew of former Vancouver mayor/MLA/Senator/MP Gerry McGeer, he had a political pedigree and lengthy list of education credentials to match it. He entered the 1969 campaign, leading a strong slate of candidates, sure it was their time for a breakthrough.
In the riding of Dewdney, stretching from the blueberry farms of Pitt Meadows to the corn fields of Agassiz, a young, small businessman was gearing up for his provincial run.
Peter McDonald engaged his passion for politics when he moved to Haney in 1959. He managed his brother's federal Liberal campaign in 1965, was elected as Alderman in Maple Ridge, and was an active participant in Liberal conventions. He even had a chance encounter with Robert Kennedy during the 1968 primaries, further adding fuel to his political engine.
For years, he ran the Haney Liberal association, which had a strong and active membership. Now was the time to plant a Liberal flag in a riding that had swung in recent years between the NDP and the Socreds. Held by Socred cabinet minister Lyle Wicks in the 1950s, a social worker named Dave Barrett took a job at Haney Correctional Institute. When Barrett became politically active, he was fired by the Social Credit government. It was front page news; Barrett went on to win the NDP nomination and ultimately dispatched Wicks in the 1960 election.
Barrett represented Dewdney until 1966 then moved to a newly-created seat after a boundaries change. That opened up Dewdney for George Mussallem, a local car dealer whose father, Sol, was a longtime reeve of Maple Ridge. Mussallem restored the seat to the Socreds in 1966 and was readying himself for re-election in 1969. The NDP nominated young lawyer Stu Leggatt.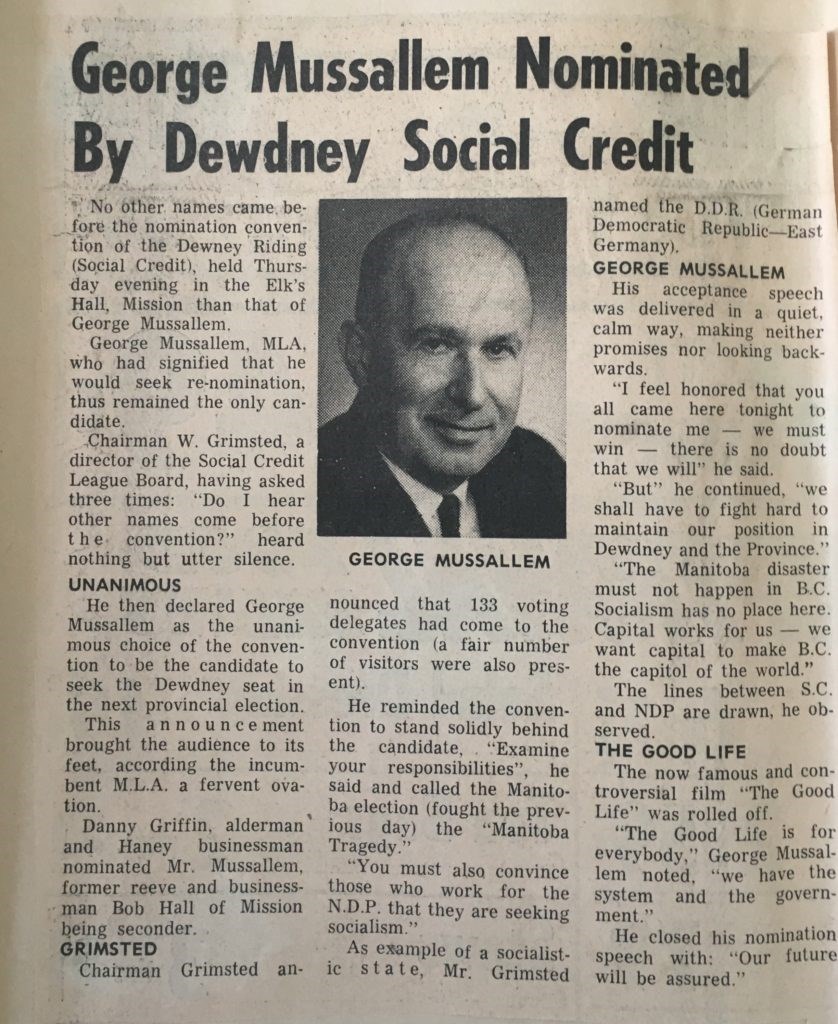 For McDonald, winning would be a longshot, but the wave of Trudeaumania that propelled Liberals to their best-ever showing in B.C. was just a year old. They hoped a tired governing party would find that momentum irresistible.
The Good Life
W.A.C. headed into the 1969 campaign touting The Good Life. David Mitchell writes:
After seventeen years in power, Canada's senior premier declared: "Today, British Columbia is the No. 1 have province in the nation… No other government with only 2 million people can do what we are doing". In the spring of 1969, in what was widely believed to be the kickoff for a provincial election, the premier embarked on a 10,000 mile grandstanding tour of the province showing audiences of all sizes a controversial government-commissioned film, a glossy review of the rise of British Columbia. Its title was – what else – "The Good Life".
Underpinning The Good Life were the benefits that flowed from natural resource development, industrial expansion, and fiscal restraint. While governments elsewhere ran deficits, W.A.C.'s governments ran surpluses. This message spoke to the Socred base of small businesses, farmers, and, generally, rural BC. In 1969, the outlying areas of the province had much more political clout than they do today.
The May 8, 1969, edition of the Vancouver Sun ran the transcript of The Good Life in its entirety.
It describes successes, industry by industry, from forestry to petroleum to tourism. W.A.C. describes new programs to assist young homeowners, and extolls the province's health care and education system, and its parks and natural beauty. The 27-minute film closes with W.A.C.'s final exhortation:
"Through this great unity of purpose British Columbians have achieved the good life and we are on the way to become an affluent society. In this abundant life, God has given us a great trusteeship. He has given us an opportunity to serve our generation not only our generation but those yet to come. And for my part in that purpose I am truly grateful."
W.A.C. took the film on the road, showing it to audiences across the province. Barely three years into his mandate, only he knew when the next election would take place. The other parties would be kept guessing while the Premier assessed the effectiveness of his publicity blitz.
A Prince George Progress editorial (June 4th, carried in the Hope Standard), sums up the skepticism toward the film and also its effectiveness.
"The Good Life" was shown at the Northern Interior Lumbermen's Convention on Friday and in several occasions becomes obvious why it's controversial… The film, which opens and closes with the Premier's smiling countenance and expansive feelings about B.C. also tends to boggle the mind with facts and figures… All in all, however, the film does justice to the province and if there was ever a media capable of enticing immigrants from "those other provinces", "The Good Life" is it.
W.A.C.'s devotion to The Good Life message was impressive. Upon astronaut Neil Armstrong's first footsteps on the moon, he remarked to the press gallery "he still thanks God for 'the good earth' and B.C. in particular – the province of the 'the good life'". In that same interview, he was asked about rumors of a potential fall election. W.A.C. said his mind "is only on that wonderful flight to the moon."
He called the election the very next day.
The Electoral Standings
The parties entered the 1969 campaign much as they had in the previous four. The Socreds ranged from 39% to 46%; the CCF from 28% to 34%; and the Liberals were on a very small decline from 22% to 20%. For their part, the Progressive Conservatives had been vanquished.
The Campaign Kicks Off with Turbo-Polarization
"Bennett Lays His Good Life on the Line" is the above the fold headline on July 22nd.
The page one article quotes W.A.C. as saying Marxist socialism is masquerading under the name of the NDP and that he was staking his party on the "bread and butter issue" – the welfare of B.C. workers.
W.A.C. said, "This will be the election of the great switch. Liberals and Conservatives will be voting for us as they have never before… The issue is a clear-cut one between the NDP Marxian socialists and the free enterprise Social Credit."
Berger retorted that the election announcement was a "hysterical outburst by a pathetic old man clinging desperately to office."
McGeer was bullish: "I would certainly be satisfied with a minority government, although of course, everyone hopes to win a majority. There's no region in which we're weak. I know we're going to astonish the press who have misread the situation entirely in terms of free enterprise and socialism."
The Teams
The Socreds had continuity at the top, but there was some churn in the team. Longtime Attorney-General Robert Bonner left politics in 1968. While a handful remained, many that started the Socred voyage in 1952 and been outlasted by their premier. Phil Gaglardi was back though. He had been bounced from cabinet for transgressions but hadn't given up on politics.
The pirate mayor of Nanaimo Frank Ney had emerged to take on NDP MLA Dave Stupich. W.A.C. hoped to win Oak Bay with Dr. Scott Wallace and wrestle the seat from the Liberals. Former Vancouver mayor, and former Liberal candidate, Bill Rathie, was recruited to run against McGeer and Gardom. Football and broadcasting legend Annis Stukus contested North Vancouver-Seymour against Liberal MLA and broadcaster Barrie Clark.
Berger had only been leader since the spring. He had 17 seats, and would need another 11 for a majority. Two seats were for the taking in Vancouver-Centre, contested by Emery Barnes and lawyer William Deverell. The Party had won a byelection in Vancouver South and hoped for a second seat for Party linchpin John Laxton. Ridings with significant unionized workforces like Skeena, Alberni, and Rossland Trail were in Socred hands.
McGeer started with a base of six MLAs concentrated in Point Grey and the North Shore, with one MLA in Oak Bay. Renowned UBC forest economist Peter Pearse ran in Vancouver-Little Mountain. David Zirnhelt, the high-profile head of the UBC AMS, ran in his home riding of the Cariboo. Mel Couvelier and Ian Stewart were regarded as strong candidates in Victoria. Rancher Mack Bryson was expected to make a strong showing in Kamloops, following in the footsteps of Len Marchand's decisive federal win in 1968. Longtime Prince Rupert mayor Pete Lester signed on to McGeer's team. Young candidates like Tex Enemark (Fort George) and Bob Plecas (Nanaimo) were recruited to fly the flag.
Progressive Conservative leader John de Wolf was the only candidate for his party, running in Point Grey.
The Dewdney campaign
Looking back on the Liberal campaign in Dewdney, it was impressive. For a party that had not seen great results there for decades, Peter McDonald was all in.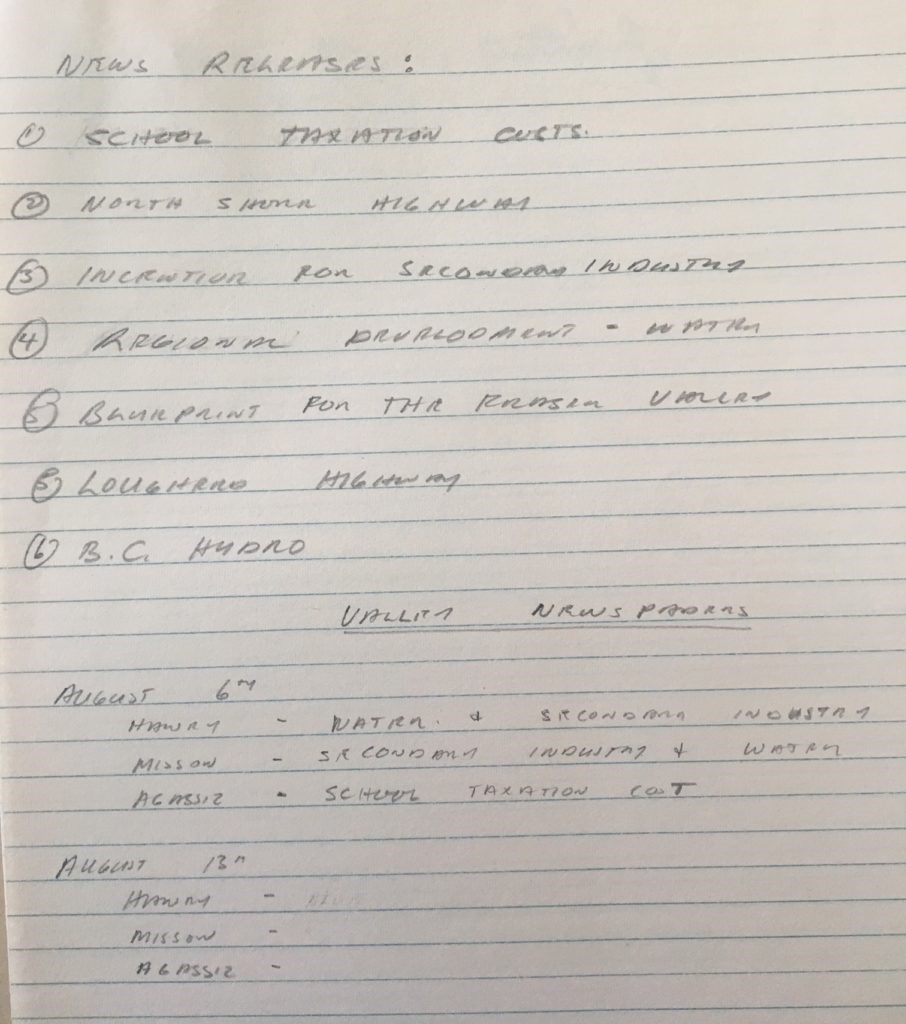 McDonald pushed the issues with vigor. In a hand scrawled list, planned news releases included "School Taxation Cuts", "North Shore Highway", "Incentives for Secondary Industry", "Blueprint for the Fraser Valley", "Lougheed Highway", and "B.C. Hydro". Stories were targeted to newspapers in Haney, Mission, and Agassiz.
He championed water quality in the Alouette River, decrying it as unsafe for swimmers due to a pollution issue upstream from the provincial prison. Photos showed him collecting water samples that were sent to the lab, bolstering his claims.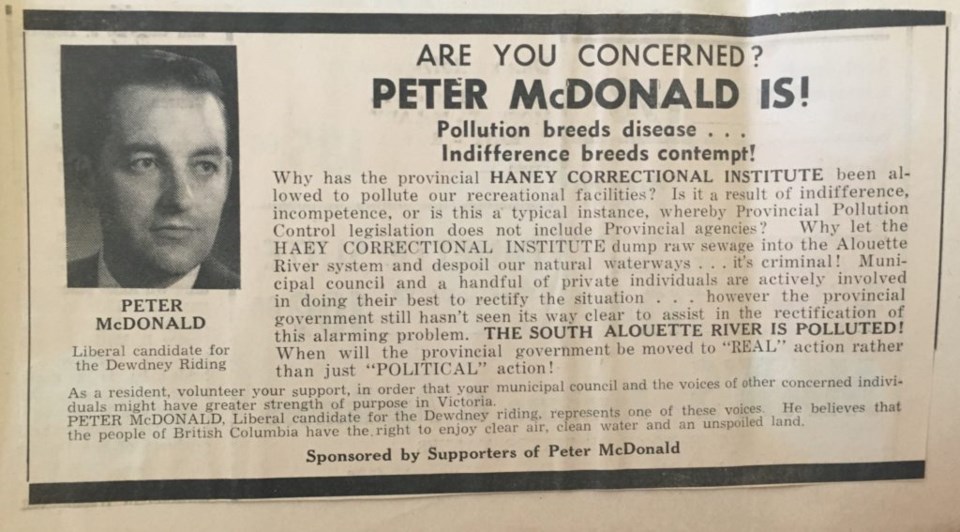 News releases bombarded local media and he earned mentions in the Vancouver papers as well. Leader Pat McGeer came to the riding to make the rounds ("McGeer listens to Farmers' Beefs"). Door knocking abounded. Lawn signs sprouted up.
Political campaigns always have an impact on the family of the candidate; it is very difficult for a candidate to run without his or her family's full backing. McDonald had the unwavering support of his wife, Helen. Vertical strips from the Haney phone book were tacked to the wall by the phone. Each strip was a column of phone numbers that Helen would phone to seek support for Peter, while raising five kids 13 and under – including me, at 9 months old.
His oldest daughter, Sara, recalled the humiliation of riding in the Liberal parade car desperately trying to avoid being seen by slumping down low and avoiding eye contact with classmates.
McDonald was pulling out the stops – he just needed to wait for that Liberal wave.
NDP candidate Stu Legatt's campaign ran newspaper ads with that old beauty of a slogan, "Time for a Change."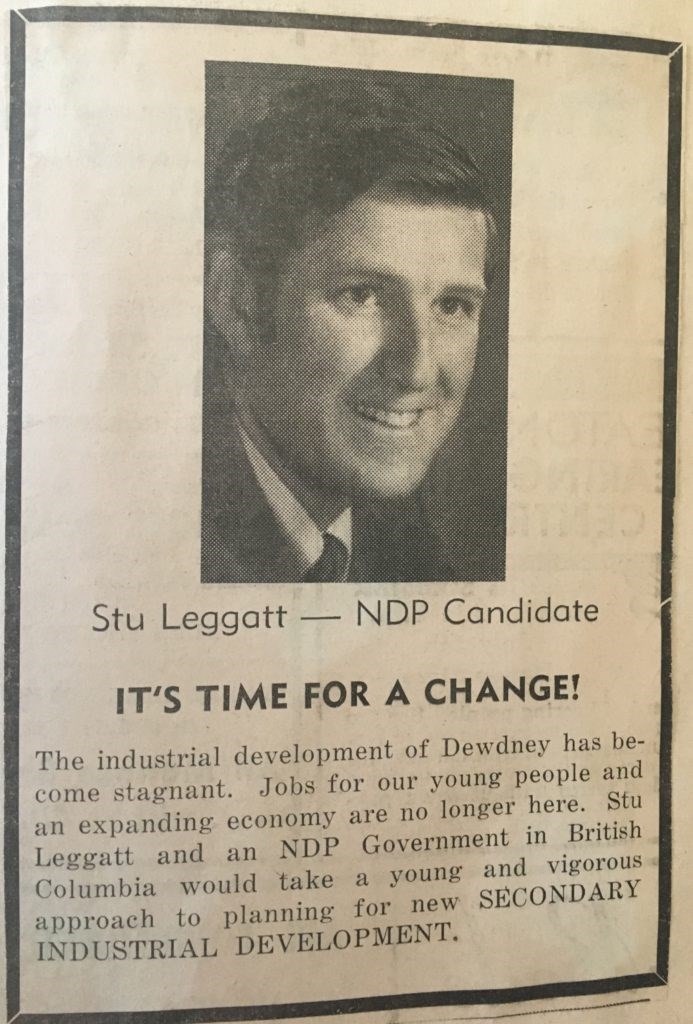 MLA George Mussallem rolled out the Socred messaging: "Socialism has no place here" and "The Good Life is for everybody. We have the system and the government… Our future will be assured."
The Campaign – prosecuting the Marxists
W.A.C. made his case for the Good Life. However, to sustain his attacks on the new, 'city slicker' 'Marxist' labour lawyer, Tom Berger, he needed a hook.
Shortly after his bruising leadership campaign against Dave Barrett, Berger said he would nationalize BC Tel. It wasn't planned, but the policy had been floated by NDP MLAs during the leadership race. It gave W.A.C. an opening. W.A.C. had formed state-run companies BC Ferries and BC Hydro – but in 1969, this was apparently a step too far.
Five days into the campaign, Berger was on page two of the Vancouver Sun explaining his BC Tel promise. That old saying comes to mind, "If you're explaining, you're losing."
According to Pat McGeer's book Politics in Paradise, Bennett blamed many circumstances on Berger. A wildcat transit strike in Vancouver: "Wasn't that a terrible thing for Berger to call the bus strike?"
Berger's own messaging played into Bennett's strategy. Geoff Meggs and Rod Mickleburgh recount in their book The Art of the Impossible that NDP billboards and newspaper ads featured Berger in a suit carrying a briefcase, with the headline "Ready to Govern." Berger had told the NDP convention, "The time has come to form government." Bennett responded with, "Strike pay with Berger or take-home pay with Bennett".
Having an NDP leader talking about governing was exactly what Bennett wanted. Combined with having Berger on the defensive over BC Tel, he was successfully polarizing the election ensuring that enough voters would reinforce the old premier rather than risk a 'radical' NDP government by voting NDP or vote-splitting by voting Liberal.
A key distinction between W.A.C. Bennett's campaigns and those that followed to current day is the perception of whose side the parties are on. W.A.C. ran against the elites. He nationalized the ferries and the electricity company, and built major hydroelectric dams.
He may have been older, outdated, and not with the times – but he put himself on Main Street, B.C – not a natural place for the labour lawyer or the academic from Point Grey.
Mike McDonald served as Chief of Staff to former B.C. Premier Christy Clark and as her campaign director in the 2013 election. He is a partner at Kirk and Co., BC's leading public engagement and communications firm. Mike blogs at rosedeer.com and is @bcmikemcd on Twitter.
SWIM ON: