Read part one here.
The Campaign Takes Shape
There was no leaders' debate. Opinion polls were forbidden during the campaign. All parties had large rallies around the province where hundreds would attend, often punctuated by heckling.
There was a lot of print media coverage, but it was difficult for the opposition parties to lead the narrative. In a post-election article, Vancouver Sun columnist Allan Fotheringham tabulated that during the campaign, his paper devoted 537.5 inches of type to the Socreds on page one, compared to 273 inches for the NDP, and 159.5 inches to the Liberals. Columnists devoted three times as much ink to the Socreds as the NDP and very little to the Liberals.
Presumably, the Socreds had a much bigger war chest as well, not to mention the Good Life campaign that preceded the campaign.
Regardless, the media –as the media does – generated coverage that built the sense it was a hot race. From afar, the Regina Leader-Post said, "This will be no cut-and-dried contest." The Toronto Globe & Mail opined that, "Many Canadians, in and out of British Columbia, would rejoice in Mr. Bennett's defeat", comparing him to Quebec separatist Réne Levesque. The recent election of Ed Schreyer's NDP government in Manitoba fueled speculation.
In the first week of the campaign, the Socreds had an unexpected issue in Rossland-Trail. Robert Sommers, who had served as Minister of Forests (and also two years of a five-year jail term for bribery and conspiracy in the issuing of forest management licenses) attempted a political comeback by challenging the Socred incumbent. The drama played out over the first week of the campaign, but ended July 28th when Sommers protested the rules and withdrew from the race. A threat to run as an independent did not materialize.
The leaders criss-crossed the province, with a majority of seats outside the Lower Mainland. In fact, it was reported by Canadian Press on July 30th that McGeer was shadowing Berger's tour through itinerary a day later.
That same day, W.A.C. struck hard: "Mr. Berger has said himself he's a Marxist socialist, though he's trying to back away from it now. He's scared everybody including himself." Nine days in, W.A.C. was still on his core message. Ten days in, the Vancouver Sun's lead editorial was "Mr. Berger and the telephone company…"
On August 7th, W.A.C. continued his focus on making the choice between "Bennett or Chaos; free enterprise or the heavy hand of state socialism", he charged. That same day, the Province editorial page dedicated more time to Berger's BC Tel "takeover."
With 15 days to Election Day, reporter Bob McConnell wrote that, at that point of the campaign, W.A.C. had not toured. While he had traveled to a First Ministers' conference, when he was in B.C., he was in his riding "sketching out the issue (free enterprise versus Marxian socialism)".
He had made some promises such as second mortgages at lower interest rates, increased old-age pension supplements, and more spending. None of his cabinet ministers had made any major speeches or policy statements and the party seemed to be relying "mainly on a fat budget for radio, TV, and newspaper advertising."
Once W.A.C. was on the road, he made waves. In a noisy Salmon Arm rally on August 13th, he said that an anti-Trudeau demonstration in Vancouver was organized by Berger. Amidst the noise of the hecklers, W.A.C. charged, "You can see it here tonight – that's their tactics." The Vancouver Sun devoted an article below to Berger's denial. Berger said, "We have found no one listens to Bennett any more and no one believes him. These attacks make me angry… but I'm not going to reply in kind."
With 9 days to Election Day, McConnell reported that NDP strategists were "flatly predicting victory," stating they would hold their 17 seats and pick up another 11 in places like Rossland-Trail, Prince Rupert, Alberni, Dewdney, Nelson Creston, and Vancouver-Centre. The NDP sources claimed they had stronger volunteer support than previous campaigns. Socred strategists responded that they too had unprecedented volunteer support and while Berger and McGeer started touring early, the Socred's "big guns are just starting to open up."
At a rally of 800 supporters in Kamloops, W.A.C. promised that 'Flyin' Phil Gaglardi would return to cabinet full-time, a rare promise of cabinet-making on the campaign trail. For his part, Berger announced that former NDP leader Bob Strachan would serve his as a "senior cabinet minister" if elected.
On the streets of Vancouver-Centre, NDP candidates Emery Barnes and William Deverell were campaigning aggressively to unseat the two Social Credit incumbents. A post-campaign feature in MacLean's profiled the duo.
Liberal Hopes
As the campaign wore on, the Liberals were in desperate bid to stay relevant. They were not without their successes.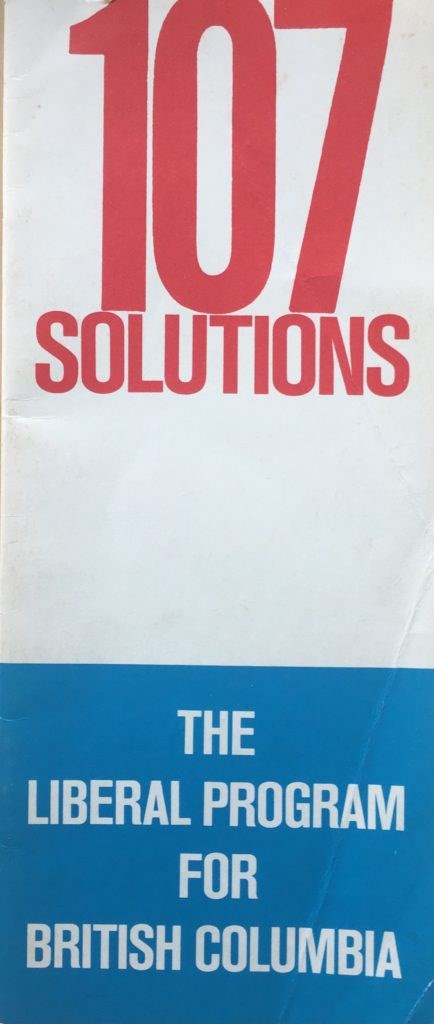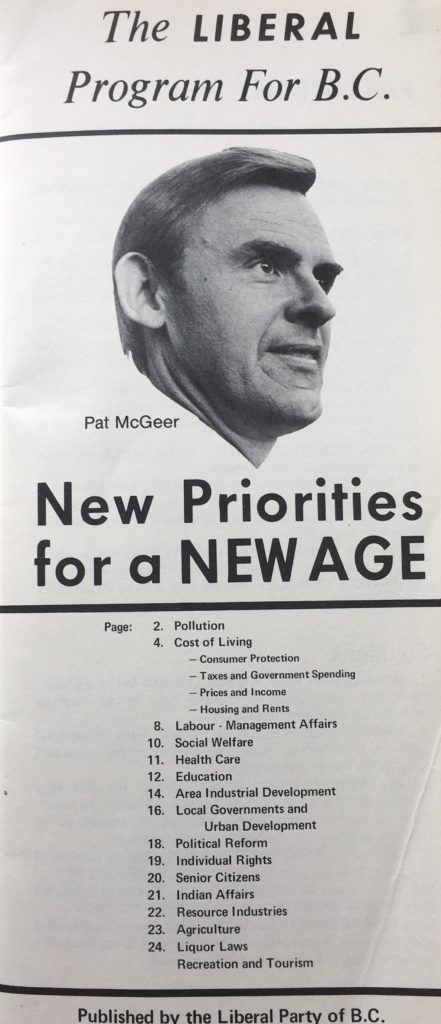 A 700-car parade of Liberal supporters was held in Kamloops, which, by any metric, should be a sign of victory.
In the final week, more than 1,000 people attended a Liberal rally in Victoria for regional candidates, not to mention 1,600 plates of salmon served.
McGeer said the Liberals could win a minority government with 21 seats and that eight seats were "swing" seats, which could give him a majority. He even provided a list, which included Dewdney.
In Dewdney, news releases trumpeted a three-way race. "All our surveys indicate that at the present time the election is a toss-up in Dewdney", announced the McDonald campaign. "People are dissatisfied with the high-handed, arrogant practices of the Social Credit government."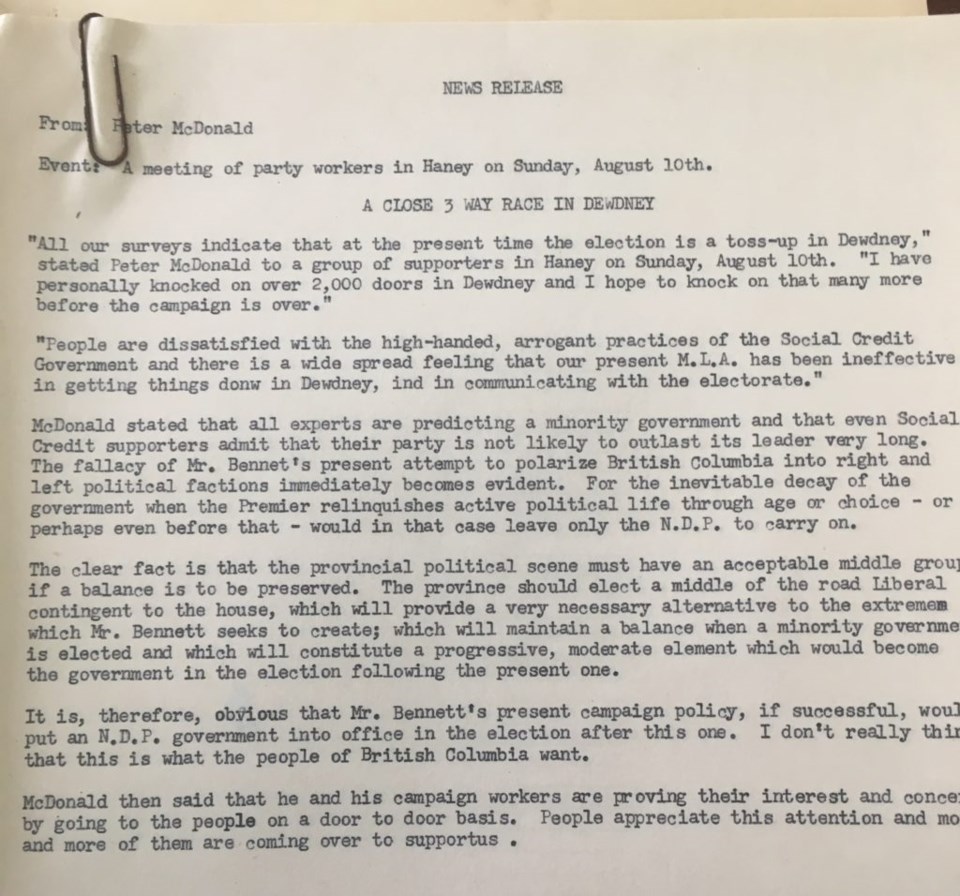 McDonald brought in legendary newspaper editor Ma Murray for a rally late in the campaign, garnering a strong turnout in Haney. Not only did Ma entertain the crowd, she held court at the McDonald household until the wee hours of the morning regaling supporters with her stories while enjoying her drinks.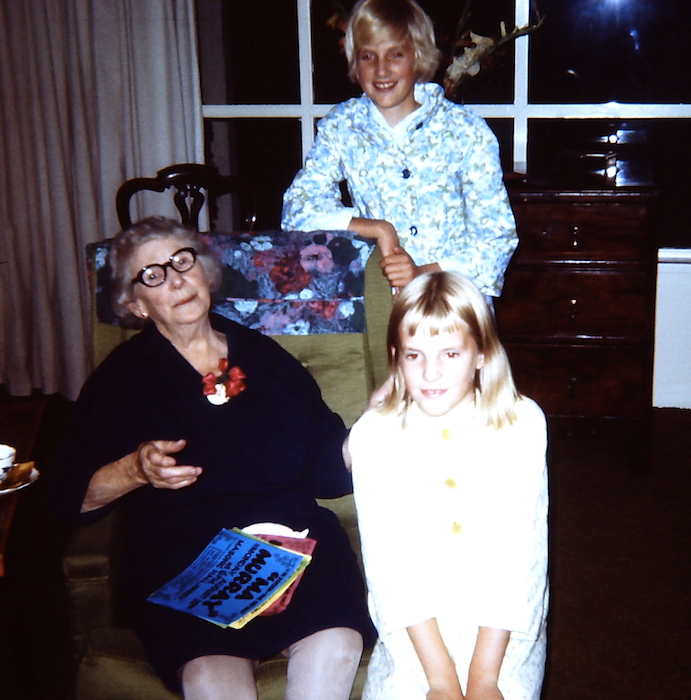 The Liberal pitch was that the Socreds couldn't last forever and a Liberal alternative was needed to keep the NDP out of power. Said McDonald, "Mr. Bennett's present campaign policy, if successful, would put an NDP government into office in the election after this one." He was right. But in the meantime, the message wasn't getting through.
One example of the Socred grip was a generous donation McDonald received from a small businessman. However, not long after, he saw the same man leaving the office of George Mussallem, where he had given an even larger donation. When challenged as to which campaign he was supporting, the small businessman remarked, in effect, "Pete, you're a nice guy, but you're not going to win."
In the outback, Liberals were realistic. In his book, Bill Bennett: A Mandarin's View, Bob Plecas wrote about his experience as a 24-year old Liberal candidate in Nanaimo. He said he was told by the local newspaper that no matter what he did, including "standing on his head to give answers at all-candidates meeting", he would get no coverage.
In the final analysis, Plecas said he had more relatives than votes.
One headline he did receive in the Nanaimo Daily Free Press was, "McGeer's Election Tour to Bypass Nanaimo." McGeer would make it to Nanaimo late in the campaign.
The Final Week
In the homestretch, W.A.C. was returning to his core theme: "NDP Menace to Liberty". While campaigning on the Sunshine Coast, W.A.C. took on the labour bosses: "It will be a dark day when the workers of this province follow their bosses on political things… I appeal to the union wives. Do you want the good wages you're getting now? Or strike pay with Berger? Because there will be chaos."
Berger was promising to develop a rapid transit system for Vancouver and the Lower Mainland over a new Burrard Inlet crossing. He wanted commuter trains running on existing rail tracks, and BC Hydro (which then ran the bus system) to begin planning a subway system. At an Island rally, Berger promised public auto insurance.
With four days to go, a Canadian Press story quoted W.A.C. as saying, "This is not a campaign. This is just the tour of the province; I'm just a tourist." He said he was enjoying the campaign "more than any other I've ever been in".
In a separate CP news item, Berger was, again, responding to W.A.C.'s attacks. This time, W.A.C. had said an NDP victory would be like the Russians invasion of Czechoslovakia. Berger called the attacks "absurd."
Berger pressed on with more campaign planks. On August 25th, he promised a new housing fund to provide first mortgages for home buyers at lower than federal CMHC interest rates.
Berger spoked at a rally of 7,000 in New Westminster. He said, "We're ready to form a government. I'm calling for unity. I'm calling for mandate. I'm calling for victory." Manitoba Premier Ed Schreyer voiced his support for Berger and noted that Manitoba has had a publicly-owned telephone company since 1912.
Vancouver Centre candidates Herb Capozzi and Evan Wolfe joined 250 of their campaign volunteers to build a playground at a low-rent housing project in their riding, with donated material. An interesting tactic in a close race.
On the eve of Election Day, Canadian Press reported that election strategists for the three parties were reconciling themselves to a potential minority government. All parties publicly predicted majorities.
Election Night
It was a resounding win for W.A.C. and the Socreds and a crushing loss for the NDP. While not totally unexpected, the Liberals' optimism was dashed.
Social Credit            46.8%         (+1.2%)       38 seats (+6)
NDP                          33.9%          (+0.3%)      12 seats (-5)
Liberal                      19.0%          (-1.2%)         5 seats (-1)
The 69-year old premier not only secured a 7th mandate for the Socreds, he increased the popular vote and added six seats to assume a dominant position in the Legislature. He defied expectations. He said, "Our cup runneth over."
While holding the popular vote, the seat count was a disaster for Berger, losing almost one-third of his Caucus, including his own seat. The Liberals were stymied and lost their only seat on Vancouver Island, Oak Bay.
In Dewdney, Socred George Mussallem cruised to an easy victory with 51% of the vote. NDP Stu Leggatt took 37% while Liberal Peter McDonald accounted for 12% of the votes.
Front page headlines:
Vancouver Sun: Socreds Flatten Opposition The Province: Bennett tightens his grip Victoria Daily Times: Landslide Win for Bennett
Another Vancouver Sun A1 piece was headlined 7 Straight for Old Master. Sun reporter Dave Ablett writes, "The old man has run out of ideas, they said. And his anti-socialist extremism seemed totally out of place in the sophisticated 60s." However, according to W.A.C.'s son, Bill, "My father said two weeks ago that it was the easiest campaign he'd run."
After the Campaign
At age 36, Tom Berger was done with party politics. Without a seat, he resigned he party leadership and essentially turned it over to Dave Barrett. Three years later, Barrett would be the premier, decisively defeating W.A.C. Bennett. He ran a very different campaign than Berger, focusing on opposing not governing, and using humor to disarm. Berger continued in law, as lead counsel for the Nisga'a in the historic Calder case, went to the bench, and has enjoyed a celebrated legal career receiving many accolades.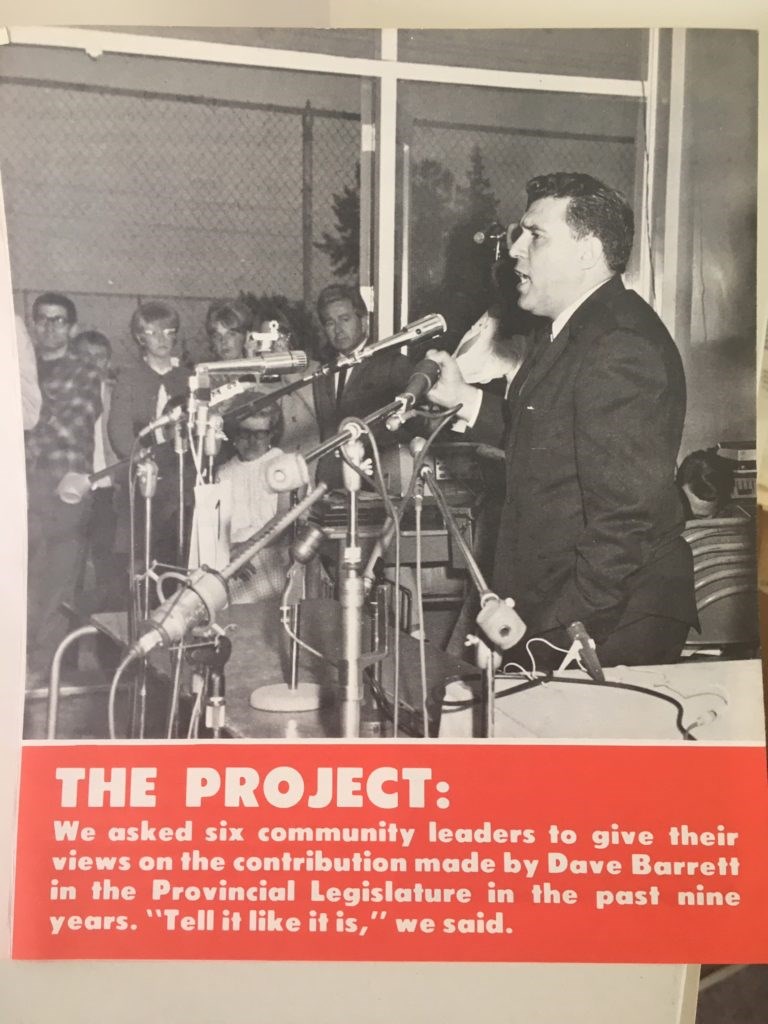 Many NDP candidates who lost in 1969 would be successful in 1972, such as Dave Stupich, Emery Barnes, Bill King, Harold Steeves, and Norm Levi. NDP candidate Bill Deverell went on to become one of Canada's best-known novelists.
Pat McGeer continued on as Liberal leader initially, but by 1972 he had stepped away, to be succeeded by David Anderson, then a first-term MP from Victoria. With Anderson, the Liberals regressed. Ultimately, McGeer, his seatmate Garde Gardom, and West Vancouver MLA Allan Williams would cross the floor to the Socreds and join W.A.C.'s son W.R. Bennett for the 1975 campaign, where the Barrett government was defeated. The troika of erstwhile Liberals played senior roles in the younger Bennett's cabinet.
Liberal candidate Bob Plecas (Nanaimo) would enter the public service and play a major role in the senior ranks for decades. Victoria-area Liberal candidate Mel Couvelier would go on to serve as BC Liberal Party president and Mayor of Saanich, but would ultimately gravitate to the Socreds, running for the leadership in 1986 and served as Finance Minister. Cariboo David Zirnhelt would return to politics as an NDP candidate in the 1989 Cariboo byelection, scoring a major upset over the Socreds, a major event for the NDP on the way to victory in 1991.
1969: Changing the course of BC politics
The 1969 campaign had two significant impacts.
First, it changed the NDP. Berger's divisive leadership campaign, which consumed most of the 1966-1969 period, was all for naught. The outcome put the party in Dave Barrett's hands, who would lead the party in the next four elections – significantly, winning the first in 1972. Under Barrett, the NDP reached record levels of popular vote.
Second, the '69 campaign had a major impact on the Liberals too. The loss of a seat, and modest dip in popular support were big disappointments. The futility of trying to win as a free enterprise alternative was reinforced in 1972. Within five years of the 1969 election, three Liberal MLAs, including McGeer, dramatically crossed the floor to the Socreds.
In reality, the Liberal formula was flawed. They had not broadened their appeal beyond the "silk stocking" seats of Vancouver and Victoria and lacked a populist appeal. McGeer, an "egghead," embodied the traditional Liberal base, which Liberals failed to break out of federally or provincially for a generation.
It wasn't until Gordon Wilson channeled W.A.C. by running against the elites that the Liberals returned to prominence in British Columbia. Gordon Campbell reconstituted the coalition against the 'Marxist socialists' that had defined B.C. politics since 1941.
Then there are the little things. In the 1968 Oak Bay byelection, W.A.C. sought the election of a Socred in a seat held by the Liberals for many years. At a rally at Oak Bay High, W.A.C. pleaded, "How many years does a premier have to wait?" Socred Peter Pollen (future mayor of Victoria) was defeated by Oak Bay mayor and Liberal candidate Allan Cox. One year later, Socred candidate Dr. Scott Wallace defeated Cox in what Pat McGeer called "the biggest upset" of 1969. It was certainly upsetting to him.
However, it would soon upset W.A.C. One of only 38 MLAs, Wallace was a mere backbencher and his ideas for health care reform were shot down by the government. By 1971, he had crossed the floor to the Progressive Conservatives, giving them their first MLA in 15 years. Combined with a new, vigorous leader, the Progressive Conservatives would help destroy the Social Credit campaign in 1972. In the end, W.A.C. may have wished Oak Bay voters had waited a little longer.
Thus the stage was set coming out of 1969 for both a stronger NDP and reaction to a stronger NDP – a realigned and consolidated free enterprise movement. By 1975, Barrett had already been premier, and W.A.C.'s son, Bill Bennett, was about to begin, with the former leader of the Liberals at his side.
A candidate's ending
Like many candidates, Peter McDonald gave it his best shot. "You can't win if you don't run" is an argument I have certainly used while recruiting candidates over the years – and his possibilities were much better than other longshot bets that did pay off (like the Liberals in 1991).
And like many candidates, he got it out of his system; he never ran again.
Disappointment at the result, sure, but there's nothing he could have done. The Liberal opportunity to win in Dewdney would have seemed hopeless after the 1969 campaign – and it was for a generation.
It was the discovery of a box of election materials in the basement that sparked my interest in politics. I could not begin to understand the lists, brochures, and newspaper clippings. It was like another world, one that I would fully embrace once I began to comprehend.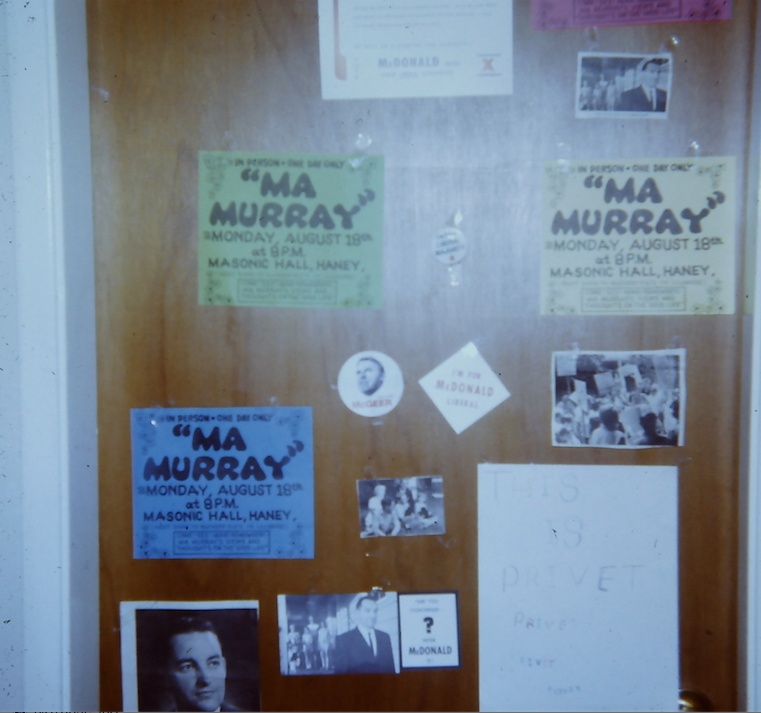 It was a tremendous benefit to me as a young person starting out in politics to have had a father that ran for office, without much chance of winning, but running out of passion and purpose. Much like it was for my friend, Christy, whose dad, Jim Clark, also ran for the Liberals during that era.
As I reflect back on campaigns past, it's also a reminder that candidates make contributions, even if they don't have a chance of winning. They drive issues. They hold the leaders accountable. It's a noble endeavor to run when you are likely not going to prevail.
A further example I took from this campaign was the collegiality. While I was only eight months old during the 1969 campaign, in later years I would often hear my Dad speak about George Mussallem and Stu Leggatt. They were friends. He had a deep respect for both. Despite the polarization and rhetoric at the leadership level, at the local level, there was mutual respect.
Late in the campaign, Dad was going down to defeat. On what I imagine was a sunny August day, he set out to knock on doors on Nicomen Island, a farming community east of Mission. He was greeted like a hero. It seemed like no one had ever bothered to visit farming families there before. He was welcomed into homes for tea and cookies, there were back slaps, and a feeling that support had been won.
On election night, as dismal results flooded in, McDonald leaned over to his brother Harold and said, "Just wait for Nicomen Island to come in."
Well, the good people of Nicomen Island overwhelmingly voted Socred that day, saving only one vote for McDonald.
Nice guy, that Peter McDonald, but it seems those Nicomen Islanders were enjoying The Good Life and sure as hell didn't want any Marxist Socialists.
At least, that's the story I heard.
Mike McDonald served as Chief of Staff to former B.C. Premier Christy Clark and as her campaign director in the 2013 election. He is a partner at Kirk and Co., BC's leading public engagement and communications firm. Mike blogs at rosedeer.com and is @bcmikemcd on Twitter.
SWIM ON: