Francesco Aquilini was relatively new to operating an NHL team when a well-meaning mutual friend set up an introductory lunch for Francesco and myself at the Cactus Club on Dunsmuir Street. Just the two of us.
It didn't go well.
Francesco wasn't interested in my point of view then and I'm sure he won't listen now.
Having said that, I still want him to know what a mistake I think it would be for the Canucks to produce and present their own radio broadcasts on a streaming platform beginning with the 2022-23 season.
The in-house possibility has created a buzz in social media circles. It would result in the Canucks controlling every word of content without a trace of objectivity from start to finish. It is a nauseating format that has become all too familiar in several NHL markets in the U.S.
When the Aquilini Group moved the Canucks radio broadcasts from CKNW to Team 1040 in 2006, the cost to the station was a reported $3.7 million per season.
In 2017, the Canucks were paid $2 million per season for five years by Rogers Media, allowing Sportsnet 650 to retain an exclusive negotiation window with the team that expired December 31, 2021.
At this point it is not known if Rogers Media will have an offer on the table, though a source in Toronto says one is in the works.
Vancouver sports media watchdog Tyler Green has suggested that Corus Entertainment, owners of CKNW and all-traffic AM730, have looked into the possibility of acquiring the Canucks radio rights. Green reported the Canucks "weren't thrilled" with the initial approach by Corus.
The downward trend in rights fees is something the Canucks will have to live with as the radio industry in Canada continues to struggle. Gone are the days of an annual $3.7 million or $2 million windfalls.
Hopefully, Francesco will adjust to the times.
SCENE & HEARD:
In Ken Holland's wildest dream at one point earlier this month, he envisioned a unique British Columbia hockey connection that included himself, goaltender Carey Price, and forward Evander Kane.
The Edmonton Oilers president of hockey operations and general manager went on national television admitting he was willing to give Kane, born in Vancouver, "a second chance" in reference to Kane's troubled past.
What Holland, born in Vernon, did not admit publicly was the fact he was also looking into every possible way of luring Price from the Montreal Canadiens. That fantasy ended when it was announced Price would be restarting the rehab process for his injured knee and remains inactive indefinitely.
Price was also born in Vancouver, though he is commonly referred to by hockey commentators as having been born in Anahim Lake, BC., where his parents moved when Carey was three years old.
A current example in Edmonton of turning a misguided player's career around is Zack Kassian. Traded by the Canucks to Montreal in the summer of 2015, Kassian was involved in a car accident during training camp.
He suffered a broken nose and fractured left foot, and while he was not the driver of the vehicle, Kassian was suspended by the Habs without pay and ushered into the NHL's substance abuse program.
The Canadiens were done with him. They placed Kassian on waivers, shipped him to the minors and it was generally assumed his NHL career was over at the age of 24.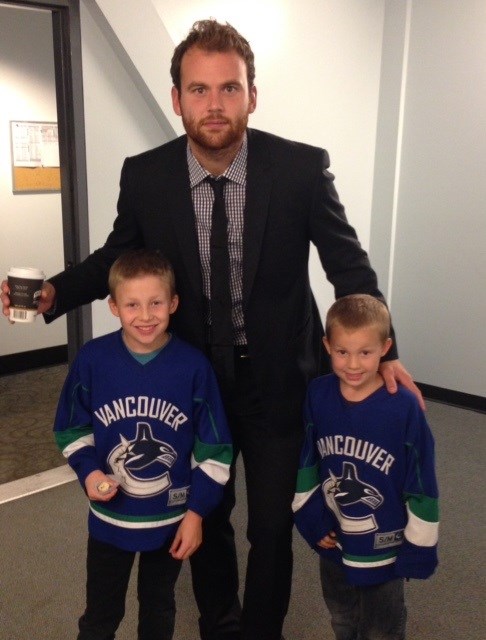 Kassian was granted his 'second chance' when Montreal traded him to Edmonton in what was then considered an insignificant deal in December 2015.
Two years later Kassian signed a three-year contract in Edmonton worth $5.85 million and is currently playing under a four-year contract extension worth $12.8 million.
Ken Holland hasn't given up on resurrecting Kane's career in Kassian-like fashion. First and foremost, Kane himself must be willing to make the necessary sacrifices.
END ZONE:
Broken bones, but never a broken spirit. That is pretty well the story behind Nichelle Milner, newly-appointed Regional Manager, Racing Operations for Hastings Racecourse and Fraser Downs.
Born in San Gabriel, California, Nichelle was a jockey in the 1980's. It was a short-lived career when she suffered a series of serious injuries, including a broken back that left her paralyzed for seven months. Three years later she broke her neck.
Nichelle had worked her way up to assistant racing secretary at Portland Meadows when she was hired as Racing Secretary at Hastings in 2015.
With COVID-19 restrictions in effect over the past two years for running both the thoroughbreds at Hastings and standardbreds at Fraser Downs, the already-challenged industry suffered another big hit with limited racing dates, purses and spectator support.
Greg Douglas 'Dr. Sport' contributes to The Orca on a biweekly basis. His five decades of covering sports in British Columbia included 19 years as a weekly columnist with The Vancouver Sun.