If they only knew.
Shortly after 7 p.m. Tuesday the doors swung open to the Conference Level Ballroom at the Parq Hotel to usher in a sold-out gathering to its designated tables in anticipation of Russell Wilson's arrival.
Russell Wilson of the Denver Broncos, as difficult as it is to fathom.
While the 950 guests were literally taking their places, they had no idea the ICBA Gala Dinner's marquee attraction was still in the process of arriving on a private jet at Vancouver International Airport.
"Things sure were getting tense," said a relieved Jordan Bateman. "We'd been checking the charter flight schedule from the hotel. It was 'wheels down at 7 p.m. and by 7:50 he was on stage, cool and calm."
Bateman, vice-president of communications and marketing for the host Independent Contractors and Business Association, and president Chris Gardner took deep breaths as they settled in for a captivating 90-minute hot stove session with the NFL mega star.
It was one standing ovation after another as Wilson began the dialogue with his affection and respect for Seattle Seahawks head coach Pete Carroll during their 10 years together.
That set an instant level of comfort for those in attendance who might have been thinking there were some bitter feelings between the two.
"We'll always be close," Wilson said. "It's an amazing relationship. After 10 years and a Super Bowl championship, things will never change between us."
Ironically, that Super Bowl XLVIII victory was a decisive 43-8 outcome against Denver and Pro Football Hall of Fame quarterback Peyton Manning.
As much as Wilson, 33, addressed football and looking forward to playing "10 or 12 more NFL seasons", he charmed the audience by sharing his love of life, his deep-rooted faith, and the importance of caring for the people around him.
"We all need each other," he said, reflecting on his contributions to the Seattle community that resulted in being named winner of the Walter Payton Man of the Year Award in 2020.
The award is in recognition of showing excellence both on and off the field and having a positive impact on his community. Wilson and his wife Clara have donated millions of dollars to charities globally and formed the Russell Wilson Foundation with an emphasis on Seattle's Children's Hospital.
The elegant suite reserved for Wilson on Thursday was barely used.
"When things wrapped up on stage, he went directly to his room for Covid tests for himself, his manager, and a couple of security people," Bateman said. "From there he went to a pre-arranged autograph session for about 75 people, and by 10 o'clock he left the hotel and was on his way back to YVR."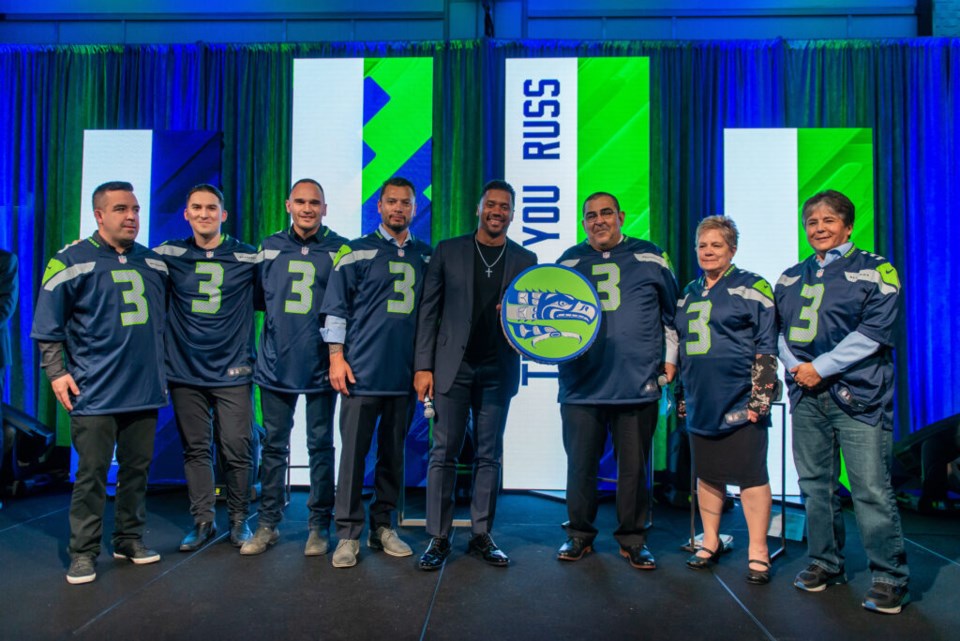 Bateman added that during the brief time he was in his room he glanced out the window, recognized BC Place Stadium's cushion-like roof, and said: "Hey, I've been there as a guest of the BC Lions. Tell them I wish them the best of luck for their coming season."
SCENE & HEARD:
Russell Wilson wasn't the only prominent quarterback in the house Tuesday. I had the privilege of sitting beside another at Table 29 in the person of Maclean Kay, the energetic founder and editor-in-chief of The Orca.
It was the first time we'd met in person.
Maclean was attending the ICBA dinner with a heavy heart, having informed his fellow Orca contributors earlier in the day that he had accepted a position in the business sector, allowing the Kay family to enjoy some long-awaited quality time together.
Maclean recognized what he felt was a gap in the BC media landscape and launched this digital newspaper in 2018. In his own words, he'd spent time on both sides of the scrum as a feature columnist with the Times Colonist and Calgary Herald, as well as five-plus years as former premier Christy Clark's speechwriter.
It was a mutual friend – Mike McDonald – who approached Maclean to have me file a sports-related column for The Orca that first appeared October 21, 2021.
McDonald, a partner at Kirk and Company, one of BC's leading public engagement and communications firm, served as Chief of Staff and campaign director to Premier Clark.
Until Tuesday's ICBA Dinner, Maclean and myself had talked on the phone, exchanged emails and texts, but never shared each other's company.
I was overwhelmed watching the man meet and greet his colleagues and friends, many of whom did not know this would be his final public appearance in his role as The Orca's editor-in-chief.
Some conversations were noticeably emotional for Maclean. Others were guarded since his resignation would not be made public until later in the week. Several times I could see traces of tears hidden behind the man's patented, ever-present smile.
The words from Russell Wilson earlier that night about "caring for the people around him" fit Maclean Kay to perfection.