Hockey fans have been listening to John Shorthouse call games on Canucks radio and television broadcasts for 24 years.
Yet in roughly 24 minutes last week, the Halford & Brough in the Morning show on Sportsnet 650 brought Shorthouse to life like never before.
Most accomplished play-by-play announcers rarely talk about themselves. We hear them setting the scene on pre-game radio shows. We see them briefly before and after televised games. But we don't really know them.
On this recent Halford & Brough Ask Us Anything Friday segment, Shorthouse – the kid from Kerrisdale who realized his boyhood dream – left listeners craving more.
He shared emotional highs working with Jim Robson, Jim Hughson, Tom Larscheid, and currently John Garrett. But nothing could top his Michael Bublé story.
During a three-game Canucks homestand in February 2009, Larscheid was out of town attending his induction into the Utah State Athletics Hall of Fame to acknowledge his All-American college football career as a feisty running back.
Among the guest colour commentators Shorthouse invited to join him in the absence of Larscheid was Burnaby-born Bublé, well on his way to international stardom at the time.
Michael had been weaned on Canucks hockey dating back to the Pacific Coliseum on Renfrew Street when his grandfather Frank, an original season ticket holder, would take him to games.
The night Bublé worked with Shorthouse the Canucks beat Chicago 7-3. "Michael was so thrilled," Shorthouse said, "he told me the next time he'd be performing in Vancouver I was going to sing a duet with him on stage. I shrugged it off with a 'yeah, right' and never gave it another thought."
The rest of the story must be told in the words of Shorthouse, as it was last week on Sportsnet 650:
"In the summer of 2010 I answered my phone and it was Michael calling from Argentina.
"He told me he'd be playing General Motors Place in Vancouver on August 20 and was aware Larscheid's farewell hockey broadcast would be the opener of the Canucks 2010-11 season in October.
"Michael had decided I would join him on stage to sing a duet paying tribute to Tom's radio career with words he and I would write to the tune of Thanks for the Memories.
"It was the most nervous I've ever been. I invited my parents. They watched our sound check in the afternoon before we went for an early dinner.
"I wanted to furiously order as many vodka and sodas as I possibly could but my mom was sitting there saying, 'No, no, no … I'm not going to have you go on that stage and embarrass yourself'. So there I am in my 40s negotiating my alcohol intake with my mom.
"Michael had given Tom tickets to the concert but he had no idea what we were up to. Me singing a duet with Michael Bublé with 18,000 people in the house? All I remember is that I didn't faint on stage."
Thanks to his mom, no doubt.
SCENE & HEARD:
It has been made abundantly clear these past three weeks that the Beijing Olympic organizers imposed the tightest-ever restrictions on journalists in the history of the International Olympic Committee.
Upon their arrival, media attending the 2022 Winter Games were warned to assume their hotel rooms were under 24-hour surveillance and any work done online would probably be monitored.
It was also recommended the brand-new cellphones and laptops distributed by Beijing officials at the start of the Games be discarded or destroyed upon leaving China over concerns those devices might have been infected with tracking software.
What was termed "safety precautions and protocols" for athletes and media personnel were more intense than ever.
Daily deep-throated swabs that caused various gagging reflexes before breakfast; travelling to designated venues by cars, buses and rail lines controlled by Beijing officials, and regular searches of personal possessions by state security agents; the marching orders seemed unending.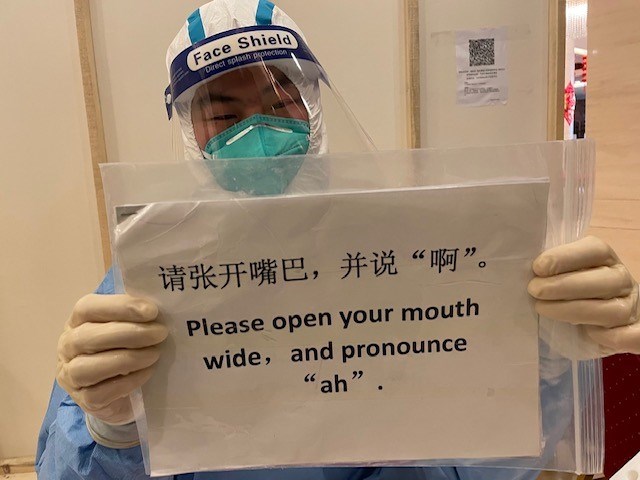 But Vancouver-based television producer Larry Isaac will arrive home next week with at least one pleasant story to share, albeit outside of China's boundaries.
His travel to the Games began with a 10-hour flight from Vancouver to Tokyo, then a six-hour layover before the final leg to Beijing.
Prior to proceeding through the Tokyo airport Isaac visited a washroom to splash cold water on his face. He removed his watch, glasses and wedding ring.
Refreshed, he proceeded to the airport transfer desk to board a terminal bus to take him to the waiting area for his next flight. After an hour, he was finally in the line to acquire his new boarding pass.
That's when he realized he was missing his wedding ring.
What followed was a full-throttle sprint past 20 airport gates and a 30-minute wait for the shuttle bus that would deliver him back to the terminal where he'd taken his "sponge bath" almost two hours earlier.
He couldn't believe his eyes when he saw the ring sitting on the shelf under the bathroom mirror where he'd left it.
Isaac says once he's home and rested, the first place he will be taking his wife Lindsay to dinner will be their favourite Japanese restaurant in honour of those honest gents in Narita International Airport, who had to have seen the wedding ring, but left it for its rightful owner to retrieve.
END ZONE:
Zaniest stat of the Canucks season so far comes under the heading 30 Years to the Day:
February 17, 1992 – Canucks allow the game-tying goal with :01 seconds remaining in the third period against the New York Rangers.
February 17, 2022 – Canucks allow the game-tying goal with :01 seconds remaining in the third period against the San Jose Sharks.
Greg Douglas 'Dr. Sport' contributes to The Orca on a biweekly basis. His five decades of covering sports in British Columbia included 19 years as a weekly columnist with The Vancouver Sun.